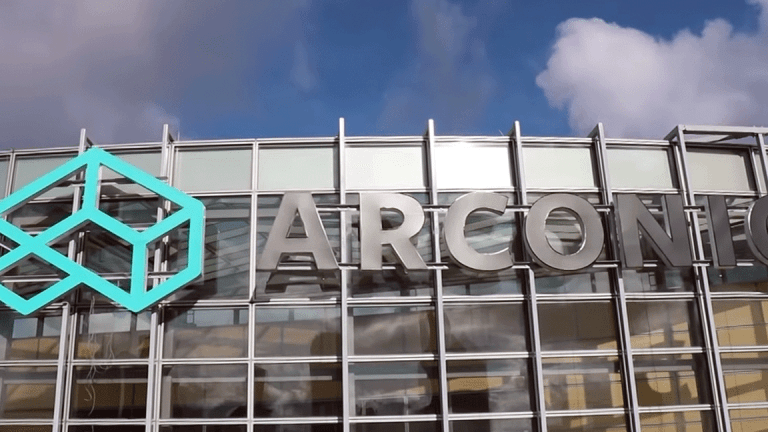 Arconic Falls as Earnings Outlook Cut Due to Rising Aluminum Prices
The New York-based lightweight metals manufacturer reports adjusted earnings of 34 cents a share on $3.44 billion.
Arconic Inc. (ARNC) - Get Arconic Corporation Report fell Monday, April 30, after the lightweight metals manufacturer lowered its earnings outlook for the year as aluminum prices increase.
"With the announcement of the aluminum tariffs and Russian sanctions, we are currently experiencing a steep increase [in aluminum pricing]," Ken Glacobbe, Arconic's chief financial officer, said during a conference call with analysts. "In fact, since the separation of Alcoa, aluminum prices have steadily increased by more than 40%."
"Looking ahead to the second quarter, we expect that the aluminum price impact year over year will be in an unfavorable $45 million to $55 million at current prices," Glacobbe added.
Due to the rising price of aluminum, the New York-based Arconic trimmed its full-year adjusted earnings outlook to a range of $1.17 to $1.27 a share, compared to a prior forecast of $1.45 to $1.55. Free cash flow for the year is also expected to be about $250 million, down from $500 million. The company, however, raised its revenue forecast to a range of $13.7 billion to $14 billion, up from its prior guidance of $13.4 billion to $13.7 billion.
"Our updated 2018 guidance assumes that current [aluminum] prices will hold at these elevated levels," Glacobbe said.
Chief Executive Officer Chip Blankenship said the guidance assumes aluminum price and Midwest premium of $2,720 per metric ton for the second quarter through the fourth quarter at an average aluminum price and [Midwest] premium of $2,660 per metric ton.
"The 2018 average price is an increase over the 2017 average price by about $500 per metric ton and around $265 per metric ton over our original guidance," Blankenship told analysts on the conference call. "The impact of higher aluminum prices, including scrap rates in the trading desk, is 19 cents per share from our initial guidance."
Because aluminum prices are still having "a significant impact on Arconic's results, despite the objective to focus this exposure at Alcoa when the two companies split in 2016, we assume this is something that management and the board will consider in their strategic review," J.P. Morgan analyst Seth Seifman said in a Monday morning note.
Shares of Arconic dropped 20.7% to $17.80.
For the first quarter, Arconic posted net income of $143 million, or 29 cents a share, a decline from $322 million during the same period a year prior. Net income included $26 million in special items, largely due to costs associated with the early redemption of debt and restructuring-related charges, the company said.
Earnings, adjusted for one-time items, were 34 cents a share, which was 1 cent ahead of analysts' expectations, according to FactSet. Revenue rose 8% year over year to $3.44 billion, but barely topped forecasts calling for $3.43 billion. Aluminum accounted for $109 million, or 40%, of the revenue increase.
"In the first quarter, Arconic delivered solid organic revenue growth and free cash flow in line with expectations," Blankenship said in a statement. "Operating income was negatively impacted by higher aluminum prices and performance shortfalls in our Rings, Disks and Global Rolled Products operations."
"2018 is a transition year during which we are making investments in our future to position the company for long-term success and shareholder value creation," Blankenship said.
But given's today's results, it reinforced the fact that Arconic's turnaround will take time, J.P. Morgan's Seifman said.
-- This story has been updated to include commentary from the conference call with analysts.