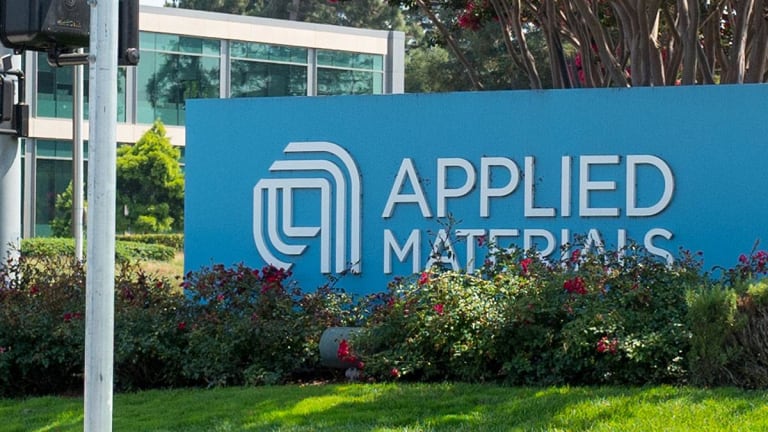 Applied Materials Eases Even as Third-Quarter Adjusted Profit Beats Estimate
Gary Dickerson, president and CEO, in a statement called the results `solid' in a `market environment that remains challenging for the time being.'
Applied Materials (AMAT) was lower after hours even as the producer of materials-engineering solutions used to make chips and displays reported fiscal-third-quarter revenue and adjusted net income per share exceeded analyst estimates.
The stock was trading after hours down 1.2%, having closed the regular session up 1% at $47.16.
For the quarter ended July 28, the Santa Clara, Calif., company reported GAAP earnings of 61 cents a share, compared with $1.01 in the year-earlier quarter. On an adjusted basis, the company earned 74 cents a share against $1.04.
Sales declined 14% to $3.56 billion from $4.16 billion.
Analysts surveyed by FactSet were looking for adjusted profit of 70 cents a share on revenue of $3.53 billion.
Gary Dickerson, president and CEO, in a statement called the results "solid" in a "market environment that remains challenging for the time being."
For the fiscal fourth quarter, Applied Materials estimates earnings will come in at an adjusted 72 cents to 80 cents a share on net sales ranging $3.54 billion to $3.84 billion.
The FactSet-derived survey was looking for profit of 76 cents a share on sales of $3.66 billion.