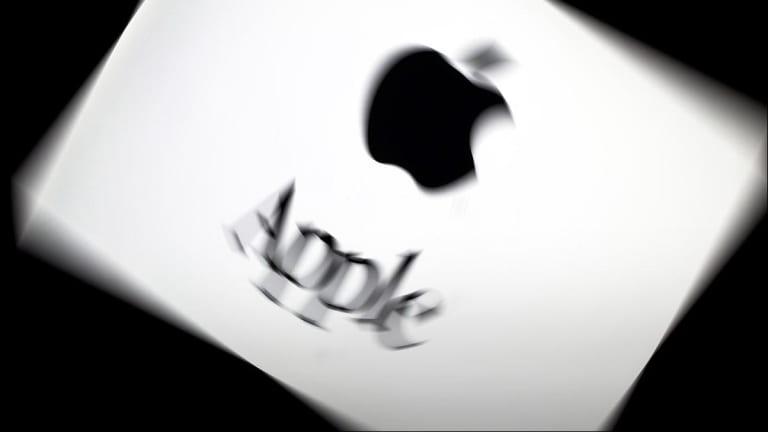 Apple Hits $1 Trillion Value Mark as Services Growth, Buybacks Boost Q2 Earnings
Apple shares traded at a $1 trillion market value Wednesday after the tech giant posted stronger-than-expected second quarter earnings as record services revenue offset a worryings slump in iPhone sales.
Apple Inc. (AAPL) shares traded at a $1 trillion market value Wednesday after the tech giant posted stronger-than-expected second quarter earnings as record services revenue offset a worryings slump in iPhone sales.
Apple was able to offset a record decline in iPhone revenues, which fell 17% to $31.05 billion, with the best growth in services revenue the company has ever booked and a near-term forecast that topped analysts forecasts and remains on track for the group's stated aim of doubling the size the services business from 2016 levels to around 500 million paid subscribers by 2020. 
Revenue from unites such as Apple Pay, iTunes, and Apple Music rose 16% to a record $11.45 billion, Apple said, with a reported gross margin of 64%, nearly twice the level of the group's third quarter forecast for the entire business. The division now has a record 390 million paid subscribers and massive growth potential, the company said, given the installed base of 1.4 billion users at the end of the March quarter.
"Subscriptions are a powerful driver of our Services business. We reached a new high of over 390 million paid subscriptions at the end of March, an increase of 30 million in the last quarter alone," Apple CEO Tim Cook told investors on a conference call late Tuesday. This was also an incredibly important quarter for our Services moving forward. In March, we previewed a game-changing array of new services each of them rooted in principles that are fundamentally Apple.They're easy to use.
"They feature unmatched attention to detail. They put a premium on user privacy and security. They're expertly curated personalized and ready to be shared by everyone in your family," he added.
Apple shares were marked 6% higher at the start of trading Wednesday to change hands at $212.82 each, the highest since November 2 and a move that extends the stock's gain since Cook cautioned on a China-lead slowdown on January 3 to around 49.7% and value the Cupertino, California-based tech giant at just over $1 trillion.
"We believe Apple's ecosystem approach including an install base which now exceeds 1.4 billion devices globally is leading to record services revenue, and we expect the higher-margin services revenue growth to continue outpacing total company growth," said Canaccord Genuity's T. Michael Walkley, who boosted his price target on the stock by $15 to $245.
However, even with a Street-beating bottom line of $2.46 cents per share and a current quarter revenue forecast of between $52.5 and $54.5 billion, some investors were looking at Apple's earnings with at least a sliver of concern.
The record drop in iPhone revenues is a trend that is likely to continue for at least the next quarter, as global smartphone sales stagnate and customers await the advance of new 5G networks around the world. Apple executives were reluctant to talk about the launch timing of a new 5G handset -- with Cook electing to "punt" on that question put by respected Morgan Stanley analyst Katy Huberty -- and investors are still unsure what sort of pricing structure will be placed on the group's new Apple TV+ streaming service offering.
Furthermore, Apple's record $75 billion share buyback program, as well as the $27 billion returned to shareholders over the three months ending in March, flattered the group's bottom line and clouded the impact of both slowing iPhone sales and ongoing uncertainty in China.
"While "less bad" is a significant improvement from the rough start to the year, we remain Neutral as we see a long road to recovery for iPhone with a ~1yr jump in the net replacement cycle in CY19 and further extension ahead of 5G in 2H20," said Credit Suisse analyst Matthew Cabral, who argued that the perception of Apple as a hardware company will be "tough to shake".
"Further, while we recognize the potential in the shift to Services we don't think it's enough to move estimates meaningfully higher over the near-to-medium term, leaving upside for the stock more dependent on the multiple re-rating higher," he added.
Learn the History of the Companies in Your Portfolio | Behind the Label