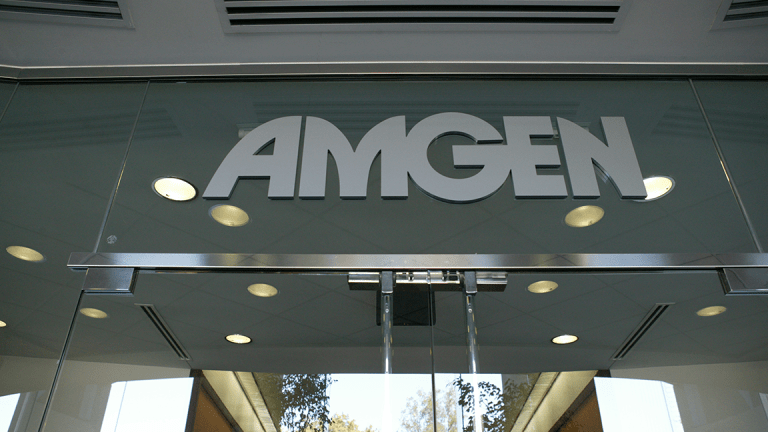 Amgen Stock Gains as Analysts Assess Solid Earnings
Amgen shares are up the day after it reported results, but not all analysts are cheering with abandon.
Amgen (AMGN) shares were higher Wednesday as Wall Street looked toward positive results of a new colon-cancer drug.
A notable bright spot: Top-selling Enbrel, which treats inflammatory conditions like arthritis and psoriasis, rose 5% to $1.36 billion.
But analysts have concerns:
"AMG510 steals the show," wrote RBC analyst Kennen MacKay in a note to clients. "Several bright spots do emerge," MacKay wrote, "but we see Neulasta and Sensipar's continued declines vs. respective biosimilars/generics as well as the lingering Enbrel litigation continuing to overhang share performance despite the strong operational performance in Q2."
"For the stock, shares are up a couple dollars in reaction to the print, and we do not want to discount the solid top- and bottom-line beat with the lower-end guidance raises. However, we still have concerns about where the upside is coming from," said Jim Cramer and the Action Alerts PLUS team, which holds Amgen in its portfolio.
"Amgen has reported better-than-expected results from Enbrel for two quarters in a row now, and this is a mature product that is heavily subject to patent risk, as we have written endlessly about."
The Thousand Oaks, Calif., biopharmaceutical multinational reported adjusted second-quarter EPS of $3.97, higher than the year-earlier period's $3.83 and beating the Wall Street consensus of $3.59.
Revenue was $5.87 billion vs. $6.1 billion a year ago, above the $5.7 billion consensus.
Amgen sees full-year adjusted EPS of $13.75 to $14.30, pushing up the estimated range from between $13.25 and $14.30. The consensus estimate is $13.97, according to Bloomberg.
The company has a dividend yield of 3.2%. The 23-analyst consensus rating on the stock is overweight with a price target of $206.11.
Save 76% with our Summer Break Sale. Subscribe to our premium site Real Money and become a smarter investor! Click here today to sign up!