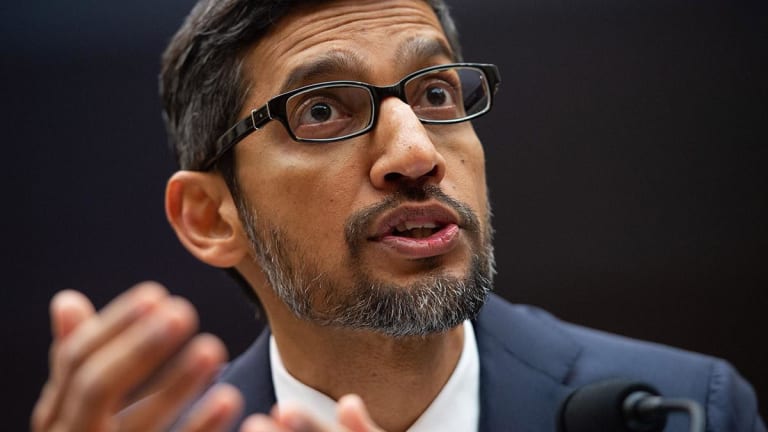 Alphabet Reports Earnings on Thursday: 3 Key Things to Watch
Alphabet's stock has lagged behind other FAANGs this year, thanks in part to weaker-than-expected revenue growth last quarter and its lack of clarity in explaining why.
After an unusually soft few months, Alphabet investors are looking for new signs of life. 
In its first-quarter earnings report, Alphabet recorded a revenue miss and slower growth in its core advertising business, which accounted for roughly 85% of its overall revenue in 2018. Coupled with the opacity that Alphabet executives are known for, and investors were shook: Shares of the search giant are down roughly 12% since Apr. 29, and up just 9% so far this year, well below the S&P 500's year-to-date 18% gain and that of fellow tech giants Facebook (FB) (46%), Apple (AAPL)  (28%) and Amazon (AMZN) (27%).
This time around, investors will be looking for clearer answers on Alphabet's revenue outlook going forward -- and with a market cap of $790 billion, there's plenty at stake.
1. Why the Revenue Slump?
Alphabet's penchant for annoying ambiguity didn't work in its favor last quarter. It missed revenue estimates by about $1 billion, and investors were left scrambling for answers on the precise reasons for the slump -- was it because of a shift in product focus, advertisers moving their dollars elsewhere or some mix of both?
On a call with investors, CFO Ruth Porat cited changes in ad products for the shortfall. But she didn't elaborate on what those were, nor on the timing of those changes, making the prospect of revenue acceleration the key question for Alphabet investors heading into its second-quarter earnings.
In a recent note, Evercore ISI's Kevin Rippey suggested that the ad changes may be focused on improving the quality of ad impressions at the expense of growth in the near term. Ad revenue may kick into gear around the fourth-quarter shopping season, he wrote, but the stock "is likely to remain in a penalty box so long as growth shows deceleration."
2. Spending vs. Growth
The good news in Alphabet's April report? Earnings fared better than revenue, with the company recording EPS of $11.90 per share, easily topping Wall Street forecasts, and up 23% on an annual basis. Modest growth in spending contributed to the solid bottom-line result, with GAAP costs and expenses rising 19% annually to $28.03 billion, compared to 24% the year prior.
The recent revenue deceleration means that overall margins and costs-of-revenue -- from traffic acquisition costs (TAC), infrastructure expenses, YouTube content expenses and otherwise -- may also see an unusual degree of investor focus. One of the bearish arguments around Alphabet is the extent to which it must spend more to keep up revenue growth in its core business -- and investors will continue testing that balance in the quarters to come.
3. Looming Regulation
While the prospect of tech regulation has hardly spooked investors en masse -- besides Alphabet and Netflix, the FAANG group has outperformed the market this year -- the notion of a breakup or serious regulatory crackdown still serves as an existential question for Alphabet investors. Needham analyst Laura Martin believes that Alphabet may soon disclose a DOJ antitrust investigation that was initially reported earlier this year, but has not yet been confirmed either by the DOJ, the FTC or any of the other tech firms reportedly involved in the probe.
In a recent note, Martin wrote that elevated regulatory pressures will "add costs and margin pressures for the next 2-4 years," with any probe and eventual conclusion likely to take two to three years in total. In the meantime, fines and investigations have also picked up in Europe, and include a $1.7 billion fine levied by the EU in March for anti-competitive advertising practices.
For Alphabet, a ten-figure fine is a drop in the bucket financially -- but if regulatory noise grows louder, Alphabet may soon be forced to make bigger changes in how it operates. Bottom line: Many investors are keeping the faith in Alphabet's long-term dominance, but what lies in store in the next few quarters is still up in the air.
Apple, Alphabet, Amazon and Facebook areholdings in Jim Cramer's Action Alerts PLUS Charitable Trust Portfolio. Want to be alerted before Cramer buys or sells these stocks? Learn more now.