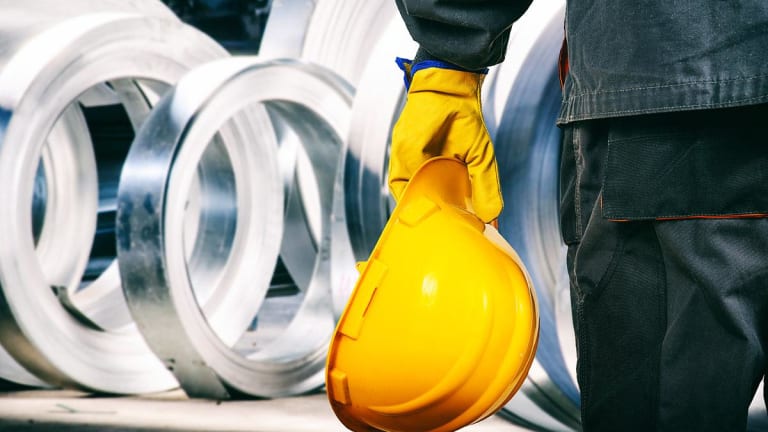 Alcoa Shares Higher as Aluminum Producer Plans Extensive Portfolio Review
The Pittsburgh company posted a wider third-quarter loss. But it's planning moves to sell non-core assets and realign its operating portfolio.
Alcoa (AA) - Get Free Report shares shined after hours on Wednesday as the aluminum icon reported a wider third-quarter net loss but also said it would undertake an extensive portfolio review designed to lower costs and sustain profitability.
"While market and pricing challenges persisted through the quarter, our cash balance remained steady," President and Chief Executive Roy Harvey said in a statement after the market closed.
Alcoa shares are trading after hours up 5% at $20.11 after closing the regular session down 1.5% at $19.16.
The Pittsburgh company reported a GAAP net loss of $1.19 a share compared with a loss of 3 cents a share in the year-earlier quarter.
On an adjusted basis, Alcoa posted a loss of 44 cents a share, compared with earnings of 82 cents a year earlier.
Sales declined 24% to $2.57 billion from $3.39 billion.
A survey of analysts by FactSet was looking for a GAAP net loss of 66 cents a share on sales of $2.57 billion. The estimate for the adjusted loss was 42 cents a share.
Alcoa said that over the next 12 to 18 months it would aim to sell non-core assets and generate $500 million to $1 billion in net proceeds.
Over five years, Alcoa said it would realign its operating portfolio. It is reviewing 1.5 million metric tons of smelting capacity and 4 million metric tons of alumina-refining capacity.
The review will consider moves including curtailments, closures and divestitures, Alcoa said.
The company affirmed its expectations for 2019 shipments for bauxite, alumina and aluminum.