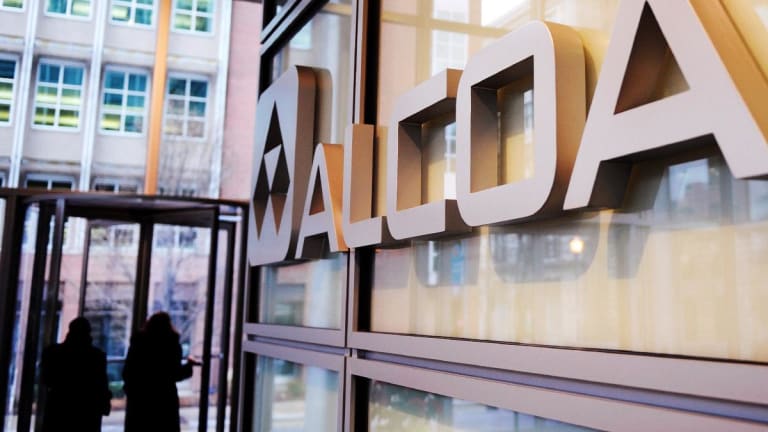 Alcoa Chart Shows Breakout or Breakdown Imminent
Alcoa stock is mixed after reporting its second-quarter earnings. However, it's setting up as a make-or-break trade for investors.
Shares of Alcoa (AA)   climbed higher on Thursday, rallying 1.1% to $23.41. However, that's well off the session highs of $24.63.
The erratic price action comes after the company's second-quarter results, where a loss of 1 cent per share came in a penny ahead of estimates. However, revenue of $2.71 billion sank more than 24% year-over-year and missed analysts' estimates by $60 million.
The mixed report wasn't helped by management's commentary, after they cut their aluminum demand growth forecast for the year. They blamed trade tensions and macroeconomic headwinds for demand declines in "both China and the world ex-China."
Given this report, it's somewhat surprising to see that AA stock rallied as high as it did on Thursday morning, when shares jumped more than 6%. Arconic (ARNC) stock slumped 0.63% on the day as well.
However, Alcoa's pop-and-flop price action is a lot more telling than what initially meets the eye. Shares are rooted in a very nasty downtrend and failed to break out of it on Thursday. This failure puts a key test on the line, as a breakout or breakdown is becoming imminent.
Let's look at the charts.
Trading Alcoa Stock
Alcoa stock rallied right up to downtrend resistance (blue line) and was swiftly rejected by this mark. It doesn't help that $25 is a key level, nor does it look any better than the stock failed to hold up above its 10-week moving average. In fact, closing below the 10-week looks quite bearish from a technical standpoint, although it still has this session and Friday's session to get back above it.
However, short of AA stock breaking out, it's stuck in a very pivotal range now.
In June, Alcoa stock hit a low of $20.82, which was less than 10 cents away from its $20.74 lows back in 2016. This level buoyed the name for two straight weeks that year before the stock rocketed higher. When called upon last month, it again acted as support.
Should AA stock drift down to these levels once again, it will be forced into a make-or-break situation. Either support holds and a bounce ensues or support fails and Alcoa goes on to make new lows, without a support level in sight.
If this level holds, shares will face another test with downtrend resistance and the 10-week moving average.
So the setup is simple: Either downtrend resistance eventually gives way and allows AA stock to rally to $25 and possibly higher, or support fails and Alcoa goes lower. Traders can wait for the breakout or breakdown to happen first, before playing either direction.
This article is commentary by an independent contributor. At the time of publication, the author had no positions in the stocks mentioned.