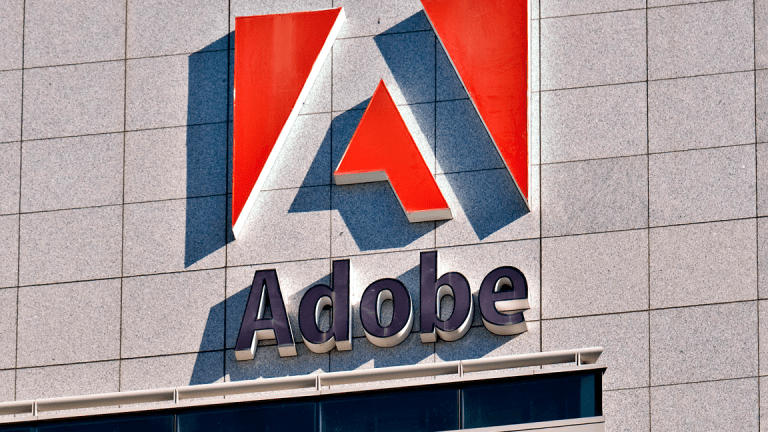 Adobe Stock Is Poised for New Highs on Earnings
Adobe is set to report earnings above a 'golden cross,' with the stock poised to pop above $171.05, which targets its quarterly risky level at $292.23.
Software giant Adobe Systems, Inc.  (ADBE) - Get Adobe Inc. Report reports earnings after the close on Thursday. The stock is in bull market territory, 28.6% above its Christmas Eve low of $204.95. The daily chart shows the formation of a "golden cross" (a bullish breakout pattern) just in time for the earnings report. The stock is just 5.1% below its all-time intraday high of $277.61 set on Sept. 14. The weekly chart shows an overbought Stochastic reading, but if the stock pops above $171.05 on earnings, my price target is $292.23.
Adobe provides software for graphic design, publishing and print production; most of their applications are delivered in the company's "Creative Cloud". Owning this stock is a play on momentum not on valuation as the P/E ratio is elevated at 46.77 without a dividend, according to Macrotrends.
Analysts expect Adobe to announce earnings of $1.61 to $1.63 a share when the company reports results after the closing bell on Thursday, March 14. The company missed earnings-per-share when they reported on Dec. 13. This halted a winning streak that lasted 19 consecutive quarters. Some on Wall Street expect a slowdown in earnings for the current quarter. The charts suggest continued upward momentum.
The Daily Chart for Adobe Systems
Courtesy of Refinitiv XENITH
The daily chart for Adobe shows that the stock set a new 2019 high Wednesday morning as the stock should confirm a "golden cross" on Thursday when the company reports earnings. A "golden cross" occurs when the 50-day simple moving average rises above the 200-day simple moving average to indicate that higher prices will follow. The 50-day is at $249.23 with the 200-day at $249.52. The stock set its all-time intraday high of $277.61 on Sept. 14 then declined 26% to its Dec. 24 low of $204.95 when the current bull market began. The Dec. 31 close of $226.24 was input into my proprietary analytics and resulted in my annual value level at $196.58, a semiannual pivot at $235.43 and quarterly risky level at $292.23. The close of $262.50 on Feb. 28 was input into my analytics and resulted in my monthly pivot for March at $261.49, which has been a magnet so far during the month.
The Weekly Chart for Adobe Systems
Courtesy of Refinitiv XENITH
The weekly chart for Adobe is positive but overbought with the stock above its five-week modified moving average of $255.65. The stock is well above its 200-week simple moving average or "reversion to the mean" at $151.78. The 12x3x3 weekly slow stochastic reading is projected to end this week rising to 88.12 up from 86.19 on March 8, rising above the overbought threshold of 80.00. If this reading rises above 90.00 the stock becomes an "inflating parabolic bubble."
Trading Strategy: Buy weakness to my monthly pivot at $261.49 and reduce holdings on strength to my semiannual risky level at $292.23. A breakout above my weekly pivot at $271.05 should accelerate the upside. A break of $261.49 indicates risk to my semiannual value level at $235.43.
How to use my value levels and risky level:
My value levels and risky levels are based on the last nine weekly, monthly, quarterly, semiannual and annual closes. The first set of levels was based on the closes on Dec. 31. The original quarterly, semiannual and annual levels remain in play. The weekly level is changed each week; the monthly level was changed at the end of January and February. My theory is that nine years of volatility between closes are enough to assume that all possible bullish or bearish events for the stock are factored in. To capture share price volatility, investors should buy on weakness to a value level and reduce holdings on strength to a risky level. A pivot is a value level or risky level that was violated within its time horizon. Pivots act as magnets that have a high probability of being tested again before its time horizon expires.
How to use 12x3x3 Weekly Slow Stochastic Readings:
My choice of using 12x3x3 weekly slow stochastic readings was based upon back-testing many methods of reading share-price momentum with the objective of finding the combination that resulted in the fewest false signals. I did this following the stock market crash of 1987, so I have been happy with the results for more than 30 years. The stochastic reading covers the last 12 weeks of highs, lows and closes for the stock. There is a raw calculation of the differences between the highest high and lowest low versus the closes. These levels are modified to a fast reading and a slow reading and I found that the slow reading worked the best. The stochastic reading scales between 00.00 and 100.00 with readings above 80.00 considered overbought and readings below 20.00 considered oversold. Recently I noted that stocks tend to peak and decline 10% to 20% and more shortly after a reading rises above 90.00, so I call that an "inflating parabolic bubble" as a bubble always pops. I also call a reading below 10.00 as being "too cheap to ignore."
A Special Invitation:Do you want to learn more about planning for and living retirement from the nation's top experts, including Ed Slott and Robert Powell, the editor of TheStreet's Retirement Daily? Want to learn how to create tax-efficient income in retirement and how to manage and mitigate all the risks you'll face in retirement? Then sign up to attend TheStreet's Retirement Strategies Symposium on April 6 in New York City. For a limited time, you can attend this extraordinary symposium for $149 - a cost savings of $50 off the general admission price of $199.
You can see the full day's agenda, learn about the guest speakers and sign up HERE for this special event.
Disclosure: The author has no positions in any stocks mentioned and no plans to initiate any positions within the next 72 hours.