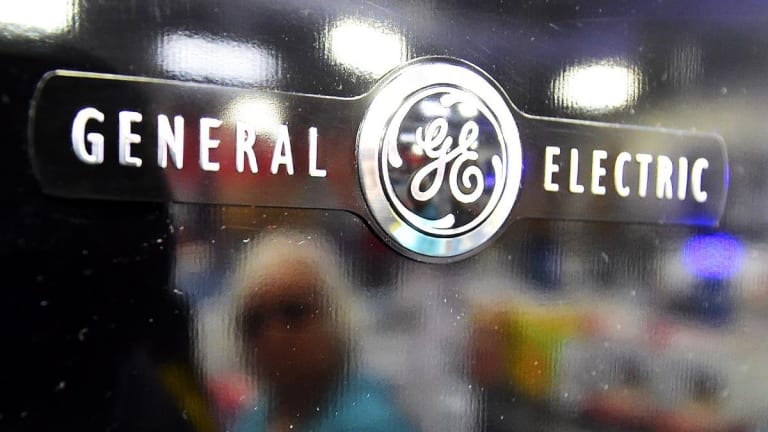 3 Things to Watch in General Electric's Earnings
The Boston-based industrial conglomerate is expected to report earnings of 18 cents per share on revenue of $29.4 billion.
It's really 'show me' time for GE.
General Electric Co. (GE) - Get General Electric Company (GE) Report will announce earnings before the bell on Friday, July 20, and the Boston-based industrial conglomerate is expected to report earnings of 18 cents a share on revenue of $29.4 billion, according to analysts surveyed by FactSet.
Since the first-quarter results, GE made significant moves to narrow its focus on three business: aviation, power and renewable energy. The company announced on June 26 that it would spin off its healthcare business and divest its stake in oilfield services company Baker Hughes (BHGE) - Get Baker Hughes, a GE Company Class A Report . GE will spin off the healthcare unit over the next 12 to 18 months, and sell its Baker Hughes stake over two to three years.
Over the 30 days, GE stock has gained 3.3%. At the beginning of the month, TheStreet's Jim Cramer said GE's stock is finally attractive again. But ahead of earnings, shares of GE slipped 0.7% to $13.64 at 12:30 p.m. New York time.
Despite the progress on the asset divestitures, there are still several issues GE investors should watch for in GE's quarterly results.
EARNINGS GUIDANCE
GE "may trim the upper end of its $1 to $1.07 2018 earnings guidance, with consensus expecting only 94 cents," said Bloomberg Intelligence senior industry analyst Karen Ubelhart.
"Healthcare should continue to lead growth, as Power significantly fails to carry its weight amid further sales declines and margin pressure," said Ubelhart.
Deutsche Bank's new analyst for GE, Nicole DeBlase, said the original forecast range of $1 to $1.07 "still seems to embed substantial improvement in Power margins throughout the year, which we are not fully comfortable with, at this stage."
The firm expects full-year earnings to come in at 98 cents per share and sees "scope for the company to lower guidance again." Deutsche Bank rates GE at Hold with a $15 price target.
INSURANCE EXPOSURE
GE Chief Executive Officer John Flannery last month acknowledged that management is working to reduce its long-term care exposure, which forced the company to book a $6.2 billion after-tax charge during the fourth quarter of 2017 and to commit to $15 billion in further contributions over the next seven years to shore up its reserves, even though GE largely exited the business more than a decade ago.
"We are aggressively working on actions and alternatives to mitigate, reduce or eliminate our exposure to long-term care insurance," Flannery said.
Shortly after these comments, the Financial Times reported that Athene Holding Ltd., the life insurance affiliate of private equity firm Apollo Global, expressed interest in buying all or parts of GE's long-term care insurance business. But those reported talks have yet to materialize in a sale.
William Blair analyst Nicholas Heymann said GE could extinguish GE Capital's remaining long-term care insurance liability "perhaps with a separate reinsurance contract on $11 billion remaining of regulator's $15 billion in estimated contributions through 2023."
UPDATE ON PENDING LITIGATION
J.P. Morgan Securities analyst Stephen Tusa, who has an underweight rating on the stock, said that one of the "key questions" would be an update on investigations by the U.S. Securities and Exchange Commission and the Department of Justice.
GE set aside $1.5 billion of reserves in April 2018 for a potential settlement with the DOJ in connection with alleged subprime mortgage violations by GE Capital in 2006 and 2007.
The Justice Department is "likely to assert" violation of the Financial Institutions Reform, Recovery, and Enforcement Act of 1989 (FIRREA), according to a February regulatory filing.
The SEC is also probing GE for "the process leading to the insurance-reserve increase and fourth-quarter charge, as well as GE's revenue recognition and controls for long-term service agreements," GE Chief Financial Officer Jamie Miller said on a January conference call. GE said it is cooperating fully with the investigation.
Miller said in January that the SEC investigation was in the "early stages" but the in the six months since the disclosure of the probe, things might have changed and analysts will be looking for an update.
There are five Buy, 15 Hold and three Sell ratings on the stock, according to Bloomberg data.