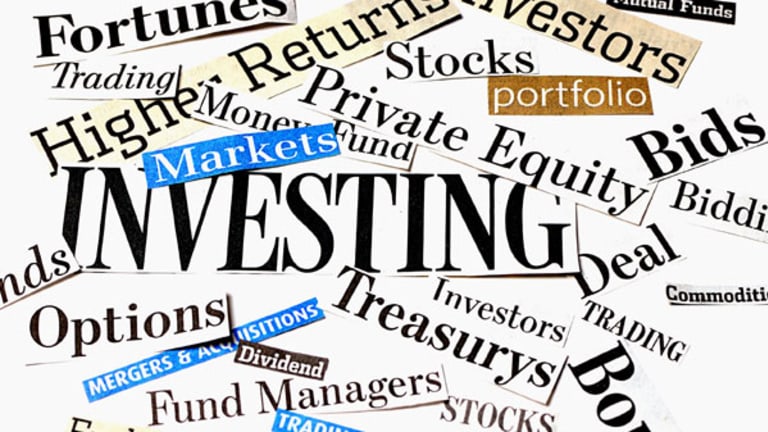 Earnings Trades for the Week
Here's how to trade some of the stocks reporting earnings this week.
MINNEAPOLIS (Stockpickr) -- We get earnings from some big players this week, including technology bellwether Apple (AAPL). With many stocks moving 5%, 10% or more after releasing results, traders have the opportunity to pad portfolios with profits if they are on the right side of the action.
,
H.B. Fuller
(FUL) - Get H.B. Fuller Company Report
hit a homerun with its report, sending its stock up some 15%. There were no signs of higher input costs that could potentially impede future profits. It was a rosy report that was received favorably.
,
Intel
(INTC) - Get Intel Corporation (INTC) Report
managed to impress and its stock rose modestly. The PC may be struggling, but larger server and mainframe sales helped results. It will be interesting to see where Intel goes from here.
Related:
Wall Street may want to push shares of
Commerce Bancshares
(CBSH) - Get Commerce Bancshares, Inc. Report
lower in order to assist a possible larger, acquiring bank, but the bulls are in control. Commerce beat estimates in its report and rode the coattails of
JPMorgan's
(JPM) - Get JPMorgan Chase & Co. (JPM) Report
strong report higher.
Perhaps traders were resting on a
Sealy
(ZZ)
mattress. The company did in fact beat estimates by a penny, but shares barely moved. For longer-term traders, the lack of action makes for a low entry point in the stock going forward.
Shuffle Master
(SHFL)
was another yawner. Its shares moved up and down after it reported year-end results that beat estimates by three cents. The stock closed virtually unchanged.
Looking forward, investors will likely require impressive earnings reports to move higher. We'll have a good read on the state of business in this country after this week's releases. Here are
.
Goldman Sachs
(GS) - Get Goldman Sachs Group, Inc. (GS) Report
After JP Morgan's report, the likelihood of Goldman Sachs offering a repeat performance increased, but is an earnings beat already priced into the stock? The strength and profitability of capital markets underwriting and trading is likely to propel Goldman higher.
This is a company capable of big earnings beats. Until the curtain is peeled back, only those on the inside know how much money this Wall Street king is making. I would expect Goldman to beat earnings by at least $1 above
of $3.78 a share. If it does, the stock could jump 5% or more.
Major holders of Goldman Sachs include
Bruce Berkowitz at Fairholme Capital
, at 7.7% of the total portfolio, and
Julian Robertson at Tiger Management
, at 8.2% of the total portfolio. Roberto Pedone considered Goldman one of the
top bank and financial stocks for 2011
. TheStreet Ratings rates Goldman a
.
Delta Airlines
(DAL) - Get Delta Air Lines, Inc. Report
Airline stocks were big winners in 2010. Flying at close to full capacity and normalized fee charges helped this notoriously poor profit industry to soar. Suddenly airlines are money makers with stable operating environments and growth prospects.
to make 25 cents a share in the quarter ending Dec. 31. Odds are that the company beats expectations. The only real fly in the ointment will be jet fuel prices. Will higher fuel costs eat into profits?
In the short term, higher fuel prices are of little concern. The wind is at the back of Delta and other carriers. A simple earnings beat for the quarter sends shares higher.
Delta shows up in the portfolios of
, who increased his position in the stock by 364.9% in the most recent period, and
, at 4.3% of the total portfolio. The stock has a
C hold rating from TheStreet Ratings
.
eBay
It is a tough thing to be a technological darling. In favor one minute, out of favor the next. It is always tough to keep a leadership position and even more difficult without innovation. Sit idly by and wave at the competition as it passes you by.
It may not be that bad for eBay, but this company is in danger of being swept under the rug. Smartphones, e-readers, tablet computers and their applications are taking the spotlight. Think about it: When was the last time you heard anything significant come from eBay?
It's been a while. eBay is expected to report a profit of 47 cents a share for the year-end quarter. Over the last year it has beaten the number by a few pennies on average. Another beat is likely, but without some sort of innovation or a significant beat of more than 5 cents a share, the stock will move lower as investors find more interesting growth opportunities elsewhere.
Major holders of eBay include
, at 2.8% of his total portfolio, and
Donal Yacktman at Yacktman Asset Management
. TheStreet Ratings rates eBay a
.
Apple
(AAPL) - Get Apple Inc. (AAPL) Report
Do not bet against Apple. I've been on the Apple train before it became vogue to recommend this high-flying technology company. That was when the stock was below $100 per share. I said then and I will say again: This is a must-own stock in any portfolio.
As a tradable commodity, there has been one side of the coin since an impressive streak of product wins began after the turn of the millennium. Huge profits followed, and the rest has been history. There has been and never will be a company like Apple.
One would think shares traded for some ridiculous multiple, but they don't. For whatever reason, there are skeptics betting against this company. Perhaps they like to lose money.
My assumption is that Wall Street is once again underestimating the company.
the company will make $5.38 per share. Over the last year, estimates have been too low and not by a penny or two.
When Apple beats it does so impressively. This quarter will be no different. Get long in advance and look for a 5% to 10% gain on the stock after results are released.
Apple comprises 11% of
Tiger Global Management's portfolio
, run by Chase Coleman, and 4% of
, a new position in the most recent period. With an
from TheStreet Ratings, it's one of the
top-rated computer hardware stocks
, and it was one of
JPMorgan's 13 favorite stocks for 2011
.
Charles Schwab
(SCHW) - Get Charles Schwab Corporation Report
Has the individual investor finally recovered from the financial crisis and recession? Discount broker for the do-it-yourself investor sure hopes so. Mutual fund inflows have yet to recover, but in their place, ETFs have exploded.
In addition, the unpopularity of
has reinvigorated the trading activity of individual investors that Schwab caters to. All signs point to a strong earnings report, but investors have already figured that out pushing shares up by more than $4 in the last month.
It will take a big number to move the needle.
Analysts expect the company to post a profit
of 10 cents per share for the quarter ending Dec. 31. In the last year, Schwab has pretty much hit its number spot on.
I don't believe that sort of performance will be bullish for the stock. I expect Schwab to meet estimates. Investors will react with a buy-the-rumor, sell-the-news sort of trade. That means shares will be lower after the news.
Major holders of Schwab include
, a new position in the most recent period, and
Robert Olstein at Olstein Financial Alert Fund
. It's rated
.
To see these stocks in action, check out
this week's Earnings Trades portfolio
.
-- Written by Jamie Dlugosch in Minneapolis.
RELATED LINKS:
>>7 Stocks With Recent Analyst Upgrades
>>Top 10 Warren Buffett Dividend Stocks
>>3 High-Yield Short-Squeeze Stocks
Follow Stockpickr on
and become a fan on
Facebook.
At the time of publication, author had no positions in stocks mentioned. Jamie Dlugosch is a founder and contributor to
MainStreet Investor
and
MainStreet Accredited Investor
. Formerly, he was president and CEO of Al Frank Asset Management. He has contributed editorially to
The Rational Investor
,
The Prudent Speculator
,
Penny Stock Winners
and
InvestorPlace Media
.