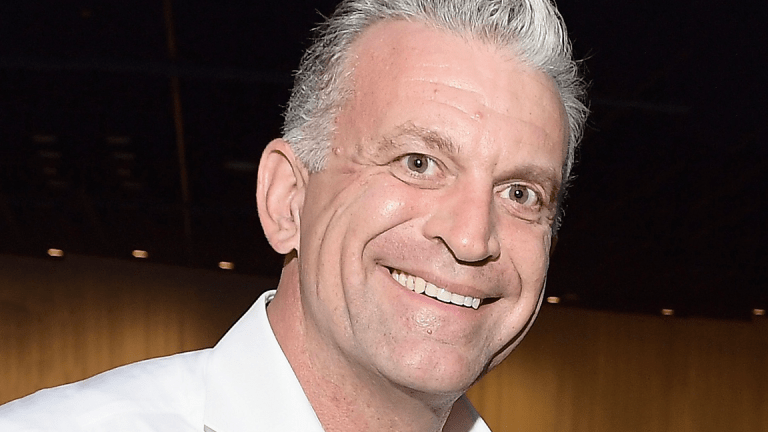 Dylan Ratigan Talks Global Sustainability With Jim Cramer
Former MSNBC host Dylan Ratigan and Jim Cramer shares their views over lunch and we recorded the whole thing! Listen in as they talk about healthcare, economic equality and Ratigan's new mission.
"When you sense tremendous risk, the size of the risk always equals the size of the opportunity," says Dylan Ratigan, former MSNBC host.
He sensed our country was in tremendous risk because of the lack of fair economic choices and transparency, so he left his successful broadcasting career in hopes that there was an opportunity to fix that. He was right!
He recently explained this whole thought process to Jim Cramer, while they had lunch together in our offices -- and we recorded the whole conversation.
Not only did they talk about Ratigan's new mission, they tackled everything from their 30-year friendship to overhauling the health care system. So be sure to pour a cup of coffee and listen. 
It's rare to hear from someone who really did give it all up for a bigger cause. And that's exactly what Ratigan did.
He first left his anchor role at CNBC back in 2009, because he believed the "resolution to the financial crisis ...was an explicit corruption to the laws of capitalism."
He moved on to MSNBC and tried the political environment, hoping to influence the conversation and debate the issues, as the host of The Dylan Ratigan Show. But soon realized that "the central government had little or no interest on having conversations."
His career as a broadcaster was frustrating him. So he left in 2012.
Ratigan is now creating resource kits that use agriculture technology to help people in inner cities, refugee camps or war zones.
As managing partner at Helical Holdings, he explained to Cramer how his company is growing food, purifying water, producing solar electricity, establishing wireless connectivity, creating jobs and providing essential community services.
He partnered with Kohlie Frantzen, an oilman who lived through Hurricane Katrina. They hired oil workers from Louisiana "repurposed...reintegrated them...to create these plug and play kit that can be used anywhere in the world."
But that's not all Ratigan is doing. He's an advisor to TastyTrade and advocate for some of our country's biggest challenges.
And while you don't have to go to the extremes that Ratigan did to help change the world, getting rid of the plastic water bottles or buying more organic food is a great place to start, he says.
"Embrace the excitement of the opportunity and engage in whatever small way you can."
That's certainly what Cramer's daughters are doing. They actually brought Ratigan's new mission to his attention and called Ratigan "the most sustainable figure out there."
And like any good Dad, Cramer took steps to understand his daughters' way of thinking.
"Its intuitive for younger generations to live sustainability," says Ratigan. This is not revolutionary to them."
Because thanks to the Web, the problems of the world are self-evident -- from Africa to Asia to Myanmar. "We couldn't see that growing up. They can."
But Ratigan sees it. Cramer and his girls see it.
And after you listen to this conversation, you should too.