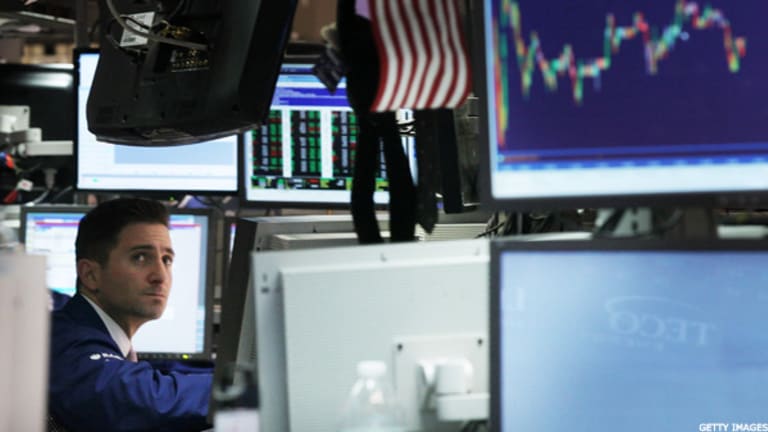 Duracell Not an Impulse Purchase, It's All About Cash Flow
Why would someone as smart as Buffett buy a business perceived to be as bad as batteries?
SAN DIEGO (RealMoney) -- While investors square off over whether Warren Buffett's Berkshire Hathaway ( (BRK.A) - Get Berkshire Hathaway Inc. Class A Report , (BRK.B) - Get Berkshire Hathaway Inc. Class B Report ) is getting Duracell for too good of a steal, the bigger question is, why would someone as smart as Buffett buy a business perceived to be as bad as batteries?
In recent years, the battery business has become known mostly for its knock-down-drag-out price wars and growth-in-reverse -- a business so bad that a quarter ago it led to a goodwill impairment charge at Procter & Gamble (PG) - Get Procter & Gamble Company Report .
Duracell, of course, is the premier battery brand. But brand aside, and the brilliant stock-swap nature of the deal notwithstanding, it would appear Buffett's decision to buy was a simple one: It's all about the cash flow.
Duracell's financials are too small, relatively speaking, to be broken out by P&G. Thankfully, however, batteries are a big enough part of Energizer Holdings (ENR) - Get Energizer Holdings, Inc. Report and Spectrum Brands (SPB) - Get Spectrum Brands Holdings, Inc. Report (Rayovac) to get a peek at what likely attracted Buffett.
To that point, in announcing plans last April to spin off its Household Products division -- which is largely batteries -- Energizer talked multiple times about "significant cash flows" of the unit.
And on last quarter's earnings call, Spectrum CEO Dave Lumley said, "Our Battery business remains a strong EBITDA producing cash flow generator with steady performance."
Lumley then provided a window into why Spectrum likes the battery business so much, saying:
"Batteries are sold everywhere. They're just not sold to stores that Nielsen tracks. I guess that would be good for some of our competitors if that was the case.
"Our strategy has been to sell mass merchants, home centers, industrial in two steps. We have not been strong in grocery and drug, although we are starting to grow in drug. For the matter of that it's more difficult, the volumes are smaller, they tend to be more private label and they tend to be more tied to companies that are strong in food business. OK? We're not in the food business.
"Our growth has come in those areas. Also we have the ability in home centers with our strength of HHI and Home and Garden; and our merchandising affords us to do well. Now Nielsen doesn't track the home centers.
"They don't track the two-step hardware. They don't track industrial sales. They don't track many of the people we sell to. However, they're in the top 10 of battery sales.
"It is just two different approaches to the marketplace. Our share has grown into the 16, 17, 18 depending on the quarter. We believe we have a compelling selling proposition, our batteries last as long as the two leaders and they cost less. Batteries are an impulse item, almost 65% are sold on impulse. The more that the retailer puts in the store, the more they sell.
"We will continue to push forward on that. We'll continue to push forward on providing better margin to the retailer and a better deal for the consumer.
"We're still just that size of the market. There are two other people that have 70% of the market and are very strong in grocery and drug.
"So we'll continue to do that. I think it's a good growth opportunity for us. I think that the numbers that you guys always see on the Battery business where it says it's down 2%, 4% or 5%, are in dollars. ...
"So as we go through these shifts of strategy by the other two competitors, or long-term goal, you're going to see dollar discount. So that's why it appears that some shares are different and some industry sales are up or down. At the end of the day the amount of devices that are using batteries are the same as they've been for a long period of time.
"I think that's a good solid way. We're going to continue to do what we are doing, we're going to continue to try to bring innovation to the marketplace.
"It's a good business. Everyone needs batteries. As long as there is more people they're going to need batteries.
"We continue to try to bring rechargeable batteries out, so they can recharge them. We continue to try to encourage people to do the right thing with batteries, which we will continue to do. I think it's a solid business."
All of that leads to the bigger questions: With Buffett shining a beam on batteries, will someone come along and snap up Energizer's battery business before the official split early next year? And will this energize Spectrum?
Reality: In the monkey-see, monkey-do world of Wall Street, nothing should surprise you. 

Editor's Note: This article was originally published at 11:43 a.m. EST on Real Money on Nov. 13.
Herb Greenberg, editor of Herb Greenberg's Reality Check, is a contributor to CNBC. He does not own shares, short or trade shares in an individual corporate security. He can be reached at herbonthestreet@thestreet.com.