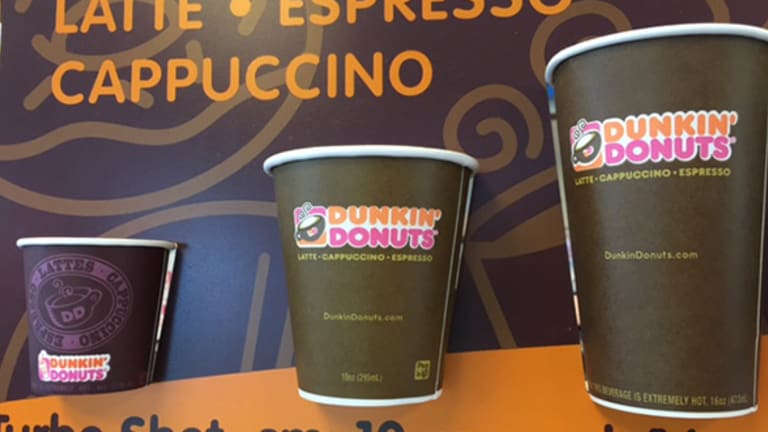 Dunkin' Donuts Pokes Fun at New Starbucks Rewards Program
Dunkin' Donuts takes a shot at Starbucks' new rewards program, which has had mixed reviews.
Dunkin' Donuts takes a shot at Starbucks' new rewards program, which has had mixed reviews.
Score one for Dunkin' Donuts. 
In a new Instagram post Thursday, the coffee and doughnut chain owned by Dunkin' Brands (DNKN) - Get Report  featured a short video of a person blowing gold stars all over the place while holding a Dunkin' iced coffee. Gold stars, of course, are the digital currency found on Starbucks' mobile app. The post seems to make a not-so-thinly-veiled reference to consumers having to spend a good deal (unlike at Dunkin') of money to amass stars, in the hopes of securing a free drink or food reward.  
The social media post is the latest attempt by Dunkin' to capitalize on people being upset by changes to Starbucks' rewards program and glitches in its new app.  
Dunkin' Donuts unveiled on Monday a new app that allows its DD Perks users to pay with a virtual card using Apple Pay. Further, new DD Perks members receive a free beverage and 125 points if they enroll in the program by April 21, plus 125 points on their second and third store visits when they pay with their enrolled DD cards.
Not so coincidentally, under Starbucks new rewards plan, it takes 125 stars accumulated as a Gold level member to receive a free drink or food item.
Both Dunkin' Donuts and Starbucks have attracted a significant number of users to their rewards programs. 
In the quarter ended Dec. 27, members in the My Starbucks Rewards program surged 23% year over year to 11.1 million. More than 21% of total U.S. transactions were paid using the Starbucks mobile app during the quarter. Starbucks estimated that its My Starbucks Rewards program has grown about 50% in the past two years. Meantime, Dunkin' had about 4.3 million members enrolled in its DD Perks rewards program at the end of its fourth quarter.
"Changes to the rewards programs were made as a direct response from customer requests, which should pave the path towards sustained same-store sales momentum over the long-term as it is now more aligned with most loyalty programs (dollar-based rather than transaction-based)," said Jim Cramer,
TheStreet's
founder and manager of th
e
,
which owns Starbucks. "We continue to view Starbucks as a core holding given strong execution of its many growth initiatives, powerful yet under-appreciated earnings strength, and resulting ability to generate robust free cash flow."