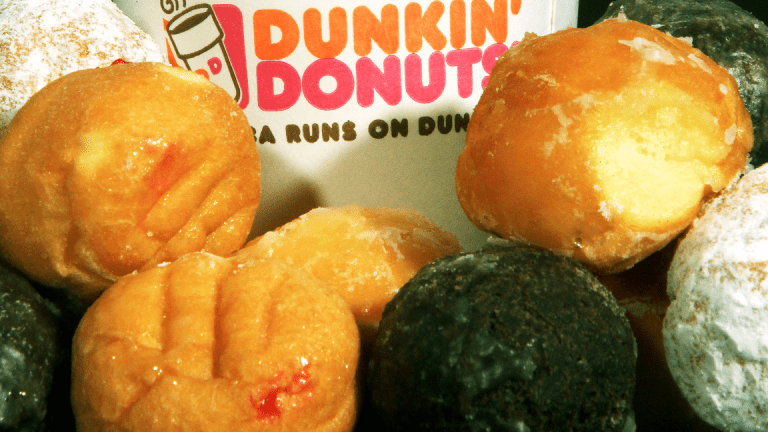 Dunkin' Donuts Drops 'Donuts' from Its Name (But Not Its Shelves)
'Dunkin' no longer wants to be known as primarily a doughnut chain,' CEO says.
You don't go to Dunkin' Donuts any more. You just go to "Dunkin'." 
Dunkin' Brands (DNKN) - Get Report  announced Tuesday that it's dropping the word "Donuts" from its name and will henceforth just call its stores "Dunkin'."
"The simplicity of our new branding creates energy," CEO David Hoffmann told reporters on a conference call announcing the change. Dunkin' no longer wants to be known as primarily a doughnut chain, but rather a coffee chain, which goes right along with the company's need for speed. "It also speaks to the breadth of our product offerings," Hoffmann said. 
The rebranding will take effect in January, although name change or not, Dunkin' stores will continue to actually sell doughnuts. Still, the rebranding strategy apparently aims to boost the chain's U.S. sales, which grew just 1.3% year over year amid decreasing foot traffic during Dunkin's latest quarter. Another of the chain's initiatives is to create a "next-generation" store of the future to get product into customers' hands faster.
Cowen & Co. analyst Andrew Charles told TheStreet that Dunkin' "wants to extend beyond doughnuts. Coffee is [more] desirable because it's habitual and high margin."
Shareholders seem to have found the move tasty, as DNKN shares rose 97 cents (1.33%) to close at $73.79. 
This isn't the first time we've seen a restaurant change its name to better emphasize its product lineup. Past changes have included:
Domino's (DPZ) - Get Report . Domino's went from "Domino's Pizza" to just Domino's in 2015. While the chain doesn't break out revenues by food product, it hasn't been shy about marketing important add-ons to the business like bread sticks, chicken and desserts.
Starbucks  (SBUX) - Get Report . The popular chain was once known as "Starbucks Coffee," but shortened that to just "Starbucks." While SBUX doesn't break out revenue by product either, the chain has turned to egg sandwiches, desserts and non-coffee drinks for sales growth.
IHOP. This chain, owned by Dine Brands Global (DIN) - Get Report , temporarily changed its name to "IHOB" earlier this year, as the "B" was meant to bring attention to the burgers the company wanted to sell. (For those who don't know, "IHOP" stands for "International House of Pancakes.") By changing the name to IHOB and then back to IHOP, the company raised awareness of the burgers for at least a hot second. 
Of course, any change comes with a risk -- and in Dunkin's case, the risk is to doughnut revenues, which account for roughly 40% of the chain's sales, according to Hoffmann.
But Hoffmann noted in his call with reporters that the chain's next-generation stores put doughnuts right in front of customers instead of behind the counter today, creating complete visibility. "If you've been into our next generation stores, it's a very easy way to see and fall in love with our doughnuts," Hoffmann said. "They're very easy to see [and easy to choose."