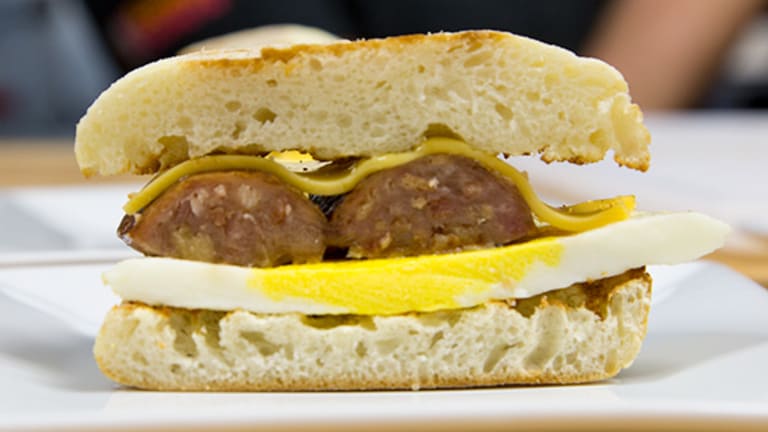 Dunkin' Brands CEO: Higher Minimum Wages May Be Sinking Our Results
Customers may be balking at the higher prices being adopted in anticipation of higher wages, suggested CEO Nigel Travis.
NEW YORK (TheStreet) -- The sales growth -- and share price -- of Dunkin' Brands (DNKN) - Get Dunkin' Brands Group, Inc. Report may be one initial casualty of higher minimum wages being adopted across the country. 

Shares of Dunkin' slid 12% on Thursday as it reported slowing sales growth in the third quarter, when menu prices were raised by franchisees following a contentious summer of minimum wage discussions in the country. The company said it expects third quarter U.S. same-restaurant sales to increase 1.1%, cooling from a 2.9% gain in the second quarter. Traffic to Dunkin' Donuts U.S. locations was expected to fall 0.7%, after rising 0.6% in the second quarter.
"There is anxiety over minimum wages, so franchisees have increased prices a lot, probably in some cases beyond our recommendation -- so that perhaps erodes some of our value perception," said Dunkin' Brands CEO Nigel Travis in an interview with TheStreet.
Travis also pinned some of the blame for more moderate sales growth to the ongoing egg shortage in the country. A bird flu virus wiped out millions of chickens on commercial farms this spring, causing egg supplies to dwindle and prices to skyrocket. Fearing that it would run out of eggs, the company did not run a promotion that according to Travis, would have driven "a lot of traffic."
The coffee-and-donut chain also announced that a franchisee planned to close 100 self-service stores over the next 15 months, but said the stores only represented a very small portion of overall sales. 
The menu price increases by Dunkin' franchisees in anticipation of higher minimum wages, and subsequent negative consumer reaction, have come quickly. In early September, New York State approved a measure to increase the minimum wage for employees of fast-food chain restaurants in the state to $15 an hour over the next few years. Wages would be hiked more quickly in New York City than in the rest of the state to adjust for the higher cost of living.
The current state minimum wage is $8.75 an hour. The decision on minimum wages added New York to a list of other regions, such as San Francisco and Chicago, that have sought to jack up minimum wages for fast-food workers.

Dunkin's slower traffic numbers during the third quarter, and harsh reaction to them by Wall Street, could be a sign of things to come when franchisee-led fast-food restaurants such as McDonald's (MCD) - Get McDonald's Corporation (MCD) Report , Wendy's (WEN) - Get Wendy's Company Report , Buffalo Wild Wings (BWLD) and Restaurant Brands Group (QSR) - Get Restaurant Brands International Inc Report owned Burger King report earnings in the weeks ahead.
Buffalo Wings, for instance, implemented price increases on alcohol in the third quarter to help offset hourly wage hikes and other rising costs such as health insurance in states such as California and New York.  In November, the company plans to raise prices for two of its most popular wing promotions. 
To justify higher menu prices and keep consumers returning, it will be up to the test kitchens back at the headquarters of fast-food giants to create tempting new products. Dunkin', for instance, has several new items on the way it's hoping will help reignite its traffic this holiday season and beyond, including two new bacon-focused breakfast sandwiches and a donut with a crumbled bacon and maple glaze.  
Despite the sluggish third quarter, Dunkin' reiterated that it expects full-year adjusted earnings of $1.87-$1.91 per share and revenue growth of 6-8%. The company shared on Thursday that it's targeting U.S. same restaurant sales growth of 2% to 4% over the next five years. Dunkin' will begin testing mobile ordering in Portland, ME in November, with a nationwide roll-out planned for 2016.
"We see this as a short-term blip on a long-term success story," concluded Travis.