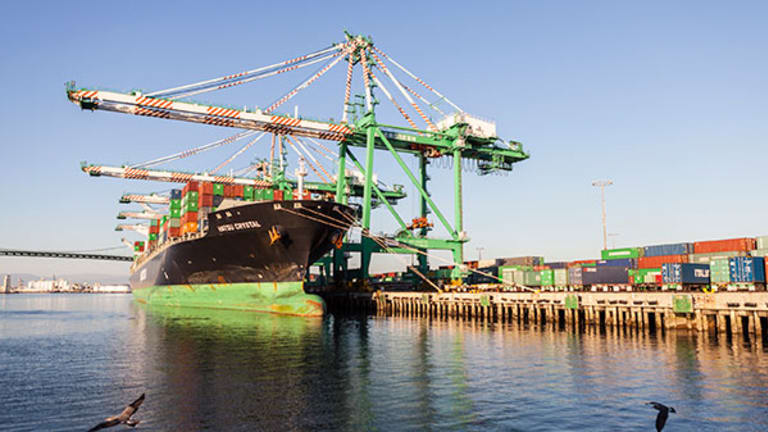 DryShips Soars 1,500% Amid Epic Short Squeeze
Sea-transport provider rallies as scant inventory of its shares sparks dramatic short squeeze.
(This story has been updated to reflect DRYS closing price.)
DryShips (DRYS) - Get DryShips Inc. Report  soared some 70% in Tuesday trading and has risen some 1,500% over the past week as one of the most spectacular short squeezes the market has witnessed in a long time grips this unique investment vehicle.
DryShips shares jumped 70.3% to $73 Tuesday on a huge volume surge. More than 10 million shares changed hands  -- some 20 times the stock's average daily volume of less than 500,000. DRYS had been as high as $102 earlier in the session and is up from just $4.56 a share at last Tuesday's close.
It's a remarkable turn of events for a stock that was trading just above $1 a share as recently as August. However, quite a lot has transpired since this unusual stock hit its summer lows.
DryShips undertook a 1-for-4 reverse split when the stock was trading at $1 a share, then engineered a 1-for-15 reverse split at the start of November. As a result, there were just over 1 million shares of the stock in the public float, opening the door for exactly what's happened now -- a short squeeze of dramatic proportions. According to the website ShortSqueeze.com, 1.7 million shares of DryShips were in short sellers' hands as of October's end, up from just about 300,000 shares six months ago.
That isn't to say DryShips' rally is purely a function of the short-sellers market. While it is largely that, bets on the direction of overseas-shipping pricing have expanded sharply since last week's U.S. presidential election.
Some investors are betting that Donald Trump's election is going to have some benefits for trade -- something that's being reflected in things like Baltic Dry Index, the best gauge of sea-transport prices. That index, which measures sea-transport prices, has moved above 1,000 for the first time in 15 months.
A host of other-sea transport stocks have moved higher in recent trading as well. SAExporation (SAEX) - Get SAExploration Holdings, Inc. Report  rose some 25% to $10 a share as of Tuesday afternoon, while Genco Shipping (GNK) - Get Genco Shipping & Trading Limited New (Marshall Islands) Report  climbed 10% to $9. Eagle Bulk Shipping (EGLE) - Get Eagle Bulk Shipping Inc. Report  also jumped 40% Monday, though that stock has declined so far in Tuesday's session.
None of those, however, match the remarkable firepower of DryShips, a development that's completely out of character with the company's fundamentals. The company is working with its lenders to manage the terms of its credit facilities. Three of its loan products have matured, and the company hasn't been able to make final balloon payments, and has instead suspended principal and interest payments to preserve liquidity. DryShips has been actively selling off vessels to pay down revolving credit facilities. This means DRYS will have that much less leverage to any real or perceived improvement in the fundamentals of the sea freight business.
What has taken place, though, is the remarkable impact of the short-selling market. With short interest in the stock spiking, short sellers have to scramble to gain the shares needed to cover their bets before the market completely gets away from them. The more the market moves against them, the more ferocious the competition to acquire those shares becomes.
And, to repeat, there's been a significant reduction in the inventory of DryShips shares. That means that the phenomenon of the short squeeze is forcing skeptics to pay sharply higher prices in order to mitigate how badly their bets are working against them.