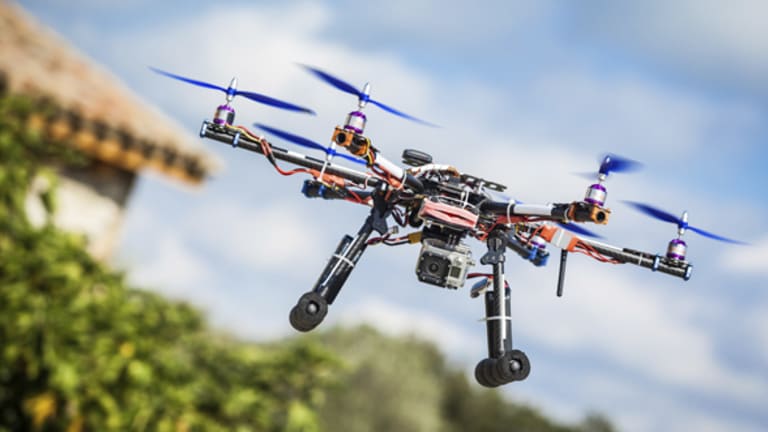 Drones Provide a Profitable Opportunity Coming to a Sky Near You
Pilot-less aircraft will soon dot the airspace over our neighborhoods. That isn't science fiction but a moneymaking fact. Here is the best investment play.
Pilot-less aircraft will soon dot the airspace over our neighborhoods. That isn't science fiction but a moneymaking fact. Here is the best investment play.
The personal computer, the Internet and the smartphone all revolutionized daily life.
To this list of disruptive technologies we can add unmanned aerial vehicles, aka, drones.
Those who don't believe it should just look at the latest moves made by retailing giant Walmart.
To fight the existential threat posed by e-commerce leader Amazon, Walmart is heavily investing in drones.
When a massive retailer embraces a new technology as a way to stay relevant, it is time to invest in the company that dominates this new capability. One such company is AeroVironment (AVAV) - Get Report , a small-capitalization rocket that is set to deliver long-term gains.
Walmart recently said that it was six to nine months away from beginning to use drones to monitor inventories at its regional warehouses in the U.S.
The company's drone surveillance is part of a $2.7 billion effort to enhance its technological capabilities, to help stem sales erosion to e-commerce competitors such as Amazon. Walmart started testing the drones at its warehouses in June.
Walmart's embrace of drones is a significant move forward for the everyday, mainstream deployment of these futuristic machines. AeroVironment is the best investment play on commercial drones.
Aerospace consultancy Teal Group's most recent market study (released in July) estimates non-military drone production will soar from $2.6 billion worldwide in 2016 to $10.9 billion in 2025, a 15.4% compound annual growth rate in constant dollars. Over the next decade the market is expected to reach $65 billion.
To keep up with this fast-evolving technology, the Federal Aviation Administration in June released its latest set of regulations pertaining to drones, making it easier to test, develop and deploy the pilot-less aircraft in national airspace.
A drone could be spying on any of us right now, without us knowing. Drones increasingly serve as the eyes in the skies for border patrols, coast guards, corporations, governments and police agencies around the world.
A growing number of trade shows are dedicated to drones, which heralds the technology's emergence into the corporate mainstream. The next big event is InterDrone, scheduled for Sept. 7-9 in Las Vegas, at which 160 companies are scheduled to showcase the latest commercial drone technology.
The commercial UAV industry leader is AeroVironment, which provides a wide variety of drones that are prized by the military, but it also makes a host of smaller UAVs that can be used for everything from package delivery to police surveillance.
With a market capitalization of $656 million, the company is large enough to provide stability for investors but small enough to offer outsize capital appreciation compared with mega-cap military drone competitors such as Boeing, Northrop Grumman and Raytheon.
AeroVironment's forte is making small and nimble UAVs that have the ability to carry payloads and are fitted with GPS systems and contact avoidance systems. These are the types of units that would help Amazon Chief Executive Jeff Bezos realize his bold vision of delivering packages door-to-door via drones. 
For this fiscal year ending next April, AeroVironment is expected to post earnings of 28 cents, compared with 10 cents a year earlier.
Invest in AeroVironment while it is still a small-cap with enormous room for growth.
---
AeroVironment is a smart bet. For those looking for other growth opportunities, here is a genius trader who turned $50,000 into $5 million by using his proprietary trading method. For a limited time, he is guaranteeing investors $67,548 per year in profitable trades if they follow his simple step-by-step process. Click here for details.
John Persinos is an editorial manager and investment analyst at Investing Daily.
Persinos appears as a regular commentator on the financial television show "Small Cap Nation." He's also an analyst with the aerospace consultancy Teal Group. Follow him on Twitter.
At the time of publication, Persinos owned stock in BA.