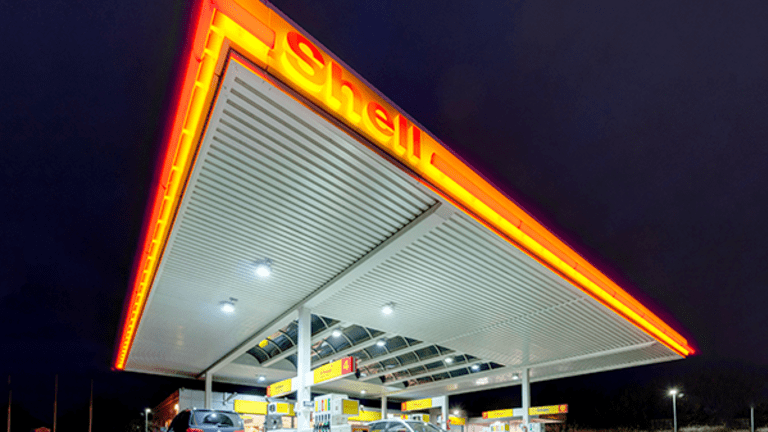 Why Consumers Should Get Ready to See Another Gas Price Plunge
Motorists are already benefitting from a decline in gas prices.
Gasoline prices this summer should continue their downward trend even as demand should pick up in July during peak travel season.
Motorists are already benefitting from a decline in gas prices, since they are now lower compared to the beginning of 2017.
"I can't think of a single time that's happened - higher prices in winter than summer," said Patrick DeHaan, a senior petroleum analyst for GasBuddy.com, a Boston-based provider of retail fuel pricing information and data. "That gas prices are even close to the valley in February of $2.26 a gallon is how wacky this year is at the pump."
The average gas price on June 24 was $2.28 a gallon as the supply gut continues. Prices are down slightly from 2016 when it was $2.38 a gallon. Gas prices have fluctuated widely during the past decade. In 2008, prices hit a high of $4.10 on July 16, but dipped back down to $1.59 by December 29.
There is a high possibility that gas prices could dip even further as oil prices hover around $43 a barrel, and are now in a bear market. 
"Given this climate, we haven't yet seen gasoline prices bottom out," he said. "I believe that we have a strong chance to see summer prices get lower temporarily than they did during the winter blues."
While the decline in prices this year compared to last summer appears to be nominal, it adds up quickly, especially for drivers planning longer road trips.
"The Midwest is partying while the West Coast feels the hangover from some refinery issues," DeHaan said. "Ohio leads with prices 47 cents under a year ago, followed by Illinois at 41 cents, Indiana at 40 cents, Michigan at 37 cents and Kentucky at 23 cents. Hawaii leads on the plus side, up 47 cents, while Alaska follows close in tow, up 36 cents. Nevada is up 28 cents, California by 25 cents and New Jersey up 22 cents because of the new gas tax."
Unless hurricanes interrupt the oil production or refinery operations along the Gulf Coast, gas prices will remain "dirt cheap throughout the summer driving season as we predict them remaining below $2.50 a gallon on average," said Chris Faulkner, CEO of Breitling Energy, a Dallas oil and gas exploration and production company.
Every penny drop to the national average price saves motorists $3.95 million a day, leaving consumers more flexibility in their budget, said DeHaan.
As domestic inventories continue surging, putting more downward pressure on crude oil prices, the likelihood that gas prices will rise even when demand increases is unlikely, said Bernard Weinstein, associate director of the Maguire Energy Institute at Southern Methodist University's Cox School of Business in Dallas.
"Cheaper gas means a bit more disposable income for consumers — money that's likely to spent on recreational activities during the summer holidays," he said.
Crude Oil Could Test $40 Level
While OPEC extended their production cut, other countries have not followed suit. Instead, these non-OPEC countries like the U.S. have ramped up their production, said Weinstein. The oil glut is adding to the instability of oil prices.
"Despite pledges by OPEC to cut production in order to bring global supply and demand into balance, the U.S. output is projected to hit an all-time high of more than 9.5 million barrels per day, thanks to an uptick in drilling activity in the Permian Basin and other shale plays," he said.
Demand has been weak this year as inventories have risen steadily. The EIA reported a mild 9.3 million barrels per day of demand, "well under some of last year's readings that were inching closer to 10.0 millions of barrel a day," said DeHaan.
The demand for gasoline is "weaker than one would expect" since the national average is lower than a year ago, he said.
"Much to the chagrin of OPEC, imports continue to be strong to the U.S. and domestic production among the highest its been since late summer of 2015," DeHaan said.
Refiners have also not slowed down their pace and continue to churn out supply.
"I'm not sure even a major refinery issue could temper the bearishness that we're seeing," he said. "I would have expected demand to be closer to 9.6 to 9.8 million barrels per day for this time of year, but I haven't lost all hope just yet."
Unless oil prices continue to "slide," U.S. shale producers will not decrease their production and oil could test the $40 marker, said Faulkner.
"There is simply too much oil in the market," he said. "If OPEC doesn't make additional cuts to counter the new oil production coming online from Libya and Nigeria, we could see oil prices continue to slide and even test the $30 marker and stay there for a while."
Oil prices will continue to deteriorate unless production is cut by 750,000 to 1 million barrels a day of production, Faulkner said.
"The production of shale oil from American producers has just erased anything OPEC has tried to do," he said. "Oil inventories are near record highs in some parts of the world and producers outside the OPEC deal are increasing output."
Visit here for the latest business headlines