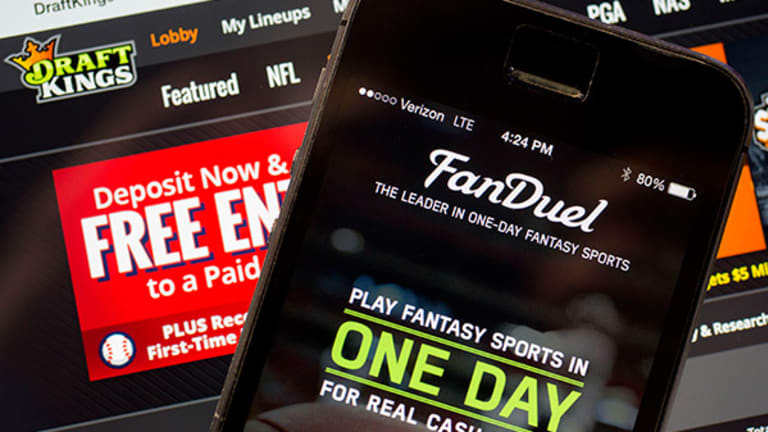 DraftKings, FanDuel Players Fight Repayment of Credit-Card Bets
The potential impact of a class-action lawsuit over fantasy football bets made with JPMorgan and AmEx cards is unclear, with 57 million people a year betting about $465 each.
Yehuda Guttman wants to get back the money he wagered on fantasy sports websites over the past six years, and he's betting that he's not alone.
The Brooklyn resident's lawsuit in federal court in New York City seeks class-action status for players in the rest of the state, where Attorney General Eric Schneiderman has sued to bar DraftKings and FanDuel on the grounds that they amount to illegal gambling operations, as well as across the U.S.
Guttman's suit, which targets not only the fantasy sports site, but credit card lenders JPMorgan Chase (JPM) - Get JPMorgan Chase & Co. Report, American Express (AXP) - Get American Express Company Report and Capital One (COFS) as well as card processors Mastercard (MA) - Get Mastercard Incorporated Class A Report and Visa (V) - Get Visa Inc. Class A Report, seeks the return of payments and fees as well as a declaration that his remaining debts are void because New York prohibits collection of illegal gambling debts. 
The potential impact of a class-action lawsuit against banks over fantasy sports betting, should it succeed, is unclear, and Guttman didn't specify his personal wagers or losses in the suit. About 57 million people a year in the U.S. and Canada play fantasy sports, wagering an average of $465 each, according to the Fantasy Sports Trade Association.
The risk isn't as significant yet to credit card companies as to the fantasy sports sites because Schneiderman's case aims merely to block operations in New York, not to reclaim corporate profits, according to Marc Edelman, an associate professor of law specializing in sports betting at Baruch College.
"There have been more than 30 lawsuits filed in recent weeks against fantasy sports sites, and it would seem imprudent to give any one too much weight before the New York complaint has been settled," Edelman said in a phone interview.
Banks and credit card processors could be at risk moving forward, however, if the court deems daily fantasy sports betting involves a significant element of chance, Edelman said. That would leave participating companies open to potential litigation under the Unlawful Internet Gambling Enforcement Act of 2006. 
DraftKings data show that 89% of fantasy sports players had an overall negative return on investment in 2013 and 2014, Schneiderman says.

Guttman's case was filed shortly after New York's attorney general delivered cease-and-desist orders to both DraftKings and FanDuel. Both sites contested his claims, and last week, Schneiderman sought preliminary injunctions against them in New York Supreme Court, the state's trial court.
Daily fantasy sports are a form of gambling that's illegal under New York law, "causing the same kinds of social and economic harms as other forms of illegal gambling, and misleading New York consumers," Scheiderman said in a statement. 
It "is neither victimless nor harmless, and it is clear that DraftKings and FanDuel are the leaders of a massive, multi-billion-dollar scheme intended to evade the law and fleece sports fans across the country," he said in the statement. "Today we have sent a clear message: Not in New York, and not on my watch."
David Boies, an attorney for DraftKings, questioned in an op-ed piece in the New York Daily News why Schneiderman waited until now to contest fantasy sports, noting that he has been in office for six years.
"The reason that until this month the attorney general, his predecessor and everyone else believed that daily fantasy sports were legal is because they are," Boies wrote. "Telling citizens they must stop participating in challenging and entertaining contests that they enjoy is a big step in a free society. If it is to be done at all, it must only be done by a democratically elected Legislature, not a single public official or the courts."
Arguments on Schneiderman's request for injunctions against DraftKings and FanDuel are scheduled before Supreme Court judge Manuel Mendez on Wednesday, Nov. 25.
Guttman's claims in the federal case, meanwhile, hinge on New York's general obligations law, although the suit alleges violations of U.S. law as well. It seeks to prove that daily fantasy betting doesn't qualify as a legitimate form of sports bookmaking partially legalized under the federal internet gambling law. 
Fantasy sports supporters argue that it's strategic investing, rather than gambling, and that it relies on accurately assessing the skills of team players, said Guttman's attorney, Hunter Shkolnik. FanDuels and DraftKings are not designed for season-long investments but to provide week-to-week betting opportunities, Shkolnik said.
As regulators realize that fantasy sports betting is essentially akin to online poker, fantasy betting operations could soon face scrutiny under the unlawful internet gambling law that shuttered sites such as PartyPoker.  
"They are hammering college kids with advertising and burning up their credit cards," said Shkolnik. The attorney has been "inundated with phone calls" from mostly college-age men who have maxed out their credit lines using either FanDuel or DraftKings, he said.
The suit argues that New York-based FanDuel and Boston-based DraftKings should return their profits because betting was often slanted and "contests are intentionally unfair, rendering its contracts with its customers unconscionable and void of good faith."