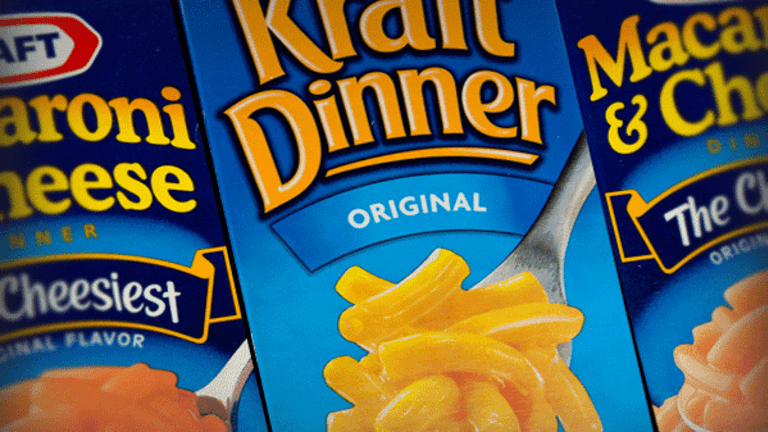 Downgrade Makes Kraft Heinz More Distasteful
Not a good recipe for this stock.
We last reviewed the charts and indicators on Kraft Heinz (KHC) - Get Free Report in early July, and we said, "KHC looks weak and could soon test/break the $82-$80 zone of support. A close below $80 is likely to weaken prices further. An oversold bounce is likely only to postpone the break."
Prices have been testing the $82-$80 zone the past past few weeks and we could close below $80 today -- the same day KHC was downgraded by TheStreet.com's quantitative service.
Let's take a fresh look at the charts.
In this updated daily bar chart of KHC, above, we can see prices are below the declining 50-day moving average line. The 200-day moving average line turned bearish in early July. What is interesting or odd is the movement of the On-Balance-Volume (OBV) line. It has been going up from early July and suggests buyers have been accumulating KHC on a scale down. In the lower panel, there is a bullish divergence between the lower lows in price from early July to late August and higher lows on momentum.
In this weekly chart of KHC, we can see the $80 support level is likely to be tested and broken soon. Prices are below the declining 40-week moving average line and the weekly OBV line shows aggressive selling since February. The weekly MACD oscillator is bearish.
In this Point and Figure chart, above, we can see some support at $79.05 and $78.26. A break of this area could mean a decline to $71.91.
Bottom line: The decline in KHC could be slowing, but the trend is down and I cannot make a compelling case to be a buyer of weakness.
Click here to subscribe to Quant Ratings, where you can read our full report on KHC or more than 4,000 other stocks that our service rates in real time every market day.
However, please note that our Quant Ratings service assesses stocks using a proprietary computer model that runs a variety of factors through quantitative and technical analysis. Ratings do not necessarily reflect the opinions of Jim Cramer or other columnists, who may use different criteria to grade stocks.
This column originally appeared at 2:57 p.m. ET today on Real Money, our premium site for active traders. Click here to get great columns like this from Bruce Kamich, Jim Cramer and other writers even earlier in the trading day.
Employees of TheStreet are restricted from trading individual stocks.