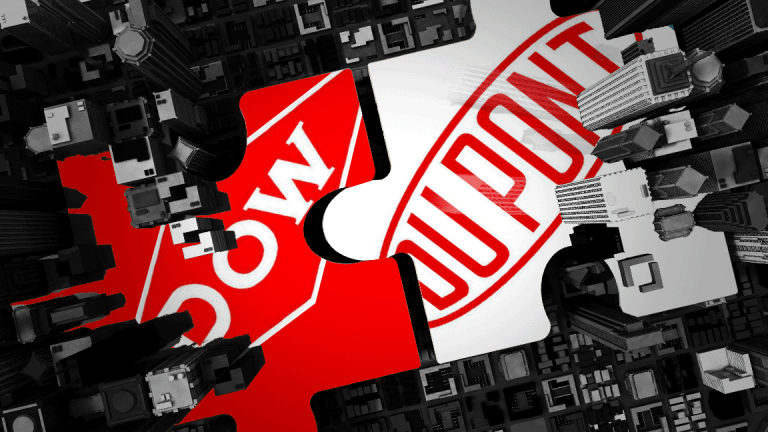 DowDuPont Shares Slip on Lower First-Quarter Guidance
DowDuPont drops after the company lowers its guidance for the first quarter of 2019.
Shares of DowDuPont undefined slipped on Friday after the company lowered its guidance for the first quarter of 2019, citing "near-term trends and discreet headwinds" that impacted its agriculture and materials science divisions.
DowDuPont stock was down 1.5%, or 81 cents, at $51.91 in trading on the New York Stock Exchange. 
In a statement released after the close on Thursday, DowDuPont said it now expects first quarter 2019 net sales to be "down high-single digits percent (versus previous guidance of down mid-single digits percent) and expects operating EBITDA to be down high-teens percent (versus previous guidance of down low-teens percent)."
Analysts surveyed by FactSet are currently expecting the company to post earnings of 90 cents a share. DowDuPont will release its financial results on May 2.
Midwest Flooding, Margin Compression, to Blame
Specifically, the company pointed to historic flooding in the Midwest that caused transportation disruptions and limited product delivery, as well as delaying pre-season applications on crops.
"It was an event that was out of the control of the company, and due to this, net sales for the first quarter of 2019 are expected to be down 4-6% and operating EBITDA is expected to be down $125 million to $150 million compared to the same quarter last year," the company said.
On the materials sciences side, greater-than-expected margin compression in its packaging and plastics business will mean approximately $100 million lower operating EBITDA compared to previous guidance.
While noting the issues were mostly out of management's control, "That does absolve them," Jim Cramer and the Actions Alerts PLUS team wrote in an updated analysis published Friday. DowDuPont is a holding in Cramer's Action Alerts PLUS portfolio.
But Don't Sell The Stock Just Yet
"Even though our recent views have been wrong thus far, we do think it is wrong to sell the stock just a few days before next week's big spinoff because the event is when investors should finally see the value that has been created from the Dow-DuPont merger and subsequent separations," Cramer and the AAP team wrote.
Dow Inc. will replace DowDuPont in the Dow Jones Industrial Average before the start of trading on Tuesday, April 2. The move will take place because of DowDuPont's breakup into three smaller companies called Dow, DuPont and Corteva Agriscience.
DowDuPont was formed in 2017 when chemical giants Dow Chemical and DuPont merged.
How Much Money Will I Need to Retire?
Want to learn about retirement planning from some of the nation's top experts? Join TheStreet's Robert "Mr. Retirement" Powell live in New York on April 6 for our Retirement Strategies Symposium. For a limited time, tickets are available for $99 for this full-day event. Check out the agenda, learn about the speakers and sign up here.