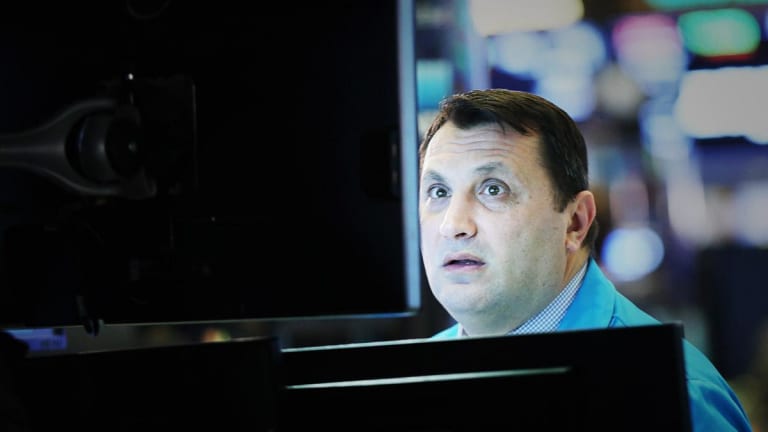 Dow Ends Lower; Stocks Trim Losses as Trump Hints Trade Deal Still Possible
The S&P 500 and Nasdaq fell for the fourth straight session Thursday amid continued trade tensions between the U.S. and China.
Here Are 3 Hot Things to Know About Stocks Right Now
Stocks ended down Thursday but recovered a bit after President Trump said "we'll see" about a trade deal with China.
Intel  (INTC)  dropped after warning that its move away from personal computer chips to logic, memory and data centers will weigh on profit margins over the next three years.
Shares of Walt Disney Inc. (DIS)   fell after the media giant's earnings fell 13% but beat Wall Street's second-quarter expectations.
Wall Street Overview
Stocks ended down Thursday, but recovered some ground late in the session, as mounting hostility between the United States and China and concerns about tariffs set to begin at midnight cranked up trade war fears.
The Dow Jones Industrial Average fell 139 points, or 0.54%, to 25,828. At its low for the session, the blue-chip index declined 449 points. The S&P 500 tumbled 0.30% and the Nasdaq dropped 0.41%. The S&P 500 and Nasdaq were down for a fourth straight day after setting a string of record closing highs last week.  The Russell 2000 index of small-cap stocks also fell, declining 0.3%.
Liu He, China's vice premier and top trade negotiator, will have dinner with President Donald Trump's trade team Thursday evening in Washington, just hours before the U.S. is set to hike tariffs on $200 billion in Chinese goods to 25%.
Markets remained on edge as Trump said early Thursday afternoon that he has an "excellent" alternative to a possible trade deal with China. He also said Chinese President Xi Jinping "wrote me a beautiful letter" and may hold a phone call with him. When asked about a trade deal with China, the president said, "We'll see."
"Will there be a deal or not?" said Ryan Detrick, senior market strategist for LPL Financial. "It is looking like a deal with China won't happen this week, which has opened the door to increased uncertainty and a sell first and ask questions later mentality. Even if tariffs increase tomorrow, there is still time for a resolution and minimal impact on the global economy. But the clock is ticking and both sides still have some major differences to solve."
Overnight Trump said during a campaign rally in Florida that China "broke the deal" by backing away from commitments it made earlier during trade talks. Trump said "we won't back down until China stops cheating our workers and stealing our jobs." Beijing vowed to take ''necessary countermeasures" if tariffs are increased Friday, as Trump has threatened.
"Even a bull market doesn't always go in one direction, and even this year we've seen dips like this before -- there is always going to be something for the bears to sink their teeth into," said Mike Loewengart, vice president investment strategy at E*Trade Financial. "This week that's trade, and when you think about just how much uncertainty there is on that front, the dip we're seeing is really not that substantial. To be sure things could get far worse, but if you look at the remarkable trajectory of the market so far this year, this week's declines are a minor speed bump at this point."
Meanwhile, the deficit in goods with China in March dropped 16.2% to $20.7 billion, the lowest level since March 2014, the Commerce Department said. Overall, the U.S. trade deficit increased 1.5% to $50 billion in March, after falling 3.6% in February. Exports rose 1% to $212 billion in March while imports rose a slightly faster 1.1% to $262 billion.
Intel (INTC)  , the biggest loser on the Dow, dropped 5.3% to $46.62 after the company cautioned that its move away from personal computer chips to more competitive markets in logic, memory and data centers will weigh on profit margins over the next three years.
Shares of Walt Disney (DIS)   was down 1% to $133.59 after the entertainment giant beat Wall Street second-quarter earnings expectations but earnings fell 13%.
Etsy  (ETSY) fell after the online marketplace group posted a narrow first quarter revenue miss that included modestly improved 2019 profit guidance and plans for international expansion. Shares were down 10.8% to $60.76. 
Roku (ROKU) shares soared 28.1% to $83.17 after the TV streaming platform company beat Wall Street's first-quarter earnings expectations.
Chevron  (CVX)  , the Dow's biggest winner, said it will not increase its $50 billion takeover bid for independent drilling group Anadarko Petroleum (APC) , and will boost its share repurchase program instead as it collects a $1 billion break-up fee. Shares of Chevron rose 3.1% to $ 121.19, while Anadarko fell 3.3% to $73.39.
Disney and Anadarko are holdings in Jim Cramer'sAction Alerts PLUS Charitable Trust Portfolio. Want to be alerted before Cramer buys or sells these stocks? Learn more now.