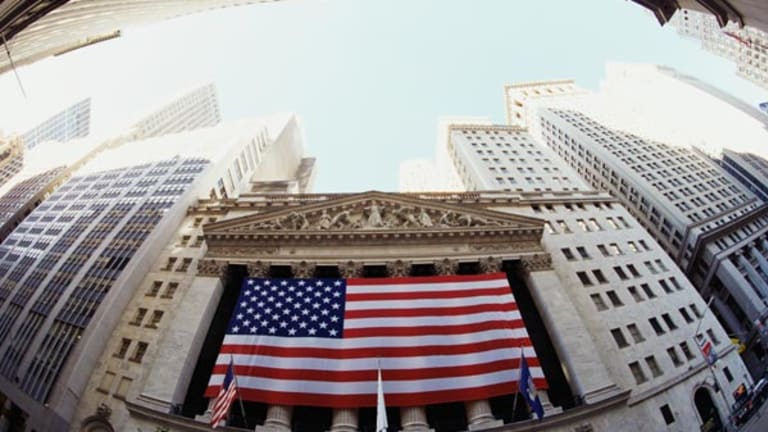 Dow Stocks -- Worst to Best
Alcoa, General Electric and Bank of America are three of the worst-ranked Dow stocks, according to metrics that take emotion out of the equation.
(TheStreet.com, starting today and ending Friday, will review all 30 Dow stocks. Six Dow stocks will be featured each day.)
BOSTON (
) --
Dow stocks
account for some of the biggest and most respected companies in the world from a range of industries, such as
Wal-Mart
(WMT) - Get Walmart Inc. Report
,
Exxon Mobil
(XOM) - Get Exxon Mobil Corporation Report
and
Microsoft
(MSFT) - Get Microsoft Corporation Report
.
The Dow, which contains 30 companies, is a gauge for equity performance, a benchmark for large-cap mutual funds and a proxy for the American economy. Like the economy, the stock market is faltering. The Dow fell 3.1% last month, the steepest decline since February 2009. That doesn't mean investors can't make money. The simplest way for a manager to beat the stock market, in theory, is to cherry-pick the most attractive Dow stocks.
Selecting the top Dow stocks is no easy task. This week,
TheStreet.com
will rank the Dow components based on our proprietary quantitative model, which takes into account financial strength, volatility, growth potential, performance and dividends, to project those most likely to fare well in the coming year.
Today we begin with the bottom of the barrel. While these stocks may be the least favored, it's important to note that none carry "sell" ratings.
#30. Alcoa
(AA) - Get Alcoa Corporation Report
Alcoa, a Pittsburgh-based aluminum company, recently reported fourth-quarter earnings that fell short of analysts' expectations. The model rates Alcoa "hold" with a grade of C-minus mainly due to poor growth prospects and high volatility. Alcoa has posted a negative return on equity of 8.12% over the trailing 12 months on a negative operating margin due to weak sales. Analysts expect revenue to grow by about 17% in 2010, so the tables could turn quickly, but the model is still leery of stock-price volatility. With a dividend yield of 0.9%, Alcoa is on the low end of Dow stocks and also lags behind many of competitors.
#29. Bank of America
(BAC) - Get Bank of America Corp Report
Bank of America spent much of 2009 rated "sell" but was recently upgraded to "hold" as volatility has eased and earnings are improving. The outsized debt-to-equity ratio drags on the stock's rating, but the bank's efforts to improve its leverage level have helped with the upgrade. If the share price stabilizes, another upgrade is possible.
Changes to the capital structure can take a long time to iron out, so the financial-strength score is likely to stay depressed for a while. The stock's gain of 126% during the past year has helped the rating, but not enough to outweigh risks.
#28. Boeing
(BA) - Get Boeing Company Report
Boeing has been brought down to Earth over the massively delayed Dreamliner airplane, but the ratings model has found several other areas of concern. With many airlines cutting orders, the growth component of Boeing's ratings score has dropped significantly. The company has bounced between profits and losses in 2009, and until orders pick up, it's difficult to expect permanent profits. Concerns over sluggish economic growth and the government's defense-spending cuts leave the future cloudy.
Financial stability also is a worry. The company had a negative shareholders' equity level in the third quarter but popped back above water after releasing fourth-quarter results. Once fourth-quarter results are factored into the model, Boeing could swing upward in the rankings, but its score is low enough to make an upgrade to "buy" only a remote possibility.
#27. General Electric
(GE) - Get General Electric Company Report
As
TheStreet.com
wrote
, General Electric had an exhausting 2009. With the majority of concerns linked to the company's massive finance unit, GE has had many of the same problems as big banks. The unit has placed a huge amount of debt on the company's balance sheet and is now suffering wave after wave of loan write-downs, which make the subsidiary nearly unprofitable.
This mess on the financial side of the business has led to a good deal of stock volatility, as is evident by the company's high beta value of 1.7. As a result, the once all-powerful GE finds itself in the bottom tier of Dow stocks. Price stability and an end to write-downs are necessary for General Electric to regain its swagger. That may take some time because debt totals about half a trillion dollars. While still a "hold," GE needs to do some major work to get its house in order to be considered a safe bet.
#26. The Home Depot
(HD) - Get Home Depot, Inc. Report
The Home Depot was in the wrong place at the wrong time during the latest recession because the trouble centered on the housing market, where the company does all of its business. Still, Home Depot is a solid bet. It has a stable financial situation, low volatility and decent performance.
The wrench in the gears is terrible growth prospects -- the company is a victim of circumstance. This is a company that will make it through the ringer due to its size and financial flexibility, but profits probably won't return in earnest until we are well out of the woods and homebuilding kicks into gear.
#25. American Express
(AXP) - Get American Express Company Report
Financial stocks such as American Express have been beaten up over the past year, which leads to high volatility and poor financial strength as earnings are eroded. While American Express avoided losses on its income statement, its stock price has oscillated wildly, leading to a beta value of 2.3.
That said, the company is a decent "hold"-rated stock. American Express has good performance and is projected to post a growth rate that isn't horrible when compared with competitors. Deleveraging and a steadier stock price would help lift the rating. As it stands now, the stock is almost a high "hold" and has a reward grade of "B." Its dividend is a bit low, which also hampers the rating, but this one is approaching a very acceptable position based on stringent model requirements.
-- Reported by David MacDougall in Boston.
Prior to joining TheStreet.com Ratings, David MacDougall was an analyst at Cambridge Associates, an investment consulting firm, where he worked with private equity and venture capital funds. He graduated cum laude from Northeastern University with a bachelor's degree in finance and is a Level III CFA candidate.