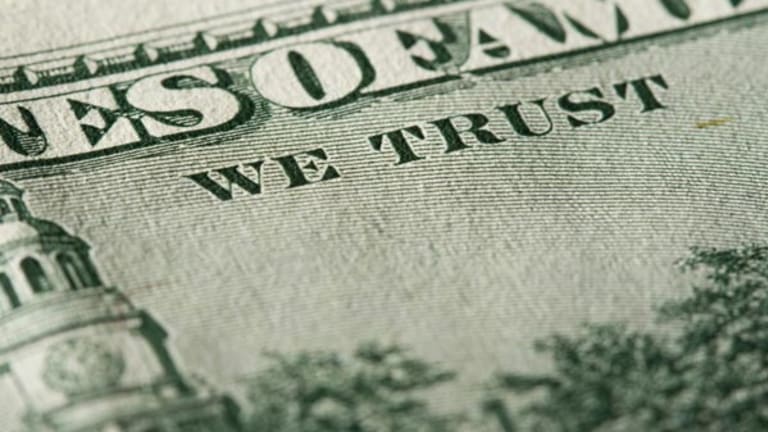 Dow Stocks Getting Better All the Time
Dow stocks with the highest analysts' ratings combine growth and solidity.
BOSTON (TheStreet) -- Dow stocks with the highest ratings move from strength to strength.
Such companies have growth potential yet are financially stable. As investments, Dow stocks such as
Pfizer
(PFE) - Get Pfizer Inc. Report
,
Coca-Cola
(KO) - Get Coca-Cola Company Report
and
Hewlett-Packard
are hard to beat in the long run.
>>
>>
>>
are the oft-cited gauge for equity performance in the U.S. and targets for many large-cap fund managers. The simplest way, in theory, for a manager to best the market would be to buy the market but kick out the least attractive
.
Picking the top-performing
is no easy task. This week we're ranking Dow stocks based on
TheStreet.com Ratings'
proprietary quantitative model. The model takes into account financial strength, volatility, growth potential, performance and dividends to project those most likely to perform well over the coming year.
Today's batch of stocks is exclusively "buy"-rated. The group features strong growth potential and great financial strength -- with one glaring exception.
#12.
United Technologies
(UTX) - Get United Technologies Corporation Report
Price/Equity: 14.7 (Industrials Average: 29.6)
Debt/Capital: 31.3% (Industrials Average: 38.8%)
Price/Free Cash Flow: 13.8 (Industrials Average: 25.17)
United Technologies may not be a household name, but there's a good chance you came across its products. Otis, a maker of elevators and escalators, and Carrier, a heating and cooling company, are owned by United Technologies. The company also deals in aeronautics and has its hand in defense contracting through subsidiaries Pratt & Whitney and Hamilton Sundstrand.
United Technologies' stock has increased 41% over the past year as the
S&P 500 Index
rose 32%. The company's solid 21.3% return on equity and stable financials, illustrated by its low debt-to-capital ratio, have bolstered the rating while less-than-optimal volatility has detracted from the overall score. The company has a beta value of 1 -- equal to the S&P 500 -- yet that's more volatile than similar companies in the same industry. United Technologies is priced at a discount to its competitors in terms of free cash flow and earnings.
#11.
Verizon
(VZ) - Get Verizon Communications Inc. Report
P/E: 12.4 (Telecom Average: 14.7)
Debt/Capital: 42.5% (Telecom Average: 44.5%)
P/FCF: 5.8 (Telecom Average: 10.8)
Verizon recently was downgraded to "hold," with a grade of C-plus, after it posted abysmal fourth-quarter results, which sank the company's growth score. The stock's lofty placement in this list is more a function of nothing weighing it down than anything lifting it up. Strong financials and a big dividend help the rating, but there's nothing else to write home about.
Verizon's fourth-quarter loss of $653 million damaged the company's rating. When combined with the share-price decline of 5.8% over the previous year, Verizon looks weak in the eyes of our model. Many are waiting with baited breath for
Apple
(AAPL) - Get Apple Inc. Report
to announce that a version of the iPhone will be coming to Verizon, ending
AT&T's
exclusivity contract, but the model is free of such speculation. With a grade of C-plus and a "hold" rating, Verizon isn't far from an attractive investment, but the most recent quarter is too weak to make a bullish case for the wireless company.
#10.
3M
P/E: 17.2 (General Industrials Average: 18.5)
Debt/Capital: 30% (General Industrials Average: 37.9%)
Operating Margin: 21.7% (General Industrials Average: 12.3%)
Scotch tape and Post-it notes are just the tip of the iceberg at 3M. The company makes products for almost every industry and, because of that, is protected from economic recessions. Still, the stock took a hit in the dismal days after Lehman Brothers collapsed as investors sold everything that wasn't nailed down but, since then, investors have realized that 3M isn't going anywhere and is still worth its pre-crisis valuation.
The model agrees. 3M gets the highest possible score for financial strength and also excels in the performance category. The stock has jumped about 56% over the past year and pays a dividend that yields about 2.5%. The company doesn't appear to be wildly underpriced as many companies are, so 3M is best to be thought of as a secure holding rather than one primed for growth.
#9.
Pfizer
P/E: 8.8 (Pharmaceuticals Average: 30.6)
Debt/Capital: 23.1% (Pharmaceuticals Average: 26.7%)
Operating Margin: 35.3% (Pharmaceuticals Average: 19.6%)
Pfizer no longer holds the sterling AAA Standard & Poor's credit rating that certified it as one of the most financially sound companies in the world. However, that doesn't mean much in the grand scheme of things. The company still maintains an AA credit rating, with a stable outlook, and scores a 9.4 in financial strength from
TheStreet.com Ratings'
model.
As with all pharmaceutical companies, concerns spring up from the loss of patents or from a dry spell in the drug pipeline. Pfizer is well-heeled and can sustain such environments. With a tiny P/E of 8.8 versus an industry average of 30.6, Pfizer looks like a steal. Pfizer's stock has risen 27% over the past year, less than the market as a whole but acceptable considering the small amount of volatility that investors have to deal with. The company has moved into position to gain from more stable cash flows after its acquisition of Wyeth, which juiced revenue in the fourth quarter. Wyeth has a big lineup of over-the-counter products that are free from the patent-expiration time bomb.
#8.
Coca-Cola
P/E: 18.2 (Beverages Average: 25.8)
Total Cash/Current Assets: 40.9% (Beverages Average: 27.7%)
P/FCF: 20.6 (Beverages Average: 26.5)
likes it and that's all you need to know.
Buffett holds a large stake in the beverage maker. The oracle even likes it for many of the same reasons that our model does. The company has very stable performance, features a big cash balance and pays a healthy dividend, which currently yields about 3%. While many may not share Buffett's infinite investment time horizon, Coke can still pay off in the short run. With an attractive P/E and P/FCF valuation, the company appears to be a bargain that may respond nicely to a turnaround. The stock is up 27% over the past year.
#7.
Hewlett-Packard
P/E: 12.7 (Technology Average: 38.1)
P/FCF: 11.9 (Technology Average: 23.9)
Price/Sales: 1.01 (Technology Average: 4.7)
It's very difficult to find fault with Hewlett-Packard. The company posts a beta value of 1 while outperforming the market. It has a super-secure balance sheet, with a big cash balance and enough debt to lever its operations without getting into trouble. And to top it off, the company looks cheap from every angle.
Hewlett-Packard makes a good deal of money from its consumer division, which makes PCs and printers, among other things, but nearly half of its revenue comes from business services. Over the past year, few businesses have been willing to shell out for anything other than the bare necessities, so as the economy starts to rev up again, H-P could be a big winner. All signs point to progress with this one.
-- Reported by David MacDougall in Boston.
Prior to joining TheStreet.com Ratings, David MacDougall was an analyst at Cambridge Associates, an investment consulting firm, where he worked with private equity and venture capital funds. He graduated cum laude from Northeastern University with a bachelor's degree in finance and is a Level III CFA candidate.