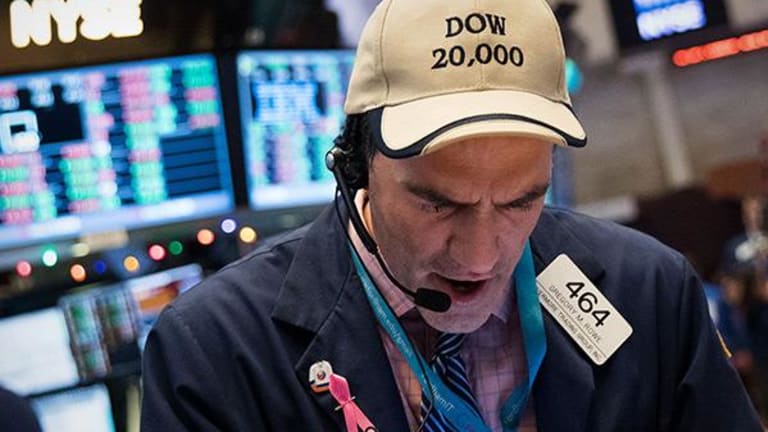 Dow Industrials Hit 20,000 for the First Time in History
The Dow Jones Industrial Average has more than tripled since its 2009 low.
The Dow Jones Industrial Average has hit 20,000 for the first time in history -- the latest milestone in what's generally been a bull market since Wall Street's 2008 crash.
The blue-chip index, which houses 30 premium stocks, finally crossed the 20,000 mark at market open after flirting with the key level for more than two months. It took the Dow a little more than 60 days  to break 20,000 after touching 19,000 for the first time ever on Nov. 22.
By contrast, the index needed almost 21 years after its first close at 62.76 on Feb. 16, 1885 (when it was known as just the "Dow Jones Average") to reach 100. That occurred on Jan. 12, 1906.
The Dow then took another 66 years to hit 1,000 on Nov. 14, 1972. After that, it took almost 27 years before the Dow hit 10,000 on March 29, 1999.
Boeing (BA) - Get Free Report was the largest contributor to the Dow's win on Wednesday after topping estimates over its recent quarter. The aerospace company earned an adjusted $2.47 a share, higher than consensus of $2.34 a share. Revenue of $23.29 billion exceeded estimates of $23.13 billion. Boeing also said it anticipates more plane deliveries and increasing profit over fiscal 2017. 
Caterpillar (CAT) - Get Free Report also lead the Dow higher, rallying on the perceived benefits of a Trump infrastructure plan. Overnight, President Donald Trump took to Twitter overnight to foreshadow further details of his promise to build a wall along the Mexican border.
The road to 20,000 has been nail-biting. The Dow rose to within a point of the level on Jan. 6 before quickly backing off. The blue-chip index then withdrew from the milestone over the past several weeks on concerns over a Trump administration's policies, particularly those concerning protectionist trade moves.
Perhaps even more than the historical significance of a 20,000 level, the factors behind the Dow's climb are cause for celebration. A generally improving U.S. economy and an end to Corporate America's "earnings recession" could mean Wall Street is poised to continue onward and upward.
"Given the improvement in earnings, as well as the possibility of lower tax rates, any rally should be sustained," said Brad McMillan, chief investment officer at Commonwealth Financial Network. "The first time the Dow cracked 10,000, for example, it was followed by gains of almost 20% over the next year. Momentum tends to sustain itself, and the same energy that breaks 20,000 may continue for some time afterward."
Jim "Rev Shark" DePorre of Real Money, our premium site for active traders, agrees that we're unlikely to see any quick pullback from here. And Real Money technical analyst Helene Meisler adds that she hasn't gotten a call about Dow 20,000 yet from her mom, who's the ultimate contraindicator.
Still, until then, the milestone has to be put in perspective. It's a psychologically important step for market confidence, but the index itself holds less significance as a barometer of overall health than the more diverse S&P 500, for instance.
"Dow 20,000 certainly sounds great, but there are a few things one should keep in mind before putting too much emphasis on it," Andrew Adams, market strategist at Raymond James, wrote in a recent note. "Remember that the Dow Jones Industrial Average consists of just 30 U.S. stocks, so it is not as representative of the broad market as it used to be."
Adams also pointed out that each 1,000-point milestone is less monumental as the percentage increase from one to the next becomes smaller. Back in 1999, a 1,000-point move represented 10% of the index. Today, a 1,000-point move is just 5%.