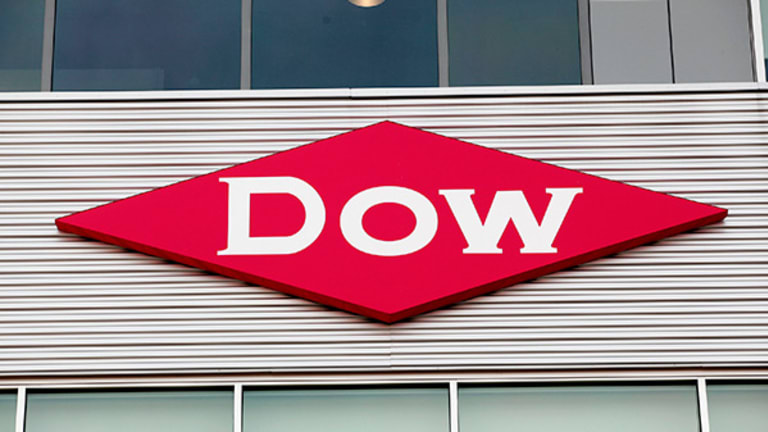 Dow Chemical Shares Rise as Earnings Top Forecasts
The above-forecast results come two days after merger partner DuPont topped profit expectations.
Dow Chemical (DOW) joined merger partner DuPont (DD) in reporting quarterly earnings that beat expectations as it delivered a bullish assessment of the geographical outlook.
Dow shares were up 2.8% at $55.26 in the premarket trading after the Midland, Mich.-based company reported third-quarter adjusted earnings of 91 cents a share, up from 82 cents last year, and compared with a FactSet consensus of 72 cents. Revenue of $12.48 billion was up from $12.04 billion last year and compared with a consensus forecast for sales of $11.93 billion. Dow said sales rose in all segments apart from performance materials and chemicals, which declined after the divestiture of Dow Chlorine Products.
The company said demand for chemicals used in consumer products was a "notable bright spot" and predicted "continued robust growth" in the packaging, automotive and construction sectors.
"We see steady growth in North America and Europe continuing, with Dow's new innovations and products outpacing the market," said Chairman and CEO Andrew N. Liveris in a statement. "The strength of the consumer and emphasis on growth in Southeast Asia and second-tier cities in China continue to drive our results in Asia Pacific. Latin America is showing strength in the Andean economies and Mexico, and Brazil is beginning to recover from a low base."
The results come after cost cuts allowed DuPont to beat quarterly forecasts, though the Wilmington, Del., Company on Tuesday also reported a 3% increase in sales volumes, the best in almost two years.
Dow is working to gain regulatory approval for its $130 billion merger with DuPont.
DuPont said on Tuesday that the companies won't close the deal by their initial goal of year-end, but that it anticipates that the transaction will close in the 2017 first quarter.
DOW is a holding of Jim Cramer's charitable trust Action Alerts PLUS. See all of his holding with a free trialhere.