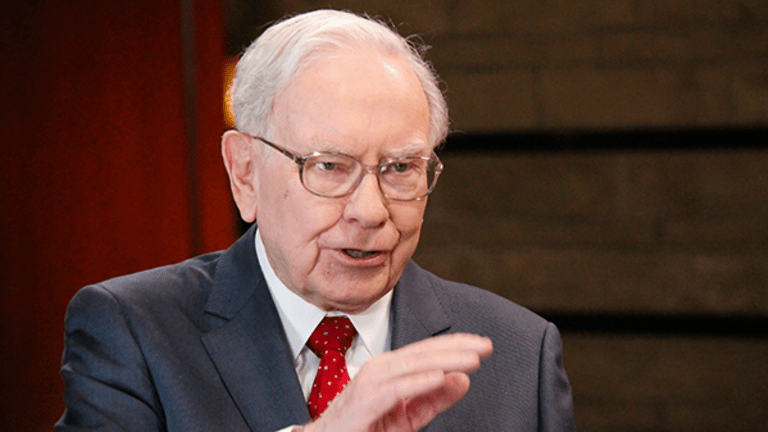 Publish date:
Warren Buffett Predicting Dow 1,000,000 Isn't That Insane
On a compound basis over the next 100 years, hitting 1 million on the Dow could happen. Not a bad call, Warren Buffett.
On a compound basis over the next 100 years, hitting 1 million on the Dow could happen. Not a bad call, Warren Buffett.
It would be hard to argue against anything Berkshire Hathaway's (BRK.A) - Get BRK.A Report (BRK.B) - Get Berkshire Hathaway Inc. Class B Report Warren Buffett espouses on investing and markets. The legendary investor always has some sage advice and wisdom to pass along. Recently he said he thought the Dow industrials would reach 1 million in value in about 100 years. The Dow is at about 22,000 now.
Seems wild and outrageous, but on a compound basis it's really not farfetched, and actually might be too low! This prediction assumes about a 4.7% annualized rate of return, yet the industrials can probably do somewhat better than that. 
"Whenever I hear people talk pessimistically about this country, I think they're out of their mind," Buffett said recently in New York at a party celebrating the 100th anniversary of Forbes magazine.
He pointed out the Dow was at 81 a century ago. It was first created in the late 1890s to represent a basket of 30 big American companies.
He noted that since Forbes created its first list of the 400 richest Americans in 1982 -- Buffett was worth just $250 million then -- some 1,500 different people have been included.
All with one thing in common.
"You don't see any short sellers," he said, according to Reuters.
Over 100 years, there are so many obstacles to overcome, but his point here is to stay with the markets, as they will rise over time. And while not many of us reading this today will be around if this comes true, milestones (even wild ones) are fun to discuss and wrangle over.
If there is one person whom we could believe in, it would probably be Warren Buffett. Let's take away from this his enthusiasm for investing in U.S. businesses, the finest and best in the world. Let's hope the generations that follow heed the advice to invest and stay invested, as these markets are tremendous wealth creators -- if you stay the course, like Buffett.
(This article originally appeared on Real Money, our premium site for active traders. Click here to get great columns like this from Jim Cramer and other writers even earlier in the trading day.)
More of What's Trending on TheStreet:
At the time of publication, Bob Lang had no positions in the stocks mentioned.