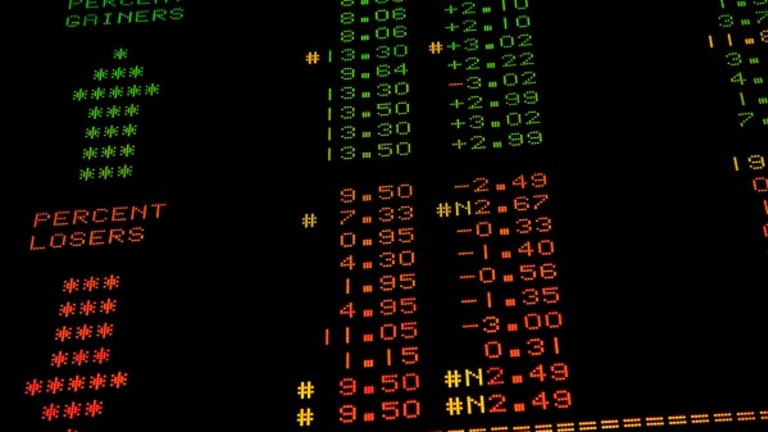 Dovish Greenspan Likely to Mix in Enough Hawkishness to Befuddle
RealMoney.com's DAILY BULLETIN
July 20, 2000
http://www.realmoney.com
Market Data as of Close, 7/19/00:
o Dow Jones Industrial Average: 10,696.08 down 43.84, -0.41%
o Nasdaq Composite Index: 4,055.63 down 121.54, -2.91%
o S&P 500: 1,481.96 down 11.78, -0.79%
o TSC Internet: 833.06 down 34.72, -4.00%
o Russell 2000: 527.86 down 8.42, -1.57%
o 30-Year Treasury: 104 20/32 down 3/32, yield 5.913%
Companies in Today's Bulletin:
Support.com (SPRT:Nasdaq)
Saks (SKS:NYSE)
E*Trade (EGRP:Nasdaq)
Knight Trading (NITE:Nasdaq)
In Today's Bulletin:
o The Chartist: The Daily Chartist: Market Needs to Shake Out Weak Holders
Market Features: Dovish Greenspan Likely to Mix in Enough Hawkishness to Befuddle
The Fed chairman's Humphrey-Hawkins is likely to leave markets groping and his policy secrets intact.
http://www.thestreet.com/markets/marketfeatures/1007324.html
Software: Support.com Skyrockets in Its Trading Debut
Here's a dot-com that isn't being shunned.
http://www.thestreet.com/brknews/software/1007522.html
General: Saks Inc. to Spin Off Signature Fifth Avenue Store
http://www.thestreet.com/brknews/general/1007955.html
Online Brokers: Summertime Unlikely to Cure Online-Broker Blues
Slowing volume isn't likely to pick up during the third quarter.
http://www.thestreet.com/stocks/trading/1007958.html
Market Features: TheStreet.com Internet Sector Index Gets a Brand-New Look
Wall Street's most popular Internet index adds five new stocks and bids farewell to one.
http://www.thestreet.com/markets/marketfeatures/1007693.html
Silicon Babylon: Where Has All the Chillin' Gone?
Forget the surf: Internet chieftains dig down into the problems with Net business.
http://www.thestreet.com/p/comment/siliconbabylon/1008082.html
Bond Focus: Humphrey-Hawkins Anxiety Takes Treasuries Down a Peg
Lately, sentiment has been building in favor of an August rate hike by the Fed.
To view the TSC Economic Databank, see: http://www.thestreet.com/markets/databank/999263.html
http://www.thestreet.com/markets/keynumbers/1007562.html
The Chartist: The Daily Chartist: Market Needs to Shake Out Weak Holders
By
Helene Meisler
Special to TheStreet.com
7/19/00 9:17 AM ET
Tuesday's action was helpful to this market. This type of action helps relieve the excesses created by the previous up move. When we relieve the excess, both on the upside and the downside, we allow the market to move in a quality way, not a speculative way. Tuesday's action helped put us on that course.
I don't believe that one day down is enough to relieve the exhaustion we were witnessing on the upside. In fact, I prefer to wait for an oversold condition -- as well as some signs that the majority of stocks are beginning to hold and outperform vs. the averages -- before calling an end to this consolidation period. While we don't have to go down for days in a row, I doubt we've seen an end to this corrective action just yet.
One of the things we must look for is the end of this "selling-the-good-news" scenario that we've seen lately, or, even better, for the selling to dry up on bad news. For example, I noticed yesterday that
General Motors
(GM) - Get General Motors Company Report
reported that the second-half was going to be difficult for them, with both pricing and sales down, yet the stock actually nudged up on the day. This is not a great chart but the reaction to the bad news certainly caught my eye. It's that sort of action that we need to see to get a sign that the selling is done -- even the way
Philip Morris
(MO) - Get Altria Group Inc Report
didn't fall off a cliff when the Florida verdict was announced.
When we see more of that, we'll know that stocks have shaken out all those weak holders.
Overbought/Oversold Oscillators
For an explanation of these indicators, check out The Chartist's
primer.
Helene Meisler, based in Singapore, writes a technical analysis column on the U.S. equity markets on Tuesdays and Fridays, and updates her charts daily on TheStreet.com. Meisler trained at several Wall Street firms, including Goldman Sachs and Cowen, and has worked with the equity trading department at Cargill. At time of publication, she held no positions in any securities mentioned in this column, although holdings can change at any time. Under no circumstances does the information in this column represent a recommendation to buy or sell stocks. She appreciates your feedback at
KPMHSM@aol.com.
Join Tech Savvy Columnist Jim Seymour for a chat on RealMoney.com at 5 p.m. EDT, Thursday, July 20. He'll discuss the latest on DSL, Microsoft and all that is tech.
Copyright 2000 TheStreet.com, Inc. All rights reserved.