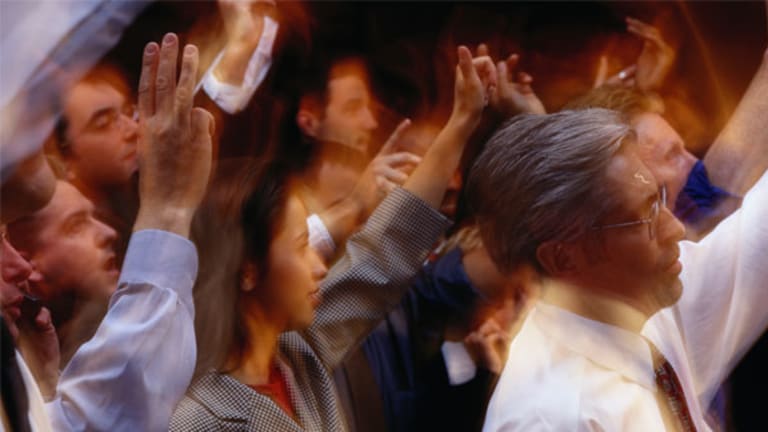 Doug Kass: Why You Should Avoid Amazon Stock at All Costs
I wouldn't touch this stock with a 10-foot Kindle.
(Editor's note: This commentary originally appeared Oct. 24 on Real Money Pro. For access to all of hedge fund manager Doug Kass's strategies and commentaries, click here.)
NEW YORK (RealMoney) -- Today, and over the course of the past 12 months, investors have begun to take back Amazon (AMZN) - Get Amazon.com, Inc. Report CEO Jeff Bezos's "Hall Pass." Amazon continues to fail to exhibit a cash flow return on any investment it makes. I see two potential outcomes for the company in 2015:
Using conventional accounting methods, Amazon begins to show a profit in its existing projects. While Amazon possesses certain superior business units (e.g., its dominance in Amazon Web Services), I consider this a low probability. In this scenario, Amazon's share price will likely move towards $400 per share.
Investors give up and Amazon's "Hall Pass" is rescinded. I consider this a high probability. Under this scenario, Amazon's share price will likely have a date with $200 per share.
Based on conventional accounting methods, last night's third-quarter results were dreadful:
The rate of sales growth decelerated to +16% (I can't recall an under-20% quarterly growth rate for this company).
Amazon's incremental quarterly sales growth was +$2.2 billion. While most companies would convert about 25% of its marginal gains in revenues into earnings before interest, tax, depreciation and amortization (or $525 million), Amazon experienced a -$100 million EBITDA! What makes this conversion so bad is that Amazon's annual sales run rate for 2014 is approximately $910 billion.
Depreciation expanded by 50% in the quarter. Capital spending will rise to $6 billion, far exceeding cash flow.
Amazon is free-cash-flow negative.
The company's interest expense is rising faster than sales.
Competition is growing more vigorous. Based on preliminary results at (brick-and-mortar) retailers, other retailers are experiencing superior rates (in their online operations) of sales growth to Amazon.
Amazon is valued at 30x EBIT.
Finally, on the issue of accounting, the source of most of the unsound "new" accounting conventions and techniques has been sourced by new Internet and social media companies. But Amazon, it appears, has introduced a new convention in accounting: "constant currency," which assumes no fluctuations in exchange rates. It is calculated using a base of optimal exchange rates for the reporting company.
In last night's earnings release, Amazon highlights revenue gains at +20% while the income statement shows a gain of only +16%. (Note to self: A company cannot pay dividends or service its debt by using "constant currencies.")
Amazon -- the wonderful folks who originally delivered the concept of "stock-based compensation" -- is back on new and "inventive accounting" ground.
Accept this accounting vision reluctantly and avoid Amazon's shares.
At the time of publication, Kass and/or his funds had no position in AMZN, although holdings can change at any time.
Doug Kass is the president of Seabreeze Partners Management Inc. Under no circumstances does this information represent a recommendation to buy, sell or hold any security.