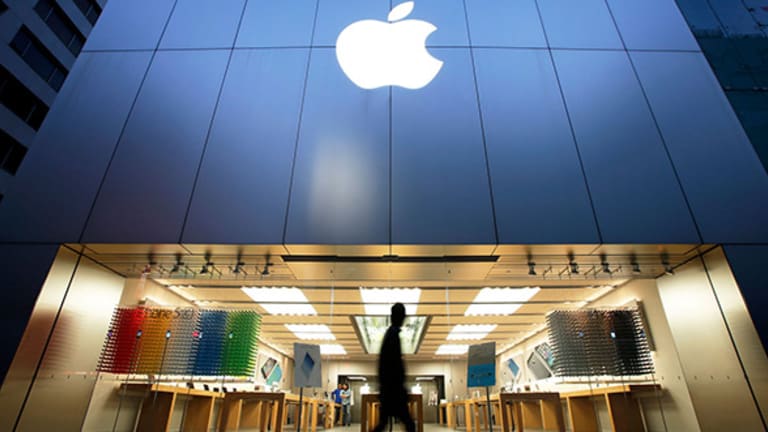 Doug Kass' Trade of the Week: Short Apple Calls
Here are six reasons why Doug Kass is selling naked October Apple calls.
This week marks the fifth anniversary that Tim Cook took over for the late Steve Jobs as CEO of Apple (AAPL) - Get Free Report -- and it's also the second time in two and a half months that I'm making a short of Apple my Trade of the Week.
I'm selling naked $105 and $100 October Apple calls Tuesday, as my long-term negative view of the tech giant has been consistent and well-known to long-time subscribers. In fact, I've been suggesting ever since 2012 that Apple will likely have smaller future sales-and-profit growth relative to consensus expectations.
I outlined my latest Apple concerns in early June, then discussed "Peak Apple" in late July. And now, here are the six reasons why I'm making a short of Apple calls my Trade of the Week yet again:
Fundamental issues. As I noted in my earlier missives referenced above, Apple has long had fundamental problems.
The absence of any upside catalysts. The stock faces a "news vacuum" until late September, when Apple plans to release additional details about the iPhone 7.
A troubled retail sector. Apple and retail-related equities enjoyed a spirited rally recently, but very hot weather in much of America will likely adversely impact third-quarter results. Few analysts have addressed this so far, but I believe they soon will.
Broad-market issues. We arguably have a vulnerable overall stock market.
An elevated stock price. Apple has rallied back to nearly $110 a share from around a $90 low in May as the broader market reached new all-time highs. I covered most of my Apple short in the $90s in January, but recently began to build this position back up.
Add it all up and I'm layering in a short of some near-term Apple calls on top of my existing short of the stock itself (which as noted above, I also recently expanded).
A version of this commentary originally appeared on Real Money Pro at 8:19 a.m. on Tuesday, Aug. 23. Click here to learn about this dynamic market information service for active traders.
At the time of publication, Kass was short AAPL and AAPL October calls, although positions may change at any time.