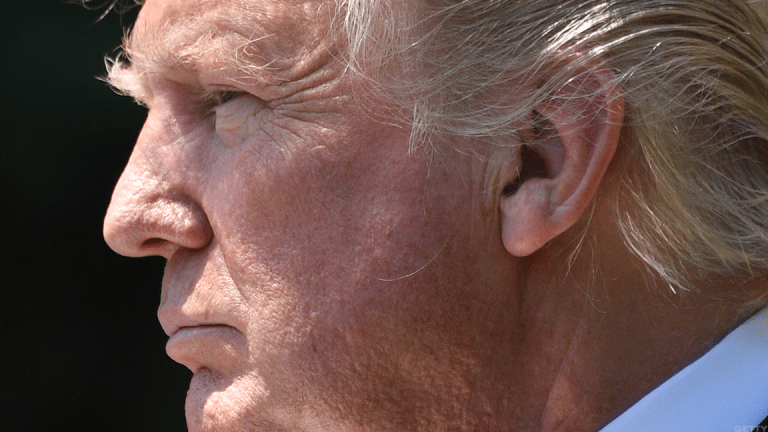 Doug Kass: The Real Economy Could Be at Risk From Trump's Rhetoric and Policies
Attacking our progressive and globalist allies without a meaningful strategic benefit is demented.
Attacking our progressive and globalist allies without a meaningful strategic benefit is demented.
* Non coordination and lack of cooperation as well as political, economic and investment dogma are dangerous in an interconnected world
* The Administration's hostility towards the other G-7 countries and lack of sense of world community jeopardizes the US leadership position and poses economic and market risks
China has been screwing the US for decades on trade - the same can't be suggested for Canada, France and the other countries in last week's Summit.
America's greatness has been assured by the cooperation with an extraordinary strong relationship with our ally to the North and with a number of large powers in Europe.
Frankly, attacking our progressive and globalist allies without a meaningful strategic benefit is demented.
Last week's continued raw emotionalism of Trump (and reaction of the joint communique and relatively innocuous comments by Trudeau) - emanating from abstract and ill informed theories on trade - represent a risk to other alliances, establishes a dangerous precedent to world trade and, in the fullness of time, our economy.
"[Trudeau] really kind of stabbed us in the back... "He did a whole disservice to the whole G-7."
- Larry Kudlow
"There's a special place in hell for any foreign leader that engages in bad faith diplomacy with President Donald J. Trump and then tries to stab him in the back on the way out the door... And that's what bad faith Justin Trudeau did with that stunt press conference. That's what weak, dishonest Justin Trudeau did. And that comes right from Air Force One."
- Peter Navarro, Fox News
Larry Kudlow and Peter Navarro expanded Trump's hard line comments over the weekend.
Meanwhile, as the West fights among itself, China is cozying up to Russia.
Bottom Line
The markets have grown accustomed to sharp rhetoric from the President - whether it revolves around domestic or international policy.
Often Trump's strongly worded "written on the back of a napkin" policy is an opening salvo - and maybe last week's Summit in Canada is yet another example of a White House's rhetoric pandering to its base.
But Trump appears to be walking on a bridge too far -without a safety net - and policy (too often hastily crafted and typically conflated with politics) poses serious risks to our post World War II alliances. As well, the real economy could be at risk from his rhetoric and his policies.
I am not being lulled into the market's current lack of response to Trump's wrong headed and dangerous policy. In fact, in history, just when the markets become inured to certain events (like Trump's bravado) -- is often a point in time to be worried that an adverse reaction, previously delayed, will move front and center.
I established a small net short exposure about a week ago and I am sticking to my plan as upside reward is now dwarfed by downside risk as we approach the high end of my anticipated trading range (2750-2800).