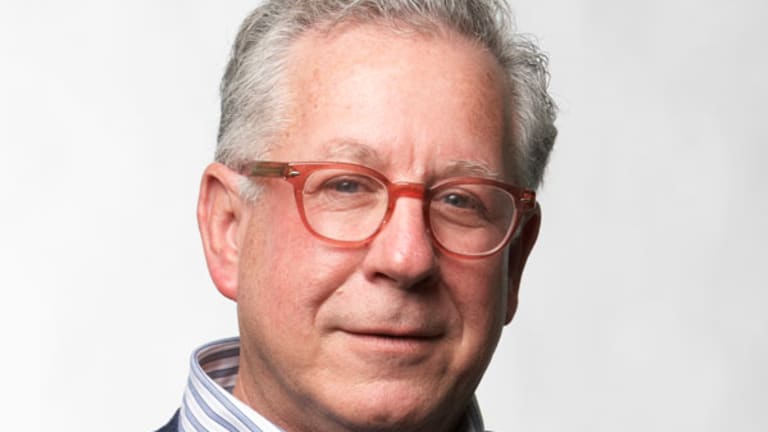 Doug Kass Questions the Berkshire Boys (Update 5)
Kass kicked off the Berkshire bear case with a question about size and growth prospects.
OMAHA (
) --
3:50 p.m. EDT
The sixth and final question that Doug Kass asked Buffett was about why he chose his son Howard Buffett to become the executive chairman once Warren is gone. Kass pointed to Howard's lack of experience as a risk to the future of the company. Howard has never run a large diversified business; he has never made material stock investments or worked on a major acquisition.
Buffett explained that Howard was chosen to protect the future of the company. In the event that a mistake is made in who is chosen as CEO of the company, Howard's responsibility will be to right that situation. Howard's job would not be to run the business. Buffett noted that he believed it would be significantly unlikely that the wrong person would be chosen.
Also see:
Buffett's Next 5 Years and Berkshire Hathaway for the Ages
Howard cares about the business and has a vested interest in protecting Berkshire and its culture. Buffett said of his son, "He has no illusions at all about running the business. He won't get paid for running the business."
There are plenty of mediocre CEOs running the companies that shouldn't be, and when they are in a chairman role, it's hard to change that situation. Buffett wants to make sure that doesn't happen to Berkshire.
Charlie chimed in at the end, saying that "the board owns a lot of stock -- we're not trying to screw it up for the shareholders."
3:09 p.m. EDT update
Doug told me at the lunch break that question No. 5 would be a doozy, and it was.
He point blank asked Buffett for $100 million to run a short fund for Berkshire. He pointed to the success Todd Combs, who (along with Ted Weschler) helps to manage investments for Berkshire, had with short selling prior to joining Berkshire. Kass was building the case that Combs was hired by Buffett on that success and it may be time for him to give short selling another shot.
Also see:
Warren Buffett Walks Exhibit Hall
Buffett stuck to his guns against short selling and denied Kass the job. He informed Kass that Combs didn't get the job from his success as a short seller.
Buffett said, "I have identified companies in the past that were far overpriced and have identified many frauds."
That being said, Munger noted that "shorting is a game that doesn't appeal to us."
2:51 p.m. EDT
Doug Kass asked question No. 4: "Are you at the point now where the game interests you more than the score?"
To which Buffett replied, "I think you have to love something to do it well."
Buffett notes that the intensity is not manifest every minute but it is still there.
Warren goes on to argue that just because Berkshire is investing in a different way than it has in the past does not mean that the passion has been lost -- and to see things that way, he scolded Doug, is incorrect. He emphasized that his intensity level is equal to what it was 40 years ago and that he hopes to keep it going for at least 10 more years.
Also see:
Berkshire Hathaway Shareholder Meeting: Live Blog
Kass mentions the near-forensic due diligence that Buffett did for his first investment in
American Express
(AXP) - Get American Express Company Report
and comments that recently Warren made an investment in Bank of America from his bathtub.
Buffett's response: "I don't have to learn it a second time," referring to getting a handle on American Express's business. He also cited Geico as helping him to understand multiple rounds of investment in American Express.
"The passion has not gone, I promise you," Buffett concluded.
12:33 p.m. EDT update
Question No. 3 focused on the possibility of a breakup of the company.
Kass started the question off asking Buffett to elaborate on his earlier comment that suggested when he is gone, Berkshire will move to a more centralized style of management. Then he pointed to
Teledyne's
(TDY) - Get Teledyne Technologies Incorporated Report
former CEO Henry Singleton's (and close friend to Buffett and Munger) decision to break up that company into three separate business as he increased in age. Singleton's rational for the breakup was partially due to his view that the company was too hard to manage with only one CEO.
Given the size and scope and complexity of some of Berkshire's businesses, Kass wanted to know if Buffett would advise a similar transaction take place as Buffett gets older.
Buffett responded "Breaking up Teledyne was a poor result, certainly now and in the future."
This seemingly indicated he had no interest in advising on a breakup of Berkshire at any time now or in the future. He explained that Berkshire is a business that is easily managed. Any centralization that would happen after he is gone would only be within the smaller companies.
Munger spoke of Henry Singleton, saying that "he was 100% rational, and there are very few CEO's that we can say that about."
12:07 p.m. EDT update
Question No. 2 touched on the unmatched ability of Buffett to extract remarkable value in distressed opportunities. Kass pointed out that these types of transactions have veered from his historical focus on the investing in companies with solid fundamental growth opportunities.
Buffett's reputation and capital base has put him in a very unique position to backstop large companies at attractive prices. He did this with
Goldman Sachs
(GS) - Get Goldman Sachs Group, Inc. (GS) Report
,
Bank of America
(BAC) - Get Bank of America Corp Report
and
General Electric
(GE) - Get General Electric Company (GE) Report
, all of which are poised to be hugely profitable.
Kass wanted to know how Buffett's successor could be as successful as he has in receiving these opportunities and being able to execute on them as they arise.
Buffett said that his successor would have more capital than he had so will absolutely have the ability to take on any distressed opportunities that arise. "Berkshire will have unusual capital in turbulent times. My successor can say yes very quickly
to distressed deals that require large sums of capital. That will set you apart very quickly from others." Buffett was very confident that his successor would be willing to deploy that capital when the need for capital arises, but only in sound deals.
Buffett explained, "Berkshire is the 800 number to call when people need capital in distressed times." It's more a sign of Berkshire's brand than anything attached to a single individual.
Munger and Buffett made it clear that distress opportunities are not their main business, but at the time, it made sense to get involved in give the attractive deals.
11:42 a.m. EDT
Much anticipation has built since Doug Kass was appointed the "credentialed bear" on
Berkshire Hathaway
/
(BRK.B) - Get Berkshire Hathaway Inc. Class B (BARK.B) Report
two months ago by Warren Buffett. This is the first time a bear has been invited to the Woodstock of Capitalism. Today our anticipation is put to rest.
Kass, President of
Seabreeze Partners
, had warned us that he planned to throw Buffett at least one curveball, and we are betting he won't disappoint. He stepped up to the plate and kicked off the bear case with a question about size and growth prospects.
Kass asked about Berkshire's recent acquisitions, which have been pricier than acquisitions they have done in the past at much more attractive valuations.
Kass said, you were "hunting gazelles before, but now you are hunting elephants." He points out that
Burlington Northern
and
Lubrizol
have been made at high historical valuations. Richer prices paid will lead to lower returns on acquisitions than in the past, driving slower growth for the company. Does this mean Berkshire is becoming more like a sleepy index than a stock?
Warren immediately responded that "there's no question about it we are seeing slower growth. It's tougher as we get bigger; we always knew that would be the case."
On prices paid, he pointed to
Geico
saying they paid 20x earnings and a fair size above book value for the company. In fact, Berkshire owns eight different businesses that would be on the Fortune 500 list if they didn't own them.
Buffett explains, "We have paid up for good business. There are companies we should have bought 30 years ago that looked expensive then but have done very well. We have now realized that paying up for an extraordinary business is not a mistake." They are trying to avoid missing good opportunities like the ones they passed on previously.
Charlie Munger added, "Looking at all the companies out there that got really big, the record isn't that good. However, we think we'll do pretty well despite getting big. We'll do better than the giants of the past. We have a better system than most other people." Warren wasn't fully in agreement with the last part of that statement.
Warren closed the conversation by saying "You haven't convinced me to sell the stock yet, Doug."
At the time of publication, Bell had no positions in any stocks mentioned.