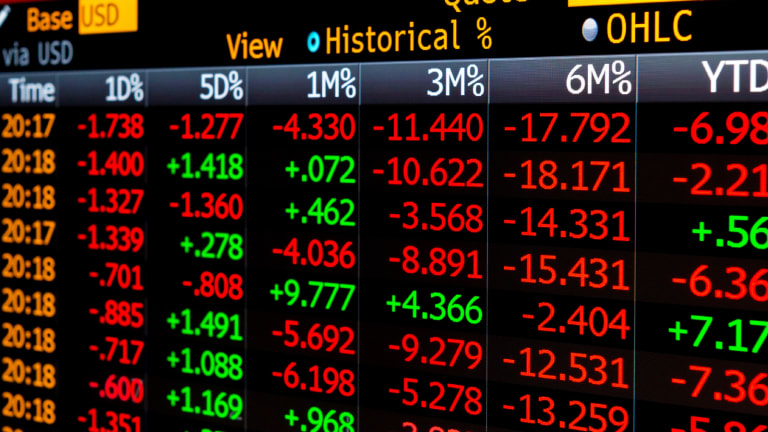 Doug Kass: Protect Yourself as 'The Big Short' Draws Near
The current chaos has enveloped more than global equities.
This article originally appeared on Real Money Pro, where Doug Kass files regularly throughout the day in his Daily Diary.
NEW YORK (Real Money Pro) -- "I start each day with these three questions:
In a paperless and cloud(y) world, are investors and citizens alike as safe as the markets assume we are?
In a flat, networked and interconnected world, is it even possible for the U.S. to be an "oasis of prosperity" and a driver, or engine of global economic growth?
With geopolitical coordination of the G8 at an all-time low, if the wheels do come off, how slow and inept will the reaction be?"
-- Doug Kass Diary, Q1 Brought More Signposts of a Market Peak
In essence, investors have been slaves to central banks for the better part of a decade, but the influence of monetary policy is waning and almost all of the monetary levers have been pulled. And, as the curtain separating the Wizard of Oz from Emerald City is opened, our (social and other) vulnerabilities and weak foundation of economic growth are being disclosed.
A week ago, I argued that "The Big Short" Might Be at Hand" and that a return to natural price discovery in the global stock market (after seven years of market artificiality served up by global central bankers) is likely. 
The (internal) deterioration and bifurcation that has surfaced and recently accelerated in the markets, coupled with the eroding global economic picture (a world that is essentially short of demand and characterized by deflationary influences) in the face of already-subpar growth, have recently underscored my belief that a flight to safety and a flight out of stocks might be now upon us.
Dump-lings
While one has done it explicitly and the other implicitly, there is little difference between Asian and U.S. authorities, who both have cajoled investors into buying equities.
Neither group has our back when things get out of control, which appears to be happening now.
The knock-on effects on economic growth (a negative wealth effect) in a leveraged investment world is real and should be considered. It's now on the front burner.
T.I.N.A Is B.S.
Yesterday's market schmeissing brought on more arguments that there is no alternative (or T.I.N.A.) to stocks and that the recent market dip should be bought.
T.I.N.A. is B.S. as cash is an asset class and performs the job of insulating your portfolio from wild gyrations and drawdowns.
Yesterday and last night I watched numerous commentators suggest that the market would rebound in the days ahead. (It may or may not.)
But I would remind all of you again that those who are self-confident of their view and offer advice in the business media often do not take material risks on capital themselves. They should be seen as commentators and not as coaches.
Always be independent of view and weigh upside vs. downside according to your own risk profile and time frame.
An Interconnected World Holds Risks
With little margin of safety remaining at current valuations and a bull market in complacency among us, the market decline appears real ... it's not Memorex.
As I have repeatedly noted, we, in the U.S. live in a flat, networked and interconnected world (see the three questions I ask every morning at the beginning of today's opening missive). As such, the notion that the U.S. can maintain itself in an oasis of prosperity seems farfetched, even fanciful.
The near-universal message in the media yesterday was that the global markets' reaction to China's devaluation was an overreaction and not likely to have a sustainable influence on equities. Respectfully, by saying that those observers have ignored history and the impact of lesser influences on global economic growth and on the world's markets (the Thai baht, Long Term Capital, Greece, Latin America, etc.). They are also ignoring the vulnerability of a tepid global recovery.
Look again, the broader market is down this morning and bond prices continue to climb (after yesterday's outsized gains).
Warren Buffett and Berkshire Hathaway (BRK.A) - Get BRK.A Report are among the few that have the luxury (and the devoted limited partners/investors that think forever) to be unconcerned with the next three to five years, but most of us investment mortals don't have that luxury as we live in the more immediate time frame.
The Numerous Peaks I See
It is important to note that disruptive influences have emerged and are occurring at the time that the global growth trajectory is weak and vulnerable. As previously mentioned, there are numerous peaks that I see that have lent to the markets' vulnerability (subscription required).

As I wrote early last week, at the core of my concerns is monetary policy that has pushed forward growth that has still only resulted in a thread of disappointing (relative to consensus) and subpar global growth.
"Too little attention has been placed on the continued subpar growth that's been the consistent feature of the U.S. economy since 'The Generational Low'  in March 2009.

It's worth noting that recoveries out of severe U.S. recessions like the 2007-2009 one have historically been V-shaped. But this time around, gross domestic product has only expanded at a 2.1% real annual rate from the recession's bottom -- well below the historical trend line of slightly more than 3%.

This fact, coupled with the more-sluggish corporate-profit growth than has emanated from a weaker economy, has formed my cautious market view over the last two years. I also think this slow-growth condition has generated a dependency on aggressive monetary tactics from the Federal Reserve and the world's other central banks.

The Fed's 6-year-old policy of injecting massive amounts of liquidity into the system and stabilizing interest rates at near 0% has become a powerful factor in our capital markets and in rate-sensitive sectors (i.e., housing and autos).

But in maintaining monetary indulgence for such a long time, our central bank has now distorted -- and screwed up -- our economy and markets, perhaps for some time to come. I believe the Fed has:

Borrowed from the future. The Zero Interest Rate Policy (ZIRP) has borrowed past and present sales from the future, underscoring the challenge of future economic growth.
Created unknown policy consequences. No one knows the consequence of an extended period of ZIRP punch bowls, which could result in aberrant behavior and hangovers.
Made no sense. If there were no consequences to ZIRP, interest rates could have been held at zero forever in the past, as well as in the future.

Importantly, ZIRP is actually losing its effectiveness (at least in America). As I've written previously, low rates are hurting groups like the growing savings class -- and they've been hoarding cash and reducing personal expenditures as a result, weakening growth.

The seeds of malinvestment have also begun to sprout from ZIRP. Low rates increase the supply of "stuff" (e.g., the mushrooming growth of shale oil), sustaining those companies and countries that shouldn't be sustained and elevating asset prices against limited progress in the real economy.

Lending standards have also dropped (e.g., the proliferation of covenant-lite debt offerings), while fear is obliterated and complacency proliferates. Malinvestment is also vividly appearing in China's economy and capital markets.

Meanwhile the fundamentals and technicals are flailing:

As Capital IQ's Lindsey Bell (my friend and former associate) reported yesterday on CNBC, second-quarter S&P revenues are coming in at -3.8%, while (financially engineered) EPS have risen by only 1%.
On the technical front, I've consistently observed the narrowing market leadership, which shows no signs of improving.

For now, the markets are disregarding signs of slow structural-growth signals and investors are paying up for stocks as valuations continue to expand. But with the Fed at an inflection point of policy, 0% interest rates will no longer likely buoy or even expand P/E ratios further.

Instead, the Wizard of Oz's curtain will be soon opened and investors will finally begin to see whether the flight path of economic growth is steady enough to support stocks at current levels. Personally, I remain skeptical.

Thus far in 2015, I've envisioned a sawtooth pattern lower in the belief that a major market top is forming. Tactically, I've adopted a "short the rips and cover the dips" strategy that's paid off so far.

But at some point -- probably in the relatively near future -- it will be more appropriate to "short the rips and stay short." After all, the "Big Short" might be soon at hand.
Where to Hide?
Tactically, I favor (unlike the consensus) bonds, bond-equivalent market sectors (e.g., closed-end municipal bond funds) and disfavor most cyclical, life insurance stocks (MetLife (MET) - Get MetLife, Inc. (MET) Report and Lincoln National (LNC) - Get Lincoln National Corporation (LNC) Report are imperiled by limited reinvestment opportunities) and generally inflated social media equities (Facebook (FB) - Get Facebook, Inc. Class A Report, Tesla (TSLA) - Get Tesla Inc Report, Netflix (NFLX) - Get Netflix, Inc. (NFLX) Report, etc.). Banks that I like very much over the long term seem vulnerable to a slower-than-expected recovery in net interest income.

The Bottom Line
Financial and economic markets are cyclical.
As I have frequently written, the only certainty is the lack of certainty.
Up 200 on Monday down 200 on Tuesday and down 200 this morning. A market without memory and days like this week underscore the case of erring on the side of conservatism and keeping cash reserves higher than normal.
The environment is simply too unpredictable and volatile to be firm and self-confident of your view. In a flat and networked world, there are far too many factors (many of which have adverse investment ramifications) to consider these days to have a strong market view.
The U.S. is too interconnected to be an oasis of prosperity that is insulated with chaos around it. Think spreads, currencies, trade, derivatives, etc.
Importantly, the current chaos has enveloped more than global equities. It also has been reflected in large and violent price swings in commodities, currencies and bond prices.
These far-reaching knock-on effects are hardly ever a good sign for markets or economies. Instead, it is reflective of a weak foundation for price appreciation and growth.
My respect for my hard-earned capital and that of my investors is too great to jeopardize it by gambling in this backdrop of uncertainty, particularly after a tripling in the averages and given the secular challenges to economic and profit growth ahead.
In these days that are tough to forecast, it's gambling, not investing.
That's the reason I want to keep my durations in stocks limited and why opportunistic trading has been my modus operandi this year.
The market's overall reward vs. risk offering is, to me, lopsided to the downside.
Am I sure? Of course not.
But I have spent months fully explaining my baseline views and expectations, surrounding those views in facts and (hopefully) not in dogma.
At the time of publication, Kass and/or his funds were short BRK.B, SPY, QQQ, LNC, MET and FB, although holdings can change at any time.
Doug Kass is the president of Seabreeze Partners Management Inc. Under no circumstances does this information represent a recommendation to buy, sell or hold any security.