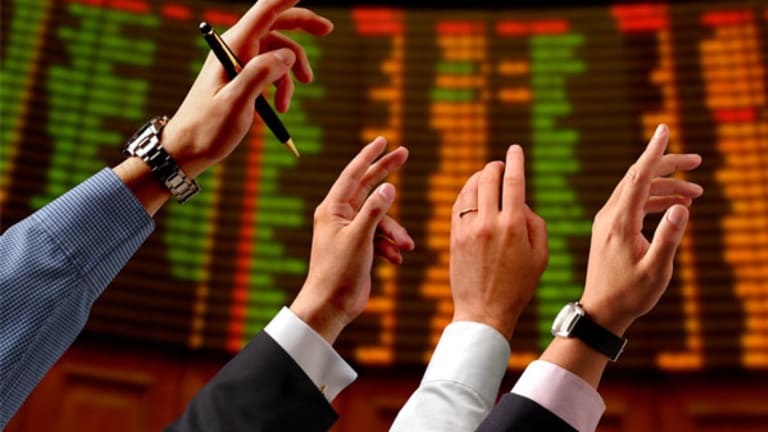 Doug Kass Examines This Brokedown Palace of a Stock Market
Tighten your seatbelts.
(This article was first published Dec. 15 on Real Money Pro.)
Fare you well my honey
Fare you well my only true one
All the birds that were singing
Have flown except you alone
Going to leave this broke-down palace
On my hands and my knees I will roll roll roll
Make myself a bed by the waterside
In my time, in my time, I will roll roll roll..
--Grateful Dead, "Brokedown Palace"
The cyclical bull market is in jeopardy -- the light of Mr. Market's message may not yet be red, but it most assuredly is amber. To paraphrase The Grateful Dead's Jerry Garcia:
I have been shopping around for something to do that no one will like" (a bear market?)
'Cause "if the thunder (fundamentals) don't get ya then the lightning (technicals) will.
My cautious fundamental views seem to be gaining legitimacy of late. Now the technicals might be confirming my fundamental view.
For seven consecutive weeks since the October swoon, the market -- which had risen until recently -- had not undergone two consecutive down days.
"I mean, whatever kills you kills you, and your death is authentic no matter how you die." –Jerry Garcia
That streak has been broken -- with a vengeance.
This week brought three down days in a row and a rapid rise in volatility -- the CBOE Volatility Index (VIX) registered at its highest level in two months. The week also featured the first 90% down day since early October, more NYSE new lows than new highs for five consecutive trading days and the worst weekly loss in 60 days.
Moreover, correlations have begun to break down, a condition that typically presages market weakness at worst, or a two-way market at best.
The average correlation for each of the 10 industry sectors in the S&P 500 is down to 58.4% over the last month. . . . This is by far the lowest observation we've seen in the last five-plus years. . . .
Research from S&P Dow Jones Indices that compares individual stocks shows a similar trend. The firm found that in November, correlations among S&P 500 components was less than 10%, the lowest since January 2001."
Over the weekend, Mohamed El-Erian writes on this subject: 
In the coming year, 'divergence' will be a major global economic theme, applying to economic trends, policies, and performance. As the year progresses, these divergences will become increasingly difficult to reconcile, leaving policymakers with a choice: overcome the obstacles that have so far impeded effective action, or risk allowing their economies to be destabilized.
-- A Project Syndicate article, "A Year of Divergences"
Over history, divergences have produced pockets of unevenness and I believe that will be an overriding theme in 2015.
A two-way market will provide increasing opportunities on both the long and short side, but it also is often accompanied by adverse economic and financial consequences as investment managers, central planners and other policy makers face a more difficult landscape to navigate.
-- Kass Diary, The Emergence of a Two Way Market (Dec. 11)
Oil Vey
"Once in a while you get shown the light, in the strangest of places if you look it right." --Jerry Garcia
The proximate cause for the reversal of fortunes was the swift southerly move in oil prices. This is an event -- caused by weakening demand and rising supply -- that I strongly feel will hold negative consequences for the financial markets and for the profit levels of S&P 500 companies.
Subpar global economic growth produces a fragile condition, as more than one-quarter of the world's economies are experiencing a recession or under 1% in real gross domestic product growth. This, in turn, exposes the trajectory of economic growth to numerous exogenous shocks, be they geopolitical, currency-based -- as in a rising U.S. dollar -- or of a multiple-standard-deviation decline in energy prices.
As I expressed over the weekend in The Wall Street Journal, $58-per-barrel oil is sending a signal of slowing global economic growth. It represents, much like Penn Square Bank did in the early 1980s, the potential for contagion risk. It is also vividly underscored by the strength in utilities, in the bond market and in other fixed-income-equivalent equity sectors. 
As chronicled below, there are already substantive signs of stress in the credit markets. 
We have already seen the impact of lower oil prices on a vulnerable high-yield market. Last week, high-yield selling intensified as yields and spreads rose to more than two-year highs. $90 billion of the $210 billion worth of outstanding energy bonds are now trading below $90, and a contagion into non-energy high-yield has begun in earnest. The J.P. Morgan Domestic High Yield Index is now pricing in default rates of close to 5% over the next one-and-a-half years. 
I also remain concerned about energy bank loans. Commercial banks have started to trim the value of oil reserves tied to credit lines, creating pressure on some of the more leveraged energy enterprises through lessened credit availability.
Numerous exploration companies are cutting back exploration activity. I mentioned Oasis Petroleum (OAS) - Get Oasis Petroleum Inc Report a week or so ago, but others, such as Petrobras (PBR) - Get Petróleo Brasileiro SA Report , have announced exploration cutbacks in order to shore up cash and preserve liquidity. Drilling activity has begun to fall rapidly -- and rigs targeting oil are experiencing the largest weekly drop since late 2012.
What has surprised me thus far is that there has been quite limited profit guide-downs in the oil patch. But profit cuts will be coming fast and furious in the weeks ahead. 
During the weekend, the head of the Organization of the Petroleum Exporting Countries (OPEC) said the organization has no fixed price target, but he thinks the decline has gone beyond levels justified by the market's fundamentals. On the other hand, a United Arab Emirates energy minister said OPEC won't change its mind on production "because prices went to $60, or to $40." 
The recent downside oil shock will also create a meaningful economic challenge to those countries that are dependent on higher energy prices. Not only will the price drop adversely impact countries' gross national product (GNP), it will also serve to threaten the ability to meet social spending targets -- and thus holds the potential for both economic (slowing global growth) and social unrest in 2015 and 2016. 
Pretend and Extend -- The Final Chapter
Pretend and Extend in China, Japan and in Europe will be tested as secular debt, demographic and structural headwinds have not been addressed. Monetary solutions have gone about as far as they can go -- at least in the U.S. that policy has grown more and more ineffective and has contributed to an exclusive prosperity that has penalized savers and distorted the divide between the "haves" and the "have nots." 
The Technical Deterioration Intensifies
"There is a road, no simple highway, between the dawn and the dark of night, and if you go, no one may follow, that path is for your steps alone" –Jerry Garcia
Importantly, the market's drop last week was against the backdrop of technical divergences and lowered correlations. 
In the past I have argued that the sort of developing divergences that have taken place in the past few months -- when occurring within the context of a rising market and ever-climbing bullish investor sentiment -- are the preconditions of a correction, or a bear market.
I still believe this to be the case.
Here are some additional technical sign posts that are flashing an amber light:
• The NYSECompositeIndex failed at the previous all-time closing high it had achieved six months ago.
• The percentage of NYSE stocks that are trading above their 200-day moving averages made a lower low, peaking at 67% recently, as compared with 84% at the July 2014 high and 72% in September 2014. (I don't have Friday's closing percentage, but as of Thursday's close only 49% of NYSE stocks were trading above their respective 200-day moving averages).
• The Russell 2000 Index failed again at the January 2014 high.
• NYSE, the Nasdaq and Wilshire 5000 common stock -- only breadth has non-confirmed the previous highs.
• Cumulative weekly NYSE breadth peaked in September 2014, and the 26-week total of declines exceeded the same week total of advances for the first time this year. (This cross has historically been a tip off to larger corrections -- e.g., that of 2011).
A breakdown in correlation -- which I've previously discussed as worrisome -- can be clearly seen in the fall of new NYSE individual stock new highs and rising new lows during December. (This is part of the "Hindenberg Omen" calculation.) Significantly, the 10-day average of new lows -- at more than 190 -- rose above the 10-day average of new highs, 175. The last time this negative cross occurred was back on Sept. 22 -- two days after the high in the S&P 500 Index and right before the near 10% pullback in the first half of October.
Bottom Line
Fool me once, shame on you; fool me twice, shame on me. --Proverb
This morning's opening missive covers the breakdown in correlations, the recent apparent market slide and developing divergences in some important fundamental and technical market indicators.
The lessons of the past (e.g. Penn Square Bank and the slicing and dicing of mortgages into derivatives), particularly as it relates to contagion's long reach, have seemingly been forgotten.
Unfortunately, the Mr. Fusion Home Energy Reactor is ready to power the time machine's "flux capacitor" -- as we appear to be beginning our flight Back to the Future.
Tighten your seatbelts.
At the time of publication, Kass had no position in any of the securities menioned, although holdings can change at any time.
Doug Kass is the president of Seabreeze Partners Management Inc. Under no circumstances does this information represent a recommendation to buy, sell or hold any security.