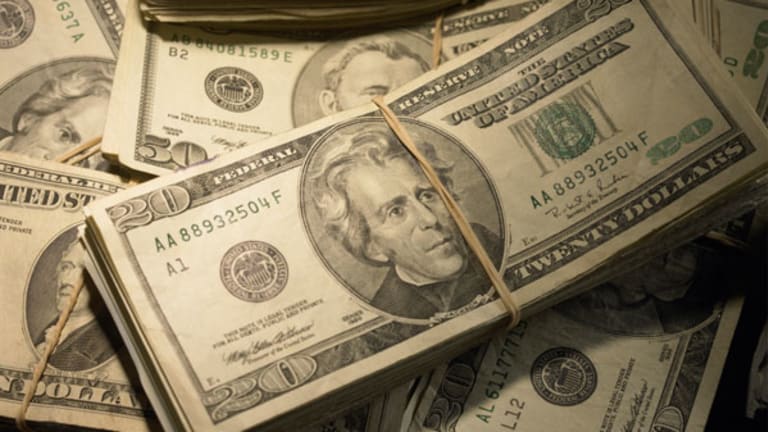 Don't Jump Into These Shares Just Yet
<I>Real Money's</I> Carolyn Boroden explores some bargain entries.
With quite a few stocks starting to break down, many are asking the same question: Is this a good time to grab some bargain stocks? But, instead of contemplating that, why don't we set up for some bargain entries instead? In that case, we would only consider a purchase if the technicals suggested we go through with it.
Source: Dynamic Trader
For example, in the last setup I gave you in
Caterpillar
(CAT) - Get Free Report
, we have
not
seen the moving-average crossover that I prefer to observe -- the five-day exponential moving average crossing above the 13-day EMA. The stock is still holding above key support, but the daily chart is showing no confirmation of a low just yet.
This article originally appeared on March 20, 2013, on RealMoney. To read more content like this + see inside Jim Cramer's $3 Million portfolio for FREE Click Here NOW.
The reason I've been more cautious lately has everything to do with the position of the major stock indices. Most of them are extremely extended to the upside, and they have room for some very healthy downside corrections
within the larger uptrend
.
As a result, the jury is currently out on the Caterpillar setup. So far, there's no trigger, and therefore no trade entry.
Source: Dynamic Trader
Earlier this week, I posted another setup with some areas to watch in
Carnival
(CCL) - Get Free Report
. The stock is currently above the two support zones, and we should still watch for a buy trigger, the 30-minute chart hasn't produced even one this week. If you want to be conservative here, you might want to wait for the daily averages to signal that this stock is a safer bet! In any case, the Carnival setup is still active; it just hasn't flashed an entry point.
Source: Dynamic Trader
With those updates out of the way, let's set up one more stock for a possible bargain entry:
Amazon
(AMZN) - Get Free Report
. After the most recent decline, I'm finally seeing a price here that interests me. On the daily chart, the two zones that stand out are $247.79 to $252.03 and $238.79 to $243.60 -- and I'm looking at this stock the same way as I did the previous two. If Amazon's price can hold above one of these key zones, I want to at least take it down to a 30-minute chart and wait for a clear buy signal before I consider an entry. Risk can be defined below the zones, or as I've described in my
.
At the time of publication, Boroden had no positions in the stocks mentioned.