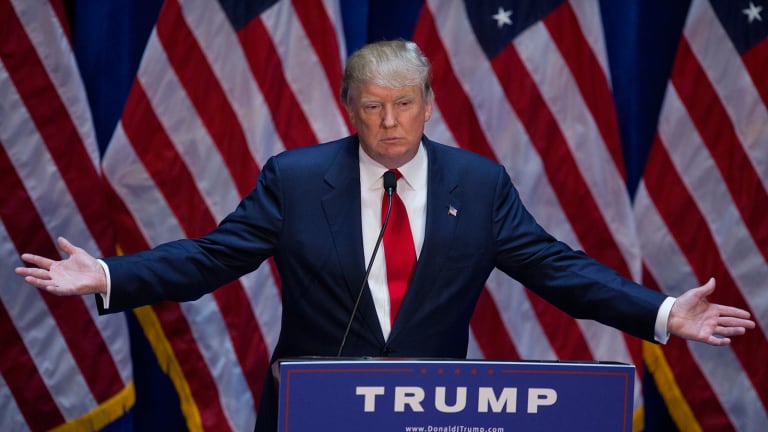 Donald Trump Ignores His 'Friend' Carl Icahn's Warning on BlackRock
There's no doubt that Donald Trump believes in BlackRock hedge funds, despite the concerns expressed by activist investor Carl Icahn -- the man Trump would like to make Treasury secretary.
NEW YORK (TheStreet) -- There's no doubt that Donald Trump believes in BlackRock (BLK) - Get BlackRock, Inc. Report hedge funds.
The real-estate magnate and presidential candidate made his biggest securities bet in one of them, despite the warnings of Carl Icahn, the activist investor he described as a friend and once said he'd like to appoint as Treasury secretary.
Trump, the Republican front-runner, has $25 million to $50 million in New York City investment giant BlackRock's Obsidian fund, based on a 92-page financial disclosure with the Federal Election Commission.
The fund's strategy, essentially, is to swing for the fences, hoping to achieve whopping annual returns in excess of 12%, which is more than double the average return on high-yield bonds, securities already considered speculative and non-investment grade, according to Obsidian details. So far Trump has been raking in gains, with annual returns of up to $5 million, based on his financial disclosures.
Source: Donald Trump's financial disclosure to the Federal Election Commission
His financial stance is at odds with Icahn, who politely rejected Trump's suggestion that he'd make a good Treasury secretary, and recently voiced concerns about high-yield debt and exchange-traded funds specializing in it, including those operated by BlackRock.
Among Icahn's concerns is that many of the people putting money in high-yield, or junk, debt don't understand it but have confidence in the financiers offering the investment opportunity. It's a problem that Icahn says also contributed to the widespread losses from mortgage securities during the financial crisis.
"Blackrock is sort of a name out there," Icahn said at a recent conference in New York. "And this is one of the problems you had in 2007, where you had brand names on a lot of these housing things."
BlackRock's Obsidian fund is a fairly exclusive club that comprises a growing pool of fewer than 200 investors who each have a minimum stake of $1 million; altogether about $1 billion is invested in it, based on BlackRock's disclosures to the federal Securities and Exchange Commission.
Neither BlackRock nor Trump's campaign responded to requests for comment.
Trump is "probably just out chasing the yield, and it's kind of the most risky and extreme investment," Paul Gulberg, an equity analyst with Portales Partners, said in a phone interview.
Even if Trump has wagered $50 million in Obsidian, however, that represents a mere 0.5% share of his recently claimed $10 billion net worth.
Obsidian is the most aggressive of BlackRock's "Unconstrained Fixed Income" fund options, aiming for a 12% yield on top of a London Interbank Offered Rate (Libor) floor, which on Friday was about 0.3%.
And as interest rates in general are expected to rise, an elevation in Libor will further increase the return expectations of Obsidian. BlackRock also charts Trump's Obsidian investments as highly turbulent, with an 8% to 10% volatility target.
"Ten percent volatility from fixed income is wild itself," Gulberg said. But for returns as high as 12%, investors have little choice other than distressed hedge funds, business development companies, and high-yield financing for bankruptcy and corporate restructuring.
As for Icahn, although he declined to assess Trump's chances at winning, he said in a blog post that he shares The Apprentice star's concern that the U.S. economy will soon have to grapple with another financial bubble because of interest rates that the Fed has kept near zero since the financial crisis.