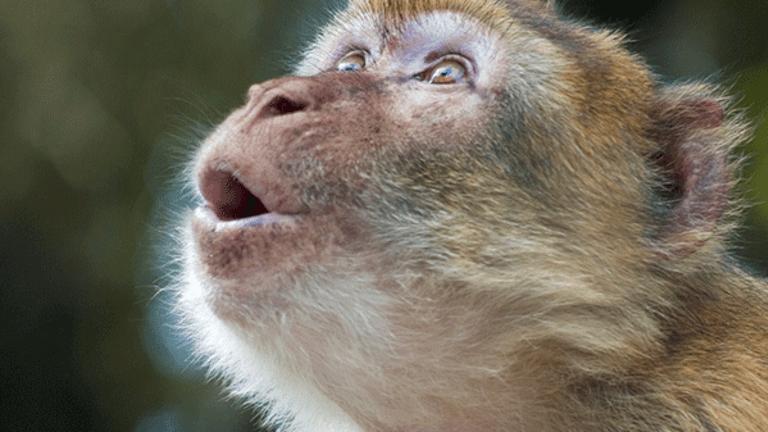 You Don't Know How to Invest If You Buy a Retail Stock Right Now
Retail stocks will remain under pressure, despite a handful of better-than-expected results.
This article originally appeared at 09:00 ET on Real Money, our premium site for active traders. Click here to get great columns like this from Brian Sozzi and other writers even earlier in the trading day.
Come on, let's get real, people. 
Immediately after better-than-expected earnings reports from Walmart (WMT) - Get Walmart Inc. Report , Macy's (M) - Get Macy's Inc Report and Home Depot (HD) - Get Home Depot, Inc. (HD) Report the mood on Wall Street is that retail hasn't died, and in fact it may actually be thriving. Shares of all three of those major retailers rose decently in Tuesday's session because, as I wrote last week, investors are looking like crazy for undervalued sectors in an overheated broader stock market. Suddenly, Walmart's meager U.S. same-store sales increase was akin to a 5% gain back from when it was an upstart retailer. With retail having a disastrous holiday season, what Walmart put forth was pleasing on the eye. But the company's operating profits remain under siege from badly needed investments in associate training, hourly wages and God only knows what e-commerce infrastructure wise.
As for Macy's, it's monster earnings beat was taken as a sign consumers are coming back to stores after a long hibernation and frequent trips to buy underwear online. Are you kidding me? This enthusiasm on retailers following Macy's and Walmart earnings is so misplaced, it's almost laughable for two reasons. First, these companies are beating significantly lowered earnings estimates. These companies didn't report anything stellar -- Wall Street simply tossed in the towel months ago on how good the bottom line could shake out. Secondarily, the conference calls of Macy's and Walmart weren't exactly sexy.
Macy's warned of continued challenging sales trends in most parts of its stores. Outgoing CEO Terry Lundgren warned that his team is still trying to develop strategies to get people into physical stores. As for Walmart, no doubt about it, the comments around e-commerce should have scared the hell out of Amazon (AMZN) - Get Amazon.com, Inc. Report . But, many parts of its stores saw sluggish sales during the holidays and the company cautioned the first quarter got off to a challenging start due to tax refund delays.
The only company that warrants continued love is Home Depot. What a company. It's benefiting from powerful trends in the U.S. housing market and a management team that is the best in the business. But, when I talked with long-time Home Depot Chief Financial Officer Carol Tome (who should have been a CEO of a major company years ago, and should be one right now) an answer to how Home Depot is winning amid the shift to online shopping was quite telling. In effect it explains why many other retailers will continue to struggle, close stores and see their stock prices trade with a downward long-term bias. They aren't doing enough to integrate their online businesses with their physical stores, and in some cases may not have the brand, balance sheet and infrastructure in place to turn things around. 
I can't really speak to the experience for Starbucks (SBUX) - Get Starbucks Corporation Report and other retailers, but I can speak to our experience. We have invested in our online experience to shorten checkout times. In fact, we have dropped the time to checkout by 19%. We improved the overall look and feel of the website. That matters for our category, because people aren't looking at items like a cup of coffee, they are looking at a patio set or a kitchen or bathroom. So, that experience online is very important to them.
It's also about the product that we offer. We curate products, and help people decide what they need for their project rather than just throwing up millions and millions of stock keeping units and telling them you pick what you need.
We also differentiate ourselves because of our interconnected experience. We are leveraging our physical assets with our digital assets. About 45% of our online orders are picked up inside of a store, and 20% of the time a customer is buying something else because they are working on a project, not just buying an item.
It's a very different experience.
-Home Depot CFO Carol Tome
Wise up, John Doe investor -- the surge in consumer-related stocks is unwarranted. Get prepared for some brutal reports and outlooks from retail over the next two weeks. 
Cool Reads from Around the Web
Invest in a Powerball ticket this morning: Forget hitting the buy button on your stock trading screen. Just rush out and buy a $2 Powerball ticket. The jackpot currently stands at $403 million, the tenth largest in history. Powerball's jackpot hit a record $1.6 billion in January 2016, when there were three winning tickets sold in California, Florida and Tennessee. The winning numbers will be chosen (hopefully) at 11pm. 
A Ford will know if you are pissed off and have road rage:Ford (F) - Get Ford Motor Company Report is working on in-car technology that will help determine your mood while driving, reportedCarScoops. What that means: the vehicle may be able to learn what songs the driver would like to hear when they're visibly stressed and even adjust the interior lighting to suit the driver's mood. This personal digital assistant technology will reportedly start to appear in Ford's upcoming SYNC 3 in-car connectivity system.
This is so smart, and needed in the United States: A power company in the U.K. is currently rolling out 500-700 smart chargers (which charge cars faster) to people's homes that could charge up electric cars, reportedElectric Car Report. This is the type of initiative from power companies -- in tandem with the private sector -- that is badly needed in the U.S. to make electric car driving a viable thing. Right now, people fight for time at a random Tesla (TSLA) - Get Tesla Inc Report charger near a gas station. Or, they use inferior power sources from their homes that take hours to charge up a car. 
Employees of TheStreet are restricted from trading individual securities.