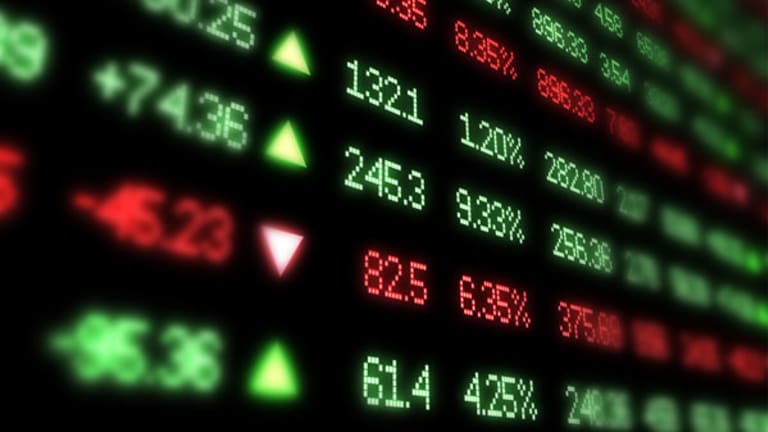 Don't Get Burned; Monster ETF: Jim Cramer's View
Cramer shares his views on how to handle hot semiconductor stocks and discusses a monster ETF.
Jim Cramer shares his views every day on RealMoney. Click here for a real-time look at his insights and musings.
Cramer: Don't Get Burned by These Hot Semiconductor Stocks

Originally published June 21 at 1:23 p.m. EST
First, do no harm. That Hippocratic Oath is how I feel about Advanced Micro Devices  (AMD) - Get Free Report and Nvidia  (NVDA) - Get Free Report --the two hottest semiconductor companies in this market--and I can tell that many people hate my view.
At the time of publication, Action Alerts PLUS, which Cramer co-manages as a charitable trust, was long ADBE.
They hate it because they believe that I am way too negative, or even encouraging short sellers to step up to the plate and bet against these two stocks.
Nothing could be further from the truth.
I think that for the moment AMD does have a slight lead on Intel  (INTC) - Get Free Report in some key areas of speed. Plus, AMD's chips are used to mine cryptocurrencies like Bitcoin and Ether, which are multi-billion-dollar markets--and growing. It has terrific gaming chips--and gaming is a monster-sized market, especially in the stay-at-home economy that we have now. AMD, under the incredible care of CEO Lisa Su, has fixed its balance sheet--giving it the staying power that it has often lacked in the past. That has allowed the company's stock to be much more of a steady player, rather than a "swing for the fences" stock, something that I can't stand because of the volatile nature of the beast.
Nvidia? What can I say. I don't know if I have ever seen a semiconductor company as on fire as this one--and it has all the feelings of Intel in the 1990s, which went from $1 to $72 in 10 years' time. I don't even want to hazard where that would put the stock right now, for fear that it would make people too bullish.
That said, Nvidia has the best chips for autonomous driving. It has the most-efficient chips for data servers--and they are faster yet use much less energy. It has by far the finest gaming chips--which have even caused fabulous outfits like Take Two Interactive  (TTWO) - Get Free Report to redesign games to be even more life like.
Its chips power the artificial intelligence of so many of the great companies out there, because the chips make voice response so easy. They even power the artificial intelligence behind the Adobe Sensei that gives us the amazing interactive drawings that I saw this morning when I interviewed Adobe Systems' (ADBE) - Get Free Report Shantanu Narayen, the company's brilliant CEO.
So what's the deal then? Why am I saying that we have to be careful with these stocks, if over the long term they are going to go much higher--which I think they can?
First, I understand psychology. AMD's stock is as hot as a pistol. But back in early May, it plummeted from $13 to $10 overnight. That drove out a lot of the individual investors, who ran from the stock for fear something was wrong.
The stock of Nvidia languished around $100 from November 2016 to May of 2017 before rocketing to the $150s. Maybe people don't recall, but during that period of underperformance, after a point where it was the best performer in the S&P 500, so many retail investors were shaken out that I was pilloried for still liking the company.
My point? Both of these stocks have moments where they can either get hammered or cool off and meander with sharp intraday declines. If you want to own them, I am sanctioning buying some now. All I ask is that you save some cash for buying more later, because with both, your first buy is not likely to be your only buy.
Right now you are chasing AMD. I don't like chasing. Nvidia's stock just had a huge swoon. It will again. That's when you want to buy the rest. If neither ever comes down again, you will own some stock. But if they follow their old patterns, a better price could await.
Cramer: Someone Has Created a Monster ETF

Originally published June 21 at 5:26 a.m. EST
Recently, the retail ETF hit an all-time high. That's right, the VanEck Vectors Retail ETF (RTH) - Get Free Report kissed $84, and even though its only down to $80, tell me that it doesn't feel like a worse bear market than the oil patch is enduring?
Of course, you can't feel it if you own the biggest player in the index, Amazon (AMZN) - Get Free Report , at 20%. Nor can you tell it if you own numbers two and three in the index, Home Depot (HD) - Get Free Report and Lowe's (LOW) - Get Free Report . But the rest?
Carnage.
Now, in the silly little world that is ETFs, someone has created a monster here. The best trade in the world for the last 10 days has been to go long the three biggest in the index and then bang down everything else to set up a perfect play on what you see occurring in your screen.
That's right, with Amazon at 20% and Home Depot and Lowe's north of 5%--the only ones higher than 5% besides CVS Health Corp. (CVS) - Get Free Report --you have an ideal long-short duo.
You do seriously have to wonder how Walmart (WMT) - Get Free Report has a lower weighting than Amazon, Lowe's, Home Depot and CVS, don't you?
But don't get me started on that. What matters is that those top three have masked a decline of breathtaking proportions. I would say now that the vast majority of retail has entered some sort of rollover phase that I can't even recall, except during the darkest days of the great recession. It's as if people think that shopping is over, done, everywhere.
Now, I have been adamant that the Amazon move into food is the death knell for grocery margins. I am not backing away from that. I know that the mall stores are certainly challenged.
But now they are selling off the very stores that are the beneficiaries of the carnage--Burlington (BURL) - Get Free Report , The TJX Cos. (TJX) - Get Free Report --which is a holding in the Action Alerts PLUS charity portfolio that I co-manage--and Ross (ROST) - Get Free Report . They are the ones who buy the merchandise from the companies with Amazon problems. They sell their merchandise under what Amazon can deliver!
Or how about Nordstrom (JWN) - Get Free Report ? Just a few days ago, it was debating going private. I do not think that a press release about Amazon willing to accept the return of dresses should derail that deal. But now the stock is starting to roll over in a way that would say nothing's going to get done.
I think something will.
And now we are getting the breakdown of The Children's Place (PLCE) - Get Free Report , which is the winner in the duopoly battle with Gymboree.
Right now, after the announcement of Amazon-Whole Foods (WFC) - Get Free Report , I get that there is panic and fear everywhere. It can't be contained to just the grocery aisles.
But that said, I would keep in mind that there are winners and losers, not just winners. I articulated this position about Home Depot 10 days ago, when it was getting killed off of Amazon and it's had a great recovery.
I think we could be on the verge of a recovery on the other ones not in the crosshairs of the Seattle behemoth.
Unless you believe everyone is in the crosshairs. If that's the case, then go short the RTH and go long Amazon until the cows come home.
Action Alerts PLUS, which Cramer co-manages as a charitable trust, is long TJX, WFC.
Action Alerts PLUS, which Cramer co-manages as a charitable trust, is long ASBE, TJX and WFC.