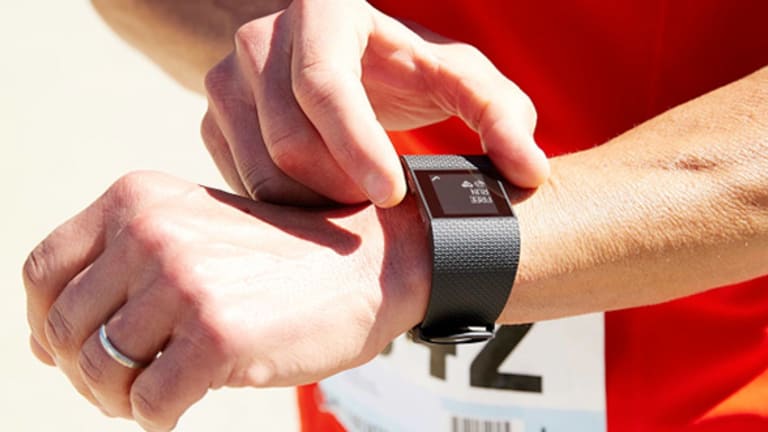 Publish date:
Don't Expect Struggling Fitbit to Make a Comeback
This wearable fitness device maker is stumbling on its feet and about to collapse. Ignore the optimists and shun the stock.
This wearable fitness device maker is stumbling on its feet and about to collapse. Ignore the optimists and shun the stock.
Small, high-flying technology companies with trendy products have a nasty habit of crashing to earth. This sad dynamic is now unfolding for Fitbit (FIT) - Get Report , which has evolved from hot IPO to market dog.
Here's why you should ignore the Fitbit boosters and look for growth elsewhere.
With a market cap of $1.3 billion, Fitbit makes wristbands and clippable devices that monitor fitness activity, such as calories burned or distance covered. The company's "wearables" have been a consumer craze, but competition from Silicon Valley giants now poses an existential threat.
Other bracket busted? Try TheStreet's Market Bracket Challenge. You have until Sunday, March 19 at Midnight to Enter!
Fitbit management insists that expansion into international markets and the continuing rollout of Fitbit-sponsored wellness programs among corporations should generate additional customers and buoy operating results this year.
However, the barriers to entry in Fitbit's market are low and the company faces rising competition from other fitness-device makers with greater resources and brand loyalty, especially Apple (AAPL) - Get Report . The Cupertino giant's Apple Watch now offers fitness-related apps.
Fitbit's Initial Public Offering in June was the third biggest IPO of 2015, raising more than $732 million from 36.6 million shares at $20. The financial media's hype helped push the stock to an apogee of about $52 in August for a gain of about 74%.
Oh, how this Wall Street angel has fallen. Over the past 12 months, Fitbit stock has plunged 59.3%; year to date it has declined 19.6%. Now that Fitbit is in the cellar, some analysts are optimistic over the stock and view it as a value play. Don't fall for it; Fitbit stock is heading even lower.
To be sure, FitBit remains a leader in the wearable fitness trackers space, with a market share of about 25% of all fitness trackers sold. However, the company's market share has been steadily eroding. The main culprit is the multi-functional Apple Watch, which is making Fitbit's devices unnecessary.
Fitbit was an early entrant in the wearable device trend, but as if often the case in the tech sector, it's getting punished for being a pioneer as larger competitors jump into the fray. It's the same dynamic we're seeing with erstwhile high-flier GoPro (GPRO) - Get Report , which is struggling with competition from the likes of Apple and Garmin (GRMN) - Get Report in the wearable camera niche.
The average analyst expectation is that Fitbit's year-over-year earnings growth this fiscal year will come in at -200%, and -21.62% over the next five years on an annualized basis. There are better growth opportunities in the tech sector than highly vulnerable Fitbit.
Boring, Predictable, No-Surprises Strategy Safely Generates $67,548
If big, triple-digit winners get your adrenaline pumping, then stop reading this right now. Because this probably isn't for you... Only traders who would calmly enjoy raking in an extra $67,548 with no surprises or hiccups will appreciate this strategy. In fact, over the course of 1,586 days, I've been leisurely collecting giant payouts with this boring approach. I win 8 out of every 10 trades - GUARANTEED. Click here to join me.
John Persinos is an analyst at Investing Daily. At the time of publication, he owned stock in Apple.