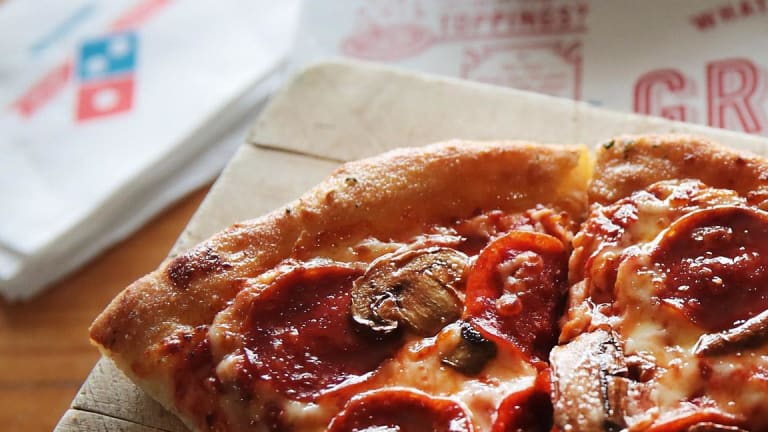 Domino's Stock Dips After Revenue, Same-Store Sales Miss
Domino's Pizza (DPZ) sees falling shares after company missed on revenue and same-store sales
Investors in Domino's Pizza Inc. (DPZ) got a pizza burn on Thursday, July 19, when the pizza giant missed second-quarter revenue estimates.
Shares of the world's largest pizza company by revenue fell by nearly 5% in premarket trading. Shares closed down 2.5% at $276.75 on Thursday.
 Revenue in the second quarter was $779.4 million, falling short of analysts' estimates of $784.61 million. Same-store sales rose in all sectors, both domestic, international and company-owned and franchise stores, but the increases were mixed from last year's quarter.
Domino's said domestic same-store sales rose 6.9%, below estimates that called for an increase of 7.3% growth. International same-store sales rose 4%; Wall Street analysts expected growth of 5.4%.
Adjusted earnings of $1.84 a share topped forecasts of $1.74. A year earlier, Domino's earned $1.32 a share.
The second-quarter earnings report was the first under new Domino's CEO Richard J. Allison Jr. He stepped into the CEO role about two weeks ago, but has been with the company more than seven years.
"Global retail sales remain strong as we see our franchisees building new stores, growing same-store sales and bringing customers back again and again," said Allison in a press release.