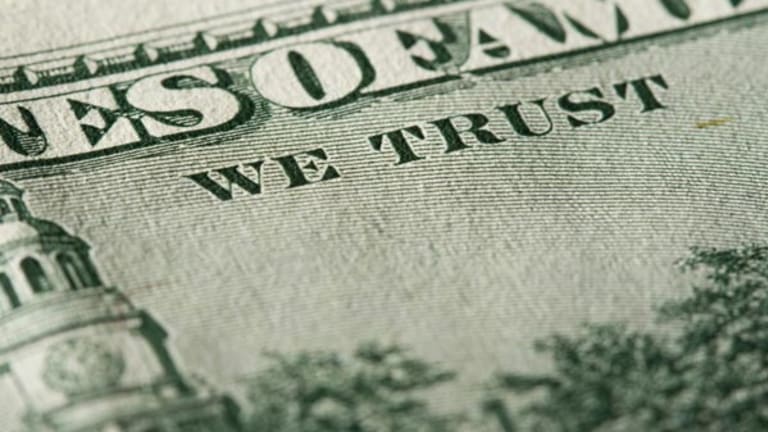 Domestic Funds With Winning Streaks
For investors who want to buy American, these fund maintained top grades over the past 12 months.
My story last week about mutual funds that sustained a rating of A or better over the last two years irked some patriotic readers who pointed out that not one single domestically focused mutual fund made the cut. "We want to buy American!" they said. "Which domestic funds have been consistent winners?"
Thanks to the recent market volatility, if you want to find American funds with winning streaks, you need to grade on a curve. By focusing the "perpetual A+ winners" criteria to the last 12 months of ratings, down from two years, and restricting the search to just funds with portfolios of 70% or higher concentration of U.S. stocks, two funds emerged, both of which focus on utilities.
(IAUTX) - Get Invesco Dividend Income A Report
The AIM Utilities Fund A (IAUTX) has maintained an A+ rating for the last year, impressive considering the penalty associated with the 5.5% front load, or sales commission. Of the fund's holdings, 92% are American companies and the remainder are European.
The fund's largest holdings include
AT&T
,
Questar
(STR)
,
NRG Energy
(NRG) - Get NRG Energy, Inc. Report
,
Exelon
(EXC) - Get Exelon Corporation Report
and
Edison International
(EIX) - Get Edison International Report
.
Likewise, the
(SYMBOL)
AllianceBernstein Utility Income Fund (AUIAX) has maintained an A+ rating for the last year, has a steep 4.25% sales commission and lists AT&T as its largest holding.
Both funds rank electric power, telecommunications and gas as their three largest sector allocations. However, the AllianceBernstein fund differs from its fellow domestic A+ winner in that it owns a number of smaller companies, including some from Mexico, Brazil and Hong Kong.
The
(SYMBOL)
MSIF Trust U.S Mid-Cap Value Adv (MMCAX) is our only domestic A winner. This no-load fund's largest holdings include
Diebold
(DBD) - Get Diebold Nixdorf Incorporated Report
,
Juniper Networks
(JNPR) - Get Juniper Networks, Inc. Report
,
Goodrich
( GR) and
Hess
(HES) - Get Hess Corporation Report
.
The portfolio has a median market capitalization of $7.45 billion and is fairly well diversified, allocating 12.2% of assets to insurance, 8.8% to electric, 6.3% to diversified financial services, 5.4% to commercial services, 5.2% to oil and gas and 5.2% to telecommunications.
If you are looking for a utility fund that does not have a load, check out the
(FIUIX) - Get Fidelity Telecom/Utilities Report
Fidelity Utilities Fund (FIUIX), which has earned an A- or better rating for the last year. Half the fund (50.6%) is in telecom stocks, lead by AT&T and
Verizon Communications
(VZ) - Get Verizon Communications Inc. Report
, with the remaining 39.2% in electric, 5.8% in media and 2.8% in gas. The fund favors larger companies, as the median market cap falls at $50.8 billion.
The 17 additional funds listed can be considered "domestic B+ winners," with a full-year continuous record of B+ or better ratings. All of them are worthy of watching for future consideration as the domestic portion of your fund portfolio.
Along with a quarter-point rate cut on Wednesday, the
Federal Reserve
released a statement indicating that the risks of inflation and recession are balanced.
This implies that the central bank is unlikely to cut rates further this year. Third-quarter GDP of 3.9% and benign 2.1% inflation, once everything that matters to consumers is excluded, give the Fed plenty of cover to sit on the sideline for now.
U.S. consumers, in my totally biased opinion, are the best consumers on Earth. Even with all the negative news, monthly retail sales increased by 0.6%. It may be too soon to write the obituary for the current business cycle that has been in expansion mode since November 2001, according to the National Bureau of Economic Research.
But all economic expansions eventually end in contraction. That's one reason why past performance is no guarantee of future results. The same holds true for the winning streaks of these mutual funds.
On Thursday, the
Dow Jones Industrial Average
careened 362.14 points (down 2.6%). The
S&P 500
also plummeted 2.6%. This is either an opportunity to buy on the dip or an early tremor of a larger magnitude quake.
The end of the year is not a good time to be buying mutual funds in taxable accounts. Be sure you know the tax consequences of potential capital gains distributions before investing.
The safest course of action is to wait and watch these domestic funds for the next two months to see how they react.
Editor's Note: All instances of "American funds" in this article refer to funds that invest in U.S. stocks and not to the American Funds family, which is one of TheStreet.com Ratings' Ultra Fund families.
For an explanation of our ratings, read
here.
Kevin Baker became the senior financial analyst for TSC Ratings upon the August 2006 acquisition of Weiss Ratings by TheStreet.com, covering mutual funds. He joined the Weiss Group in 1997 as a banking and brokerage analyst. In 1999, he created the Weiss Group's first ratings to gauge the level of risk in U.S. equities. Baker received a B.S. degree in management from Rensselaer Polytechnic Institute and an M.B.A. with a finance specialization from Nova Southeastern University.