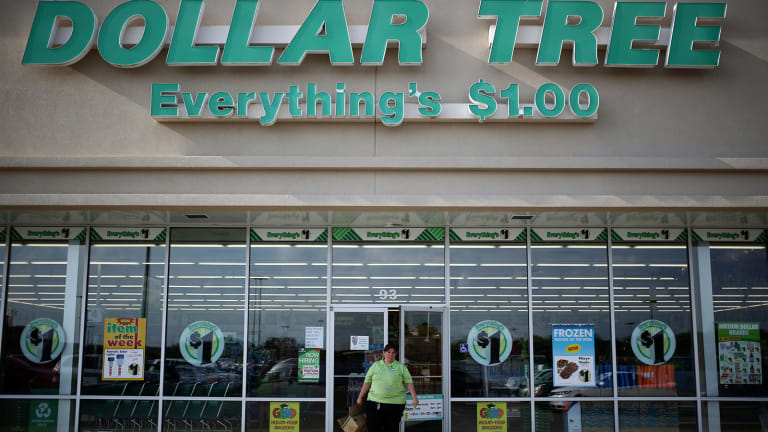 Dollar Tree Rebounds Despite Lower Earnings Guidance
Discount variety store chain Dollar Tree lowers its guidance for the second quarter and fiscal year.
Shares of discount variety store chain Dollar Tree Stores  (DLTR)  rose on Thursday after reporting fiscal first-quarter earnings that matched analysts' forecasts and providing lower guidance for its second quarter and fiscal year - even as it continues to toy with the idea of offering items for more than a buck. 
The Chesapeake, Va.-based company posted net income of $267.9 million, or $1.12 a share, vs. $160.5 million, or 67 cents a share, in the comparable prior-year quarter. On an adjusted basis, the company posted per-share earnings of $1.14, matching the consensus forecast of analysts polled by FactSet.
Sales rose to $5.81 billion from $5.55 billion a year ago. Same-store sales increased 2.5% on a constant currency basis, the company said.
However, the company lowered its guidance for both sales and net income for its fiscal second quarter and full year. Dollar Tree now estimates consolidated net sales for the fiscal second quarter in the range of $5.66 billion to $5.76 billion, and per-share earnings in the range of 64 cents to 73 cents, well below the 99 cents a share currently forecast by analysts.
For the full fiscal year, the company now expects net sales of between $23.51 billion and $23.83 billion and per-share earnings of between $4.77 and $5.07, below the current average estimate of analysts polled by FactSet of $5.30 a share.
Shares of Dollar Tree closed up 3.14% to $98.31 on the Nasdaq Stock Market on Thursday.
The company reiterated its plans to close as many as 390 underperforming stores during its fiscal second quarter, which will involve up-front costs - and hence lower near-term earnings - but longer-term savings.
At the same time, the retail chain is still moving ahead with testing lifting its $1 price-point restriction by introducing Dollar Tree Plus! items as a way to boost longer-term revenue. The company also said it was planning on adding adult beverage products to its offerings.