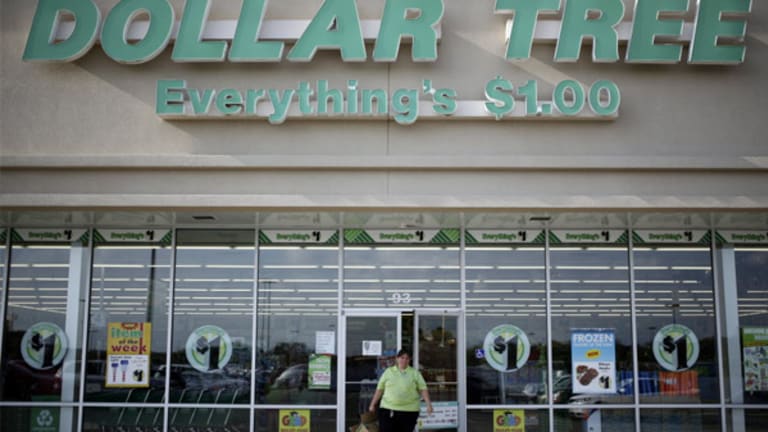 Dollar Tree's Pricey Stock Is Still Worth Buying
Dollar Tree is increasing same-store sales and customer transactions, making this a buy-and-hold stock ahead of earnings Thursday.
Dollar Tree (DLTR) is set to report second-quarter earnings results before the opening bell Thursday. The bargain store's shares aren't cheap at 25 times forward earnings estimates of the $3.80 per share. However, Dollar Tree is increasing same-store sales and customer transactions. Combined with consistent increases in average ticket items, the company is doing all of the right things to create value.
As a results, shares have soared some 24% year to date and, at $95.51, now trade near all-time highs. These gains have brought up concerns, given that the majority of the year-to-date stock increase (26%) has occurred over the past three months. The thinking is there's been too much irrational exuberance.
Still, it would be a mistake to part with Dollar Tree, especially given the better-than-expected results just released from Walmart (WMT) , which suggests that consumers are, in fact, spending. That's why Wall Street is projecting to report earnings of 73 cents per share on revenue of $5.08 billion -- both are projected to rise year over year.
What's more, while Dollar Tree's valuation, specifically its price to earnings ratio, has drawn the ire of investors, it's more important to focus on the metrics behind the P/E. For instance, Dollar Tree's fiscal 2016 estimates of $3.80 per share implies year-over-year earnings growth of 32%. That's more than six times the projected earnings growth of the S&P 500undefined index.
Beyond the improving merger synergies from its acquisition of the Family Dollar, the company has figured out ways to improve its profit margins by reducing operating and corporate expenses. Its SG&A expense rate improved 90 basis points in the first quarter, thanks to lower payroll expenses, among other areas.
With its store count adding some 8,500 locations in the last quarter, Dollar Tree is now approaching 14,000 stores, which will continue to help drive its market share gains. So despite the high stock price and high valuation, Dollar Tree should be owned until its fundamentals suggest otherwise.
This article is commentary by an independent contributor. At the time of publication, the author held no positions in the stocks mentioned.