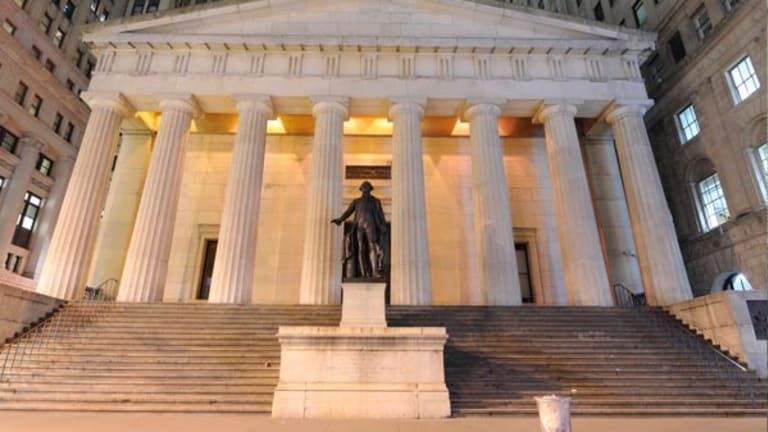 Dogs of the Dow May Finally Get Their Day
High-yielding Dow stocks such as Merck and Verizon could outperform if volatility ramps up.
High-yielding Dow stocks such as Merck and Verizon could outperform if volatility ramps up.
BOSTON (TheStreet) -- With U.S. stocks doubling since the market low in March 2009, investors may have forgotten that equities stagnated during the first three quarters of 2010.
Between Jan. 1 and Oct. 1, the
S&P 500 Index
rose a paltry 2.1%. But upon announcement of the Federal Reserve's so-called QE2, investors ramped up risk. The benchmark has risen 16% since October and is up 24% since rumors of QE2 -- the Fed's large-scale bond-buying program -- surfaced in late August. The Federal Reserve is scheduled to abruptly end its second round of purchases in June and already forecasters are warning of market dislocation.
In the monthly missive of Bill Gross, chief investment officer of
Pimco
, the bond guru questioned who would step up to purchase Treasuries once the Fed exits, warning that the bond market could fall sharply as the demand curve for securities reverts. Gross provides data indicating that yields are artificially low.
Conversely, others have pointed out that, following the end of QE1, Treasuries rallied significantly and stocks were dumped as investors sought safe-haven investments amid ongoing structural economic headwinds. The purpose of asset purchases is to spur investors to purchase riskier assets. So those that have rallied significantly, namely, stocks and commodities, could decline when QE2 concludes. Investors should consider defensive tactics before QE2 ends.
Dow stocks, still undervalued on a historical basis, aren't necessarily safe havens as hot names, such as
Caterpillar
(CAT) - Get Report
, which has more than quadrupled since the March 2009 low, would be most likely to decline in a sell-off. But dividend-paying, cyclically resilient equities would probably gain attention.
Here's a look at the five highest-yielding Dow stocks, the so-called
, ordered by yield. They are worth considering if markets turn volatile in coming weeks.
5.
Kraft
(KFT)
is a packaged foods company.
Its adjusted quarterly earnings remained flat at 46 cents, narrowly missing analysts' consensus target. It exceeded researchers' consensus in the seven previous quarters. Kraft's adjusted top-line figure climbed 25% to nearly $14 billion, beating the consensus target by roughly 2.5%.
Kraft's quarterly numbers were helped by its so-called power-brands strategy and benefits from the recent Cadbury acquisition. Net revenue gained 30% to nearly $14 billion, despite negative currency effects. Combined organic revenue grew 6.5% as Cadbury boosted organic revenue 2.2%. Operating income inched up 2.2% to $1.2 billion. As with many Dow components, overseas expansion is rapid. Quarterly developing market revenue rose 74%, partially offsetting modest growth in developed markets.
Kraft pays a quarterly dividend of 29 cents, converting to a yield of 3.7% with a trailing payout ratio of 82%. The dividend has grown 3.7% and 5.9% annually, on average, over a three- and five-year span.
Currently, 16 analysts, or 67%, advise purchasing Kraft's stock and eight recommend holding it. None say to sell.
Sanford Bernstein
offers the highest target on Wall Street, at $38, implying 19% of upside in 12 months.
Deutsche Bank
, on the other hand, ranks Kraft "hold", expecting a modest decline to $30. The stock trades at a forward earnings multiple of 13, a book value multiple of 1.6 and a cash flow multiple of 15, 23%, 64% and 18% peer discounts.
4.
Merck
(MRK) - Get Report
is a global drug company.
Merck's fourth-quarter adjusted earnings increased 11% to 88 cents, beating analysts' consensus estimate by 5.8%. The adjusted top-line stretched 20%, beating consensus by 5%. But, Merck swung to a loss of $531 million, or 17 cents a share, from a profit of $2.35 a share a year earlier.
The drug company's performance was hampered by purchase accounting adjustments, restructuring costs and merger-related expenses. Merck suffered a $1.7 billion pre-tax charge related to its vorapaxar research program. On a positive note, merger restructuring and merger-related costs dropped 80% and 44%, respectively, year-over-year. Management is forecasting $3.64 to $3.76 of 2011 earnings, giving its stock a cheap forward P/E of just 9.
Merck pays a quarterly dividend of 38 cents, converting to an annual yield of 4.6% with a dangerously-high trailing payout ratio of 562%, based on trailing GAAP earnings. The dividend hasn't grown since 2004.
Of equity researchers following Merck, 17, or 65%, advocate purchasing its shares and nine recommend holding them. None say to sell.
Miller Tabak
forecasts that the stock will advance 45% to $48. In contrast,
Jefferies
foresees a correction to $29.90. The stock has a median 12-month target of $38.49, implying a solid 12-month appreciation of roughly 16%.
3.
Pfizer
(PFE) - Get Report
sells pharmaceuticals.
Pfizer's adjusted quarterly earnings of 47 cents, representing a 4.1% year-over-year decline, beat analysts' consensus target by 2.4%. Its top-line figure outperformed the consensus target by 3.9%. GAAP net income more than tripled to $2.9 billion, or 36 cents a share, as revenue increased 6%.
Primary-care sales dropped 10%, established products sales fell 14% and oncology sales fell 14%. But specialty-care revenue increased 36% and emerging-markets revenue climbed 25%. The best-performing operating segments were consumer health care, which generated 53% sales growth, and nutrition, which grew revenue 158%. Cash rose 7.8% during the quarter to $28 billion as debt fell 9.5% to $44 billion, equaling a debt-to-equity ratio of 0.5.
Pfizer is the second cheapest Dow stock, based on its forward earnings multiple of 8.7, a 21% pharmaceutical peer discount. Its trailing earnings multiple of 19, book value multiple of 1.8 and sales multiple of 2.3 represent industry discounts of 26%, 64% and 27%, respectively.
Of analysts following Pfizer, 20, or 69%, rate its stock "buy", seven rate it "hold" and two rank it "sell."
Hilliard Lyons
ranks Pfizer a "long-term buy", with a fair-value target of $30, implying that the stock will rise 53% to $30.
Citigroup
ranks it "hold", expecting the stock to hover around $20. Pfizer pays a quarterly dividend of 20 cents, equal to a 4.1% yield. The dividend has fallen from a high of 32 cents, last paid in fiscal 2009.
2.
Verizon
(VZ) - Get Report
is an integrated telecom.
Verizon achieved 54 cents of quarterly adjusted earnings, narrowly missing analysts' consensus target by 1.1%. The top-line narrowly missed the consensus target by 0.2%. Verizon's fourth-quarter GAAP earnings per share multiplied to 93 cents from 22 cents in the year-earlier quarter, boosted by net non-operational gains this quarter and charges in the year-ago period. Total operating revenue declined 2.6% to $26 billion, disappointing investors.
Verizon's wireless unit delivered outstanding metrics, gaining 872,000 postpaid customers during the quarter, ending the quarter with more than 94 million customers and 8.1 million other connections, including machine-to-machine and telematics. Total churn, a measure of customer retention, dropped to 1.3%. The wireless operating margin rose to 31%.
Verizon pays a dividend of 49 cents, translating to an annual yield of 5.4% with a trailing payout ratio of 56%. The dividend has grown 4.9% and 5.3% annually, on average, over a three- and five-year span.
Verizon ranks as analysts' least favorite Dow stock, receiving 14 "buy" calls, 21 "hold" calls and one "sell" ranking. It has a median 12-month target of $37.55, implying marginal upside.
Macquarie
is bullish, though, predicting that Verizon will rise 22% to $44. In contrast,
Sanford Bernstein
ranks Verizon "underperform" with a $25 price target.
1.
AT&T
(T) - Get Report
is an integrated telecom.
AT&T delivered 55 cents of adjusted fourth-quarter earnings, a 7.8% year-over-year rise. Consolidated revenue inched up 2.1% to $31 billion, but operating income dropped from $4.6 billion to $2.1 billion as the margin more than halved to 6.7%, on a GAAP basis. Fourth-quarter net income dropped to $1.1 billion, or 18 cents a share, hurt by a slew of one-time items, including a 26 cent charge from a pension accounting change, a 9-cent charge for severance costs and a two cent charge for asset impairments. The company achieved $3.1 billion of free cash flow in the quarter, with $9.6 billion of operating cash flow and $6.6 billion of expenditures. The cash balance fell to $1.4 billion. AT&T has a poor quick ratio of 0.4. Management expects mid-single digit earnings growth in 2011.
AT&T pays a dividend of 43 cents, translating to a yield of 6.2%, with a payout ratio of 52%. The dividend has grown 4.9% and 5.4% annually, on average, over a three- and five-year span, respectively.
Of analysts evaluating AT&T, 20, or 53%, advise purchasing its shares and 18 recommend holding. None advocate selling.
Credit Suisse
forecasts a gain of 26% to $35.
Sanford Bernstein
expects a drop to $25. AT&T sells for a forward P/E of 11 and a book value multiple of 1.5, 31% and 49% peer discounts.
-- Written by Jake Lynch in Boston.
RELATED STORIES:
10 Best-Performing Stocks of the Year
Become a fan of TheStreet on Facebook.
Disclosure: TheStreet's editorial policy prohibits staff editors, reporters and analysts from holding positions in any individual stocks.