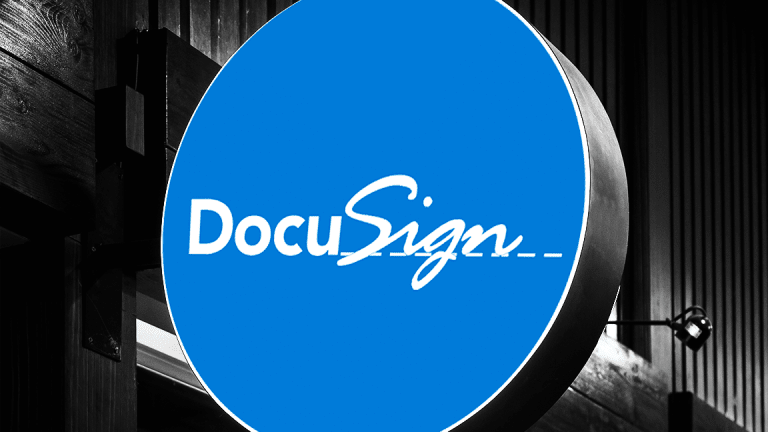 DocuSign's CEO: We Still Have a Lot of Room to Grow
In a talk with TheStreet, CEO Dan Springer notes the electronic signature leader has still only penetrated a small portion of its total addressable market. Particularly overseas.
The investors who have bid DocuSign's (DOCU) shares to an $8 billion valuation following its April 27 IPO are betting the electronic signature leader has plenty of growth ahead of it. CEO Dan Springer certainly isn't one to disagree with such expectations.
Following DocuSign's IPO, I had a chance to talk with Springer and CFO Mike Sheridan about the company's product line, growth outlook and financials. Here are some highlights.
What Sets DocuSign Apart
DocuSign's e-signature software and services, which are sold via subscription plans, have been estimated to possess a market share of around 70%. When asked about what differentiates DocuSign relative to rivals -- Adobe's (ADBE) Sign platform (formerly EchoSign) is DocuSign's largest enterprise rival, but the company also competes against several smaller players -- Springer started by citing the company's ability to cater to clients of every possible size. "DocuSign is somewhat unique as a company in that we serve from the very smallest business up to the absolutely largest Fortune 500-type companies," he said.
When it came to enterprises in particular, Springer noted DocuSign's ability to deliver 99.99% uptime for its services with no maintenance windows, as well as its security features, which go over well with clients in verticals such as banking, insurance and pharma. Not surprisingly, Springer also mentioned the huge ecosystem of third-party apps that has been enabled DocuSign's programming interfaces (APIs), and the power of the DocuSign brand. "Our company name has become a verb," he boasted.
Enterprise and International Growth
In its IPO filing, DocuSign talked up the strong growth it has seen in annual contract value (ACV) with many large enterprise and institutional clients: The company had over 200 clients with an ACV about $300,000 as of January 2018, up from about 30 five years earlier.
When asked about ACV growth, Springer highlighted the big investments DocuSign has made in its enterprise salesforce starting in fiscal 2013 (ended in January 2013), as well as its willingness to (with the help of a dedicated engineering team) to create custom solutions for individual clients. He added some DocuSign clients now have ACVs above $10 million.
Notably, though DocuSign was founded in 2003, the company still gets 83% of its revenue from the U.S. And much of the other 17% comes from English-speaking countries with common law legal systems, such as the U.K., Canada and Australia.
Springer insists DocuSign is well-positioned to change this, noting the company has been investing heavily in creating solutions for countries with civil law legal systems (France, Germany, Japan, etc.) where regulatory and cultural issues have been roadblocks to e-signature adoption. "No other competitor has established any foothold" in many of these markets either, he claimed.
The Long-Term Addressable Market
In fiscal 2018, DocuSign had revenue of $518.5 million (up 36% annually) and billings of $599.1 million (up 39%). That, in Sheridan's estimation, gives DocuSign a penetration rate of just around 2% relative to the total addressable market (TAM) for e-signature solutions, which he pegs at $25 billion.
Sheridan also argues complementary solutions -- DocuSign's offerings for large businesses now include things like payment-collection services, tools for creating "smart forms" and APIs for custom apps and websites -- could increase DocuSign's TAM. "We think we've only just started to scratch the surface," he declared.
Margin and Cash Flow Growth
Though DocuSign posted a $52.3 million GAAP net loss in fiscal 2018 due to large sales investments, that was 55% less than what the company lost a year earlier. The company doesn't think it will be long before it turns profitable: Sheridan says DocuSign is aiming to have an operating margin of 20% to 22% in 5 years, with sales/marketing spend (equal to 54% of fiscal 2018 revenue) falling to 35% to 39% of revenue.
Meanwhile, like many other firms that bill software subscriptions on an annual or multi-year basis but record the revenue a quarter at a time, DocuSign's free cash flow (FCF) is higher than its net income. In spite of its net loss, the company produced $36.1 million in FCF in fiscal 2018, after having FCF of negative $48.1 million in fiscal 2017.
With DocuSign only billing clients on an annual basis, even when it has multi-year deals in place, Sheridan expects FCF growth to track profit growth fairly closely. "If we achieve increasing operating margins...cash flow should follow," he said.
This article has been corrected to state DocuSign's current penetration rate relative to its estimated TAM is 2% rather than 1%.