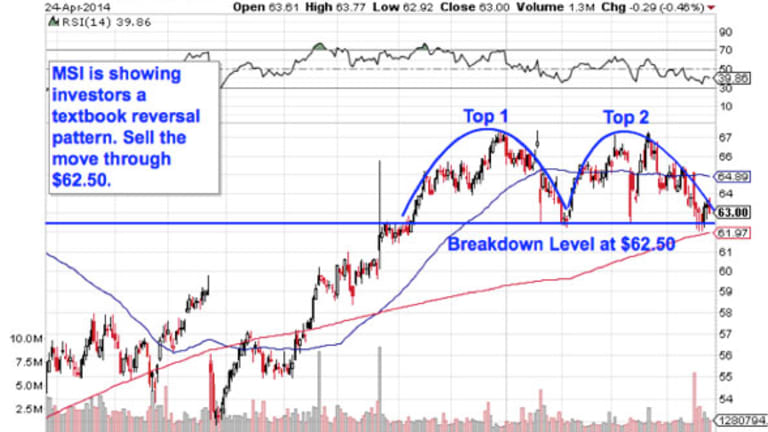 Do You Own These 5 Toxic Stocks? Watch Out!
It's time to unload these stocks from your portfolio before the next leg down.
BALTIMORE (Stockpickr) -- What a run. The S&P 500 has rallied 3.5% since last Monday, showing investors the most consecutive up days in more than a year.
>>5 Mega-Cap Stocks to Trade for Gains
Not that it feels like we're in much of a winning streak right now.
In nearly four months of 2014 trading, the S&P 500 barely managed to move a full percent higher. Instead, correction has been the market's M.O. this year. So, with stocks in a near-term upswing this week, it makes sense to clean house. There's a big group of large-cap "toxic" stocks out there right now -- you may even own one or two of them.
Today, I'll show you five big names you need to unload before the next leg down.
Just to be clear, the companies I'm talking about today aren't exactly junk. By that, I mean they're not next up in line at bankruptcy court. But that's frankly irrelevant; from a technical analysis standpoint, sellers are shoving around these toxic stocks right now. For that reason, fundamental investors need to decide how long they're willing to take the pain if they want to hold onto these firms in the weeks and months ahead. And for investors looking to buy one of these positions, it makes sense to wait for more favorable technical conditions (and a lower share price) before piling in.
>>QE5 Is Coming -- Here's What It Means for Your Portfolio
For the unfamiliar, technical analysis is a way for investors to quantify qualitative factors, such as investor psychology, based on a stock's price action and trends. Once the domain of cloistered trading teams on Wall Street, technicals can help top traders make consistently profitable trades and can aid fundamental investors in better planning their stock execution.
So without further ado, let's take a look at five "toxic stocks" you should be unloading.
Motorola Solutions
Up first is Motorola Solutions (MSI) - Get Free Report, a $16 billion communications infrastructure name that's been on a tear in the last several months. Since early August, MSI has rallied almost 17%, easily beating the 10% that the S&P returned over the same period. But after a long stretch of positive performance, shares of MSI are starting to look "toppy." Here's why.
>>3 Hot Stocks on Traders' Radars
Motorola is currently forming a double top, a bearish reversal pattern that looks just like it sounds. The double top is formed by a pair of swing highs that max out at approximately the same price level. The sell signal comes when the trough that separates the two highs gets violated. For Motorola, that breakdown level is right at $62.50. If that $62.50 price floor gets violated, look out below.
Short sellers would do well not to get too aggressive entering the MSI trade it doesn't become a high probability setup until $62.50 fails. If and when that happens, mitigate your risk by keeping a protective stop on the other side of the 50-day moving average.
Nissan Motor
It's been a rough year for shares of Japanese automaker Nissan Motor (NSANY) : In the last 12 months, shares of Nissan have dropped by 17.5%. For comparison, that's a stretch of time when just buying the S&P 500 index would have delivered extremely low-volatility gains of 20.5%. And things aren't looking much better for Nissan in 2014 -- this stock looks toxic.
>>3 Big-Volume Stocks to Trade for Breakouts
Since November, Nissan has been consolidating sideways in a rectangle pattern. The rectangle gets its name because it "boxes in" shares in between a pair of parallel resistance and support lines. For NSANY, resistance is up at $18.50 and support is down at $16.50. Consolidation setups like this one are common after big moves in either direction, but since NSANY's prior trend was down before shares started chugging sideways, a violation of support at $16.50 is the more likely outcome here.
Why does $16.50 matter so much? Whenever you're looking at any technical price pattern, it's critical to keep buyers and sellers in mind. Shapes like rectangles and double tops are a good way to quickly describe what's going on in a stock, but they're not the reason it's tradable instead, it all comes down to supply and demand for shares.
That horizontal $16.50 support level in Nissan is the spot where there's previously been an excess of demand for shares; in other words, it's a price where buyers have been more eager to step in and buy shares at a lower price than sellers were to sell. That's what makes a breakdown below support so significant the move means that sellers are finally strong enough to absorb all of the excess demand at the at price level. So, if $16.50 gets taken out, you'll want to join sellers in unloading shares.
JPMorgan Chase
Big bank JPMorgan Chase (JPM) - Get Free Report is another name that looks toxic in 2014 -- and you don't have to be an expert technical trader to figure out why. JPM spent the last few quarters in a textbook uptrend, bouncing higher in lock-step with the broad through the end of March. But in the sessions since, this stock has taken a turn for the worse, and that means that it's time to be a seller.
>>5 Stocks With Big Insider Buying
JPM broke its uptrend at the start of April on earnings weakness, signaling more downside ahead for the $209 billion financial giant. That trend line violation isn't uncommon. All trend lines eventually break, but the fact that JPM failed to catch a bid at support at the exact same time that all of its peer banks are holding their own uptrends intact is troubling. JPM has historically been considered one of the better executed financial behemoths, so the technical weakness we're seeing now is a big departure for investors.
The absence of buyers here is good reason to avoid JPM until this stock can establish a uptrend again. Don't get lured in by the consolidation that's happening here. For now, it's a high-probability sell.
Google
Online search giant Google (GOOG) - Get Free Report is another large-cap name that's signaling a major change in trend after doing well for a long while. Google is currently forming a textbook head and shoulders top pattern, a bearish setup that indicates exhaustion among buyers.
>>4 Hot Tech Stocks to Trade (or Not)
The head and shoulders is formed by two swing highs that top out at approximately the same level (the shoulders), separated by a higher high (the head). The sell signal comes on a move through Google's neckline level at $540. While new GOOGL class C shares, which started trading earlier this month, will more or less trade in step with GOOGL, they lack the context of prior price action. That's why we're focusing on GOOGL here.
Momentum, measured by 14-day RSI, has been trending lower for the last five months or so. That fact adds some downside bias to GOOGL as shares press down against $540 support. Expect shares to get a big test in the week ahead at that price level. This stock doesn't officially become "toxic" until shares break through their neckline, but when they do, look out below.
Facebook
Not surprisingly, we're seeing the exact same setup in shares of Facebook (FB) - Get Free Report right now. Like Google, Facebook is currently forming a head and shoulders top, in this case with a neckline at $55. Remember, these are two hugely correlated stocks, so it makes sense that they're each looking "toppy" at the same time. Facebook owners should stay fixated on $55.
Another indicator, relative strength (not to be confused with RSI), is the side signal that's pointing to downside in FB in April. While relative strength had been looking good at the start of the year, our relative performance gauge broke down in late March, sending a very negative signal for anyone who owns Facebook right now.
Recall, relative strength is the most important technical indicator when the market is correcting, so Facebook's new relative strength downtrend means that for every point the S&P declines, this name is faring even worse. That's a big part of FB's failure to gain traction following its earnings call yesterday -- shares faded over the course of the session.
It's tempting, but don't discount the head and shoulders pattern in GOOGL and FB just because of its name. After all, the only thing that matters is its efficacy: a recent academic study conducted by the Federal Reserve Board of New York found that the results of 10,000 computer-simulated head-and-shoulders trades resulted in "profits [that] would have been both statistically and economically significant."
To see this week's trades in action, check out the Toxic Stocks portfolio on Stockpickr.
-- Written by Jonas Elmerraji in Baltimore.
RELATED LINKS:
>>Hedge Funds Love These 5 Health Care Stocks -- but Should You?
>>5 Rocket Stocks Worth Buying This Week
>>5 Stocks Under $10 Set to Soar
Follow Stockpickr on Twitter and become a fan on Facebook.
At the time of publication, author had no positions in stocks mentioned. Jonas Elmerraji, CMT, is a senior market analyst at Agora Financial in Baltimore and a contributor to TheStreet. Before that, he managed a portfolio of stocks for an investment advisory returned 15% in 2008. He has been featured in Forbes , Investor's Business Daily, and on CNBC.com. Jonas holds a degree in financial economics from UMBC and the Chartered Market Technician designation. Follow Jonas on Twitter @JonasElmerraji