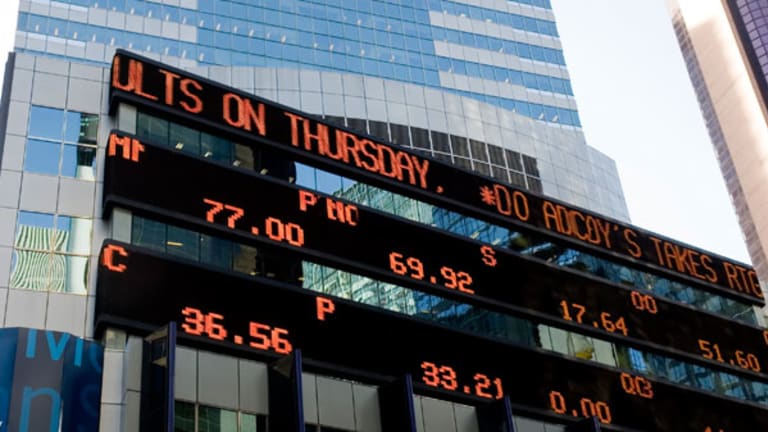 Do You Own These 5 Blue-Chips? Sell Them!
Even the biggest, 'safest' stocks could be toxic to your performance in the final quarter of this year.
BALTIMORE (
) - Don't let your guard down. The
S&P 500
may be poking holes in new all time highs and the nonsense on Capitol Hill may even be resolved, but that doesn't meant that you should keep hanging onto everything in your portfolio.
That's because even the biggest, "safest" blue-chips could be toxic to your performance in the final quarter of this year.
There's no question that the big indices are still in bull mode, but it's worth noting that the
Dow Jones Industrial Average
looks materially weaker than the S&P right now. The big names that tend to dominate the Dow are starting to show some cracks -- well, some of them are, anyway.
That's why we're taking a closer look at
you should be selling in October. To be fair, the companies I'm talking about today aren't exactly "junk."
By that, I mean they're not next up in line at bankruptcy court. But that's frankly irrelevant; from a technical analysis standpoint, they're some of the worst positioned names out there right now. For that reason, fundamental investors need to decide how long they're willing to take the pain if they want to hold onto these firms this summer. And for investors looking to buy one of these positions, it makes sense to wait for more favorable technical conditions (and a lower share price) before piling in.
>>The Pros Hate These 5 Stocks -- Should You?
For the unfamiliar,
is a way for investors to quantify qualitative factors, such as investor psychology, based on a stock's price action and trends. Once the domain of cloistered trading teams on Wall Street, technicals can help top traders make consistently profitable trades and can aid fundamental investors in better planning their stock execution.
So, without further ado, let's take a look at
you should be unloading.
Corning
2013 has been a pretty strong year for
Corning
(
). Since the calendar flipped over to January, this $22 billion glassmaker has seen its shares rally more than 20%. And from a fundamental standpoint, I think that Corning still looks pretty attractive. But the technicals are telling a different story right now -- and investors would do well to listen.
>>5 Big Stocks to Trade for Big Gains
That's because Corning is currently forming a descending triangle pattern, a price setup that's formed by a downtrending resistance level above shares coupled with a horizontal support line at the $14 level. Basically, as Corning bounces between those two technical prices, it's getting squeezed closer and closer to a breakdown below $14. When that breakdown happens, it's time to sell this stock.
Corning spent yesterday's session testing the top of resistance, a move that could potentially break the pattern. If that happens, the pressure's off this stock. But I think it's too early to call this bearish pattern kaput. Buyers looking for an entry should wait to see if Corning can still catch a bid first.
ADT
We're seeing the exact same setup in shares of security monitoring firm
ADT
(
) right now. The big difference is that ADT has shown investors some miserable relative strength in 2013. Unlike Corning, this stock has actually managed to lose 12% during a double-digit rally in the rest of the market. That weakness coming into the fourth quarter makes ADT look more likely to follow through with a
.
>>5 Stocks Poised for Breakouts
In ADT's chart, the key support level comes in at $39. If shares can't hold that price level, it's time to hit the sell button. Whenever you're looking at any technical price pattern, it's critical to think in terms of those buyers and sellers. Triangles and other pattern names are a good quick way to explain what's going on in a stock, but they're not the reason it's tradable. Instead, it all comes down to supply and demand for shares.
That support level at $39 is a price at which there had been an excess of demand of shares; in other words, it's a place at which buyers were more eager to step in and buy shares at a lower price than sellers were to sell. That's what makes a breakdown below $39 so significant; the move would indicate that sellers are finally strong enough to absorb all of the excess demand above that price level. Wait for that trigger before you sell.
Lower highs in
add some extra confidence to the bear bias in ADT this fall.
Coca-Cola
Beverage giant
Coca-Cola
(
) is a great example of relative weakness in a big-name blue-chip stock. Shares of Coke are down more than 9% from their late April highs. And you don't have to be an expert technical analyst to figure out why: Coke is currently bouncing lower in a textbook downtrending channel.
>>5 Stocks Poised to Pop on Bullish Earnings
Coca-Cola's price channel has provided traders with a high-probability range for shares since the middle of the year. Despite the last five attempts at pushing through trendline resistance, KO has been swatted down on each attempt. Now there's little reason to believe that attempt number six will be any different this week. If you own Coke, a bounce off of trendline resistance is the ideal time to sell your shares (or short it).
Momentum, measured by 14-day RSI, has been corralled by a ceiling of its own over the course of the channel. With shares in a downtrend, 70 has been the upper bound of shares' momentum range. If Coke has any shot of making a turn for the better, we'll see it in RSI first, so keep a close eye on that momentum gauge.
Sanofi
French pharmaceutical firm
Sanofi
(
) is another stock that's been in a downtrending channel since the start of the summer. Even though health care stocks (especially biotechs) have posted standout numbers in 2013, Sanofi is only 6.8% higher than it was at the beginning of the year. Sure, that might be a decent return on a typical year, but when equity indices are seeing gains in the low 20% range, Sanofi's performance is horrific.
>>5 Stocks Under $10 Set to Soar
Just like Coke, Sanofi is testing trendline resistance this week. That means that it makes sense to sell the bounce lower off of that price ceiling. Selling the bounce makes sense for two key reasons: First, it's the place where the risk is the least (because you'll know you're wrong soonest if SNY moves through resistance), and it's also the spot with the most downside to trendline support for short sellers.
Buyers should stay away from SNY in October. There are plenty of better names in the healthcare space right now. Focus on relative strength winners instead.
Kraft Foods Group
Kraft Foods Group
(
) is looking "toppy" right now. Like a lot of the other names on our toxic stocks list, Kraft posted some strong performance at the start of the year, and it's been slugging along lower ever since. But it's the technical pattern forming in shares that should give traders pause in October.
>>5 Dogs of the Dow to Stomp the Market
Kraft is currently forming a head and shoulders top, a bearish reversal setup that indicates exhaustion among buyers. The setup is formed by two swing highs that top out around the same level (the shoulders), separated by a bigger peak called the head; the sell signal comes on the breakdown below the pattern's "neckline" level, which is right at $50 at the moment for KRFT. That's extra significant since $50 is a round number that's sure to get more attention from investors.
There have been more than a few head and shoulders pattern setting up in really big-name stocks in the last couple of months, which is a potentially ominous sign for equity indices unless the patterns get broken. I wouldn't discount the downside potential in KRFT until it's able to take out its previous high at $58.
To see this week's trades in action, check out the
Technical Setups for the Week portfolio
on Stockpickr.
-- Written by Jonas Elmerraji in Baltimore.
RELATED LINKS:
>>Why I'm Sticking By Dow 55,000
>>5 Stocks Under $10 to Trade for Breakouts
>>5 Stocks With Big Insider Buying
Follow Stockpickr on
and become a fan on
Facebook.
At the time of publication, author had no positions in stocks mentioned. Jonas Elmerraji, CMT, is a senior market analyst at Agora Financial in Baltimore and a contributor to
TheStreet
. Before that, he managed a portfolio of stocks for an investment advisory returned 15% in 2008. He has been featured in
Forbes
,
Investor's Business Daily
, and on
CNBC.com.
Jonas holds a degree in financial economics from UMBC and the Chartered Market Technician designation. Follow Jonas on Twitter @JonasElmerraji