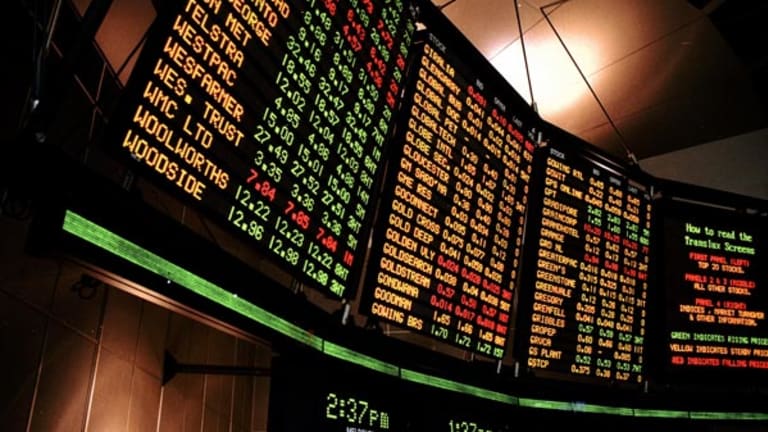 Do Solar Gains Face D-Day With Germany?
After an outperform upgrade for a trio of solar stocks, the solar sector soars on Monday. But with a major tariff change in Germany looming, are investors getting out ahead of solar reality?
NEW YORK (
) -- Call it the Barclays Flare Up.
Three solar firms that received
a ratings upgrade to outperform on Monday from Barclays Capital watched their shares soar towards the sun in the week's first session.
Some more skeptical solar industry experts have been left scratching their heads by the recent fervor. They wonder, with a major dent to the solar industry possibly coming soon in the form of changes to the German feed-in tariff system, are solar investors getting out ahead of reality?
Heavy trading and huge one-day price gains were the norm for
JA Solar
(JASO)
,
SunPower
(SPWRA)
and
Suntech Power Holdings
(STP)
.
JA Solar was up 12.50% on Monday, or a gain of 55 cents to $4.95, with a whopping 16 million-plus shares traded, versus an average volume of 5.6 million.
SunPower, still to reveal the extent of its ongoing accounting issues on Dec. 16, was up 9.6%, or a little over $2 to a closing price of $24.45.
Suntech Power was up 10.8%, or $1.66, to a close of $17.05.
While the Barclays upgrade benefited these three firms directly,
ReneSolar
(SOL) - Get Report
actually had the second-highest gain on the day, climbing to its highest price in over a month on Monday. ReneSola was up 12.2% on Monday, or 50 cents, to $4.60. In late October, ReneSola had hit a three-month low of $3.57.
Monday featured a strong rally by the solar sector, as the news of the Barclays triumvirate of outperforms seemed to send investors into a bullish mood about the 2010 outlook for solar stocks.
But is all the enthusiasm warranted? This is a question that frustrates, and even seems to torture, some of the industry's analysts. While both Barclays and Lazard recently released bullish reports on solar names -- and even Sunpower, amidst its accounting crisis, is finding favor -- some analysts believe that getting lost among all the excitement is the pending change from Germany in its feed-in tariff system.
Analysts expect that an indication from Germany about the extent of the feed-in tariff pain will be coming before year-end, and they question how investors -- and even some of their colleagues -- can be so bullish with so much uncertainty related to Germany, the largest solar market.
Jonathan Dorsheimer, an analyst at Canaccord Adams, said "I'm a little surprised how willing people are to give up the longer-term fundamentals for near-term gains." He explained that while some of the solar firms may indeed have strong first quarters, the looming changes to the German tariff system pose much more significant questions about long-term health of European business. Canaccord Adams, for example, is bullish on Canadian Solar because in Ontario there is a tariff system that is new, as opposed to the one in Germany that is currently facing a governmental guillotine.
"This could all change very quickly," said Mehdi Hosseini, an analyst at FBR Capital Markets. He noted that the Chinese solar players, in particular, that have huge exposure to Germany are sounding so upbeat there seems to be "a little bit of disconnect there."
Analysts who are worried about the German feed-in tariff outlook noted that the bulls argue that even if subsidies decline by 20%, returns on these projects are so attractive that the reductions can be absorbed. However, they caution that governments in Europe are looking to avoid just that scenario: solar companies generating big returns backed by their subsidies.
In addition, they still have the painful memory of Spain, which last year walked away from the solar business for a similar reason. No one knows at what level the German government will seek to reduce the subsidy.
The lack of certainty about the German feed-in tariff also reminded skeptical analysts of one other important point: while we have heard from many solar manufacturers about their bullish outlook amidst the continuing German market uncertainty, there is one important player at the table who remains silent: the German government. That player may ultimately have the power to cause a mass sell-off in solar stocks -- and for solar investors, there could be a major Heidi Klum-style "auf wiedersehen!" on the way.
Still, at least for the time being, for better or worse, solar stocks will have their days of raging, like today.
Solarfun Power Holdings
(SOLF)
, for one, was up more than 6.9% on double the average volume on Monday, possibly still getting some play from
a deal it announced late last week to build a 100MW plant in China.
Meanwhile, Yingli Green Energy Holding
(YGE)
, which announced
a deal this morning with existing client German rooftop panel installer Payom Solar, was up 4.7% on Monday.
-- Reported by Eric Rosenbaum in New York.
>>Barclays Boosts Solar Stocks
>>Solar Winners: LDK, Sunpower
>>Solar Winners: First Solar, Sunpower
Follow TheStreet.com on
and become a fan on
Copyright 2009 TheStreet.com Inc. All rights reserved. This material may not be published, broadcast, rewritten, or redistributed.