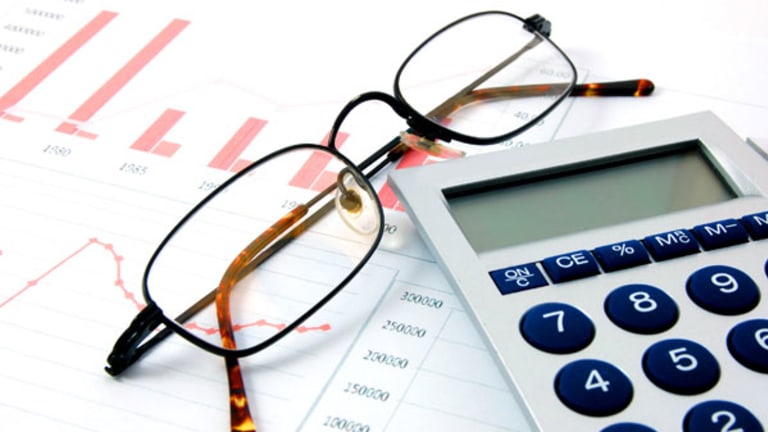 Dividend Stocks for a Low-Interest Environment
With interest rates at historically low levels, here are some other income-producing investment options.
With interest rates at historically low levels, here are some other income-producing investment options.
MILLBURN, N.J. (Stockpickr) -- The yield on a 10-year U.S. Treasury is 2.96%. For a seven-year U.S. Treasury, you will earn 2.28% to maturity. Think about it: You will receive less than 3% for locking up your money for seven to 10 years. Sure, you will most certainly not lose any of your principal, but you will be at risk for a rise in interest rates.
Given that interest rates are already at historically low levels, it is unlikely that you will be unable to generate any sort of capital appreciation. The five-year U.S. Treasury yield of 1.61% is less than the dividend yield on the
S&P 500
index, which is about 1.71%. Investment grade corporate bonds of similar maturities to the U.S. Treasuries I mentioned above do not enhance your yields by much.
This yield predicament is something that investors are facing in today's interest rate environment. Retirees are increasingly seeing their higher-yielding certificates of deposit and bonds maturing without finding a suitable replacement. These people represent a good portion of my clientele, and I have had to satisfy their need to find income.
Related:
7 Divident Stocks to Increase Your Returns
There are several important criteria in substituting investment-grade fixed-income instruments with high-dividend stocks. So before I throw out
, let's understand some of these prerequisites to income replacement using stocks:
1. No Dividend Traps
: Dividend traps are stocks that pay a dividend of above the market average but consistently decline in price. Many boards of directors try to prop up the company's stock price with massive stock repurchases. You might be enticed to buy these stocks because of the dividend yield, but you will likely lose principal value over time.
2. Consistent and Stable Earnings Growth
: We are not looking for companies that are rapidly growing such as
Apple
(AAPL) - Get Report
or
Netflix
(NVLX)
. Rather, we should seek out companies with stable earnings.
3. Low Beta
: Beta is the correlation coefficient of return for an individual stock vs. a market index. Typically, the market is defined as the S&P 500. For example, a stock with a beta of 1.1 will be expected to have a price change equal to 110% of the SPX's price change. Beta measures market risk -- the lower a stock's beta, the less price risk that the stock will have. Keep in mind, though, that the expected price change will also be lower. For this exercise, that is what we want; we are willing to trade the potential for capital appreciation for consistent dividend returns.
4. Industry Diversification
: A quick glimpse at many of the high-dividend-paying stocks would reveal that
most of them are electric utilities
. Since we are already moving from a low-risk fixed-income strategy to a higher-risk asset class of stocks, it would be prudent to reduce risk within the stock asset class. One way is to focus on low-beta stocks. The other way is to diversify the portfolio across several sectors.
Given those four conditions above, here are a few
.
Exelon
I have owned
Exelon
(EXC) - Get Report
, by way of the old Philadelphia Electric, since 1981, reinvesting my dividends into stock over that entire period of time. Exelon services 5.4 million electric and 500,000 natural gas customers in Illinois and Pennsylvania, which includes the cities of Chicago and Philadelphia. The company has power-generation facilities in 12 states and is the biggest operator of nuclear power plants in the U.S.
Exelon will soon merge with Maryland-based
Constellation Energy
( CEG), thus gaining another 1.2 million electric and 700,000 natural gas customers as well as several other power-generation facilities. The company's cash flow is more than sufficient to cover its capital expenditure projects, service debt and pay dividends of nearly $1.4 billion per year.
Exelon shows up on a recent list of
8 High-Dividend Utility Stocks
.
Altria
Altria
(MO) - Get Report
, one of TheStreet Ratings'
, is the domestic part of the old Philip Morris, which was split apart several years ago into three components: Altria,
Philip Morris International
(PM) - Get Report
and
Kraft
( KFT). Altria is best-known for producing and selling cigarettes. Its Marlboro brand is one of the world's leading cigarette brands. The company has faced various government and class action suits that have hampered its ability to market its products, but those are a thing of the past.
Altria is more than just cigarettes. It also owns U.S. Smokeless Tobacco, John Middleton Cigars and Ste. Michelle Wine Estates. Furthermore, Altria owns nearly 30% of brewer
SABMiller
.
Altria is a textbook cash cow, which allows it to pay a hefty dividend. Earnings growth, despite the lack of growth in the domestic cigarette market, is in the range of 6% to 8%. If you can accept the fact that Altria is the quintessential sin stock, then it should be part of your portfolio.
Kayne Anderson Energy Total Return Fund
Master limited partnerships are limited partnerships that are publically traded on a securities exchange. As partnerships, these companies avoid taxation on a direct basis and pass on large distributions to limited partners. MLPs typically, but not exclusively, tend to be involved in the oil and gas extraction, storage and transportation business.
While the payout for the
Kayne Anderson Energy Total Return Fund
(KYE)
might be lower than an individual MLP and the beta might be higher than a typical MLP, the fund gives us diversification across a whole portfolio of MLPs.
To see these stocks in action and for more ideas, check out my
Dividend Stocks for a Low-Interest-Rate Environment
portfolio.
-- Written by Scott Rothbort in Millburn, N.J.
RELATED LINKS:
>>5 Stocks Poised for Breakouts
>>7 Dividend Stocks to Increase Your Returns
>>5 Stocks With Big Insider Buying
Follow Stockpickr on
and become a fan on
Facebook.
At the time of publication, Rothbort was long AAPL, NFLX, EXC, MO and KYE, although positions can change at any time.
Scott Rothbort has over 25 years of experience in the financial services industry. He is the Founder and President of
, a registered investment advisor specializing in customized separate account management for high net worth individuals. In addition, he is the founder of
, an educational social networking site; and, publisher of
The LakeView Restaurant & Food Chain Report
. Rothbort is also a Term Professor of Finance at Seton Hall University's Stillman School of Business, where he teaches courses in finance and economics. He is the Chief Market Strategist for The Stillman School of Business and the co-supervisor of the Center for Securities Trading and Analysis.
Mr. Rothbort is a regular contributor to
TheStreet.com's RealMoney Silver
website and has frequently appeared as a professional guest on
Bloomberg Radio
,
Bloomberg Television
,
Fox Business Network
,
CNBC Television
,
TheStreet.com TV
and local television. As an expert in the field of derivatives and exchange-traded funds (ETFs), he frequently speaks at industry conferences. He is an ETF advisory board member for the Information Management Network, a global organizer of institutional finance and investment conferences. In addition, he is widely quoted in interviews in the printed press and on the internet.
Mr. Rothbort founded LakeView Asset Management in 2002. Prior to that, since 1991, he worked at Merrill Lynch, where he held a wide variety of senior-level management positions, including Business Director for the Global Equity Derivative Department, Global Director for Equity Swaps Trading and Risk Management, and Director for secured funding and collateral management for the Global Capital Markets Group and Corporate Treasury. Prior to working at Merrill Lynch, within the financial services industry, he worked for County Nat West Securities and Morgan Stanley, where he had international assignments in Tokyo, Hong Kong and London. He began his career working at Price Waterhouse from 1982 to 1984.
Mr. Rothbort received an M.B.A., majoring in Finance and International Business from the Stern School of Business, New York University, in 1992, and a B.Sc. in Economics, majoring in Accounting, from the Wharton School of Business, University of Pennsylvania, in 1982. He is also a graduate of the prestigious Stuyvesant High School in New York City. Mr. Rothbort is married to Layni Horowitz Rothbort, a real estate attorney, and together they have five children.