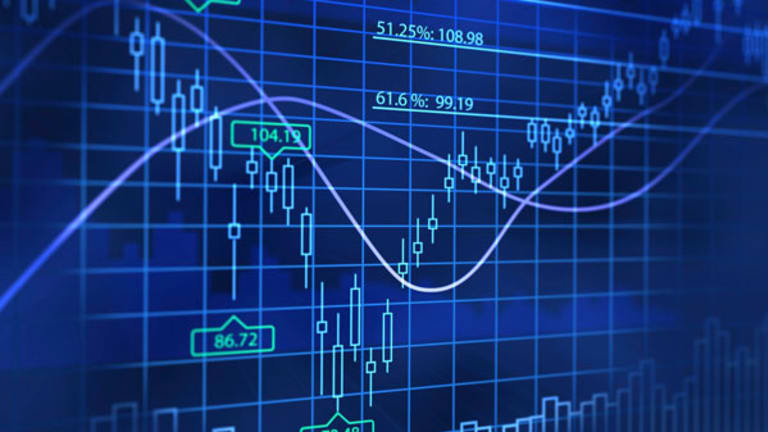 Dividend Preview: 5 Stocks Ready to Pay You More
These dividend stocks look poised to hike their dividend payouts to shareholders.
BALTIMORE (Stockpickr) -- The S&P 500 may be pushing up against new all-time highs this month, but whatever you do, don't forget about dividends.
When capital gains are running rampant, it's easy to forget about dividend payouts. While income stocks are a safety net for investors when markets turn sour, they're easily eschewed when the stock market is on track for double-digit percentage gains (as of yesterday's close, the S&P is on track for an 11.7% price bump in 2014). But that's a big mistake. Factoring dividend payouts in materially boosts your returns, even on a short year-to-date basis. Include dividends in the recipe, and suddenly the S&P is on pace for a 14% return this year.
2014 isn't an anomaly either. As I write, U.S. corporations are paying out record dividends thanks to a record pile of cash on corporate balance sheets. And, while few folks realize it, the dividend yield of the S&P 500 is hovering in a range higher than we've seen in any sustained period since the mid-1990s. Adjusting for the incredibly low yields on treasuries, dividend payouts are massive right now.
But to find the biggest gains, it's not enough to simply buy names with big payouts today. You've got to think about what they'll be paying tomorrow too.
So instead of chasing yield, we'll try to step in front of the next round of stock payout hikes.
For our purposes, that "crystal ball" is composed of a few factors: namely a solid balance sheet, low payout ratio and a history of dividend hikes. While those items don't guarantee dividend announcements in the next month or three, they do dramatically increase the odds that management will hike their cash payouts to shareholders.
Without further ado, here's a look at five stocks that could be about to increase their dividend payments in the next quarter.
Merck
Topping the list this week is Merck (MRK) - Get Free Report, the $170 billion big pharma giant. Merck has been a spectacular performer in 2014. Since the calendar flipped to January, the stock has rallied more than 17%. The firm also pays out a hefty 3% annual dividend yield right now, and it's a dividend check that looks likely to grow in the next quarter.
Merck is one of the biggest pharmaceutical companies in the world. The firm's well-known portfolio of names includes household names such as Gardasil, Claritin, and Zocor. While Singulair was long Merck's crown jewel, competition from generics following patent protection expiration has moved in on the allergy and asthma treatment in recent years. Like other legacy pharma names, patent expirations are a big black cloud for Merck, even if they were mitigated by acquisitions back in 2009. It's important to note that Merck has a pipeline that's filled with several important new drugs that should see commercialization in the next year and change.
From a financial standpoint, Merck boasts a balance sheet with a hefty $32 billion cash and investment position -- enough to offset its entire $28 billion debt load. That dry powder, combined with a history of prioritizing dividend payouts makes a boost to the firm's 44-cent quarterly dividend look likely next quarter.
McDonald's
Fast food giant McDonald's (MCD) - Get Free Report is grabbing headlines following a ruling by the general counsel of the National Labor Relations Board that determined that the firm could be held jointly liable for labor and wage violations by franchises.
But this $94 billion restaurant stock should be grabbing investor attention for its dividend too. Right now MCD pays a 3.4% annual yield thanks to an 81-cent quarterly dividend check. And that payout looks likely to rise in the next quarter.
You don't need to search long or hard to find McDonald's. The chain has more than 34,900 locations spread across 120 countries. The vast majority of those locations are franchised, even if the firm owns the land and beneath many of those franchised locations. The combination of a franchise model and huge land ownership means that McDonald's actually has more in common with a REIT than with the diner down the street.
In recent years, MCD has been making evolutionary steps towards offering more upmarket menu options and in-store amenities at its locations. While that's helped propel margins here at home, the real growth comes from overseas, where a busy and burgeoning middle class population is eating more meals outside of the home.
Investors should look out for a dividend hike in McDonald's by late September.
As of the most recently reported quarter, McDonald's was one of Renaissance Technologies' top stocks.
Johnson Controls
$32 billion HVAC, power solutions and auto supplier stock Johnson Controls (JCI) - Get Free Report is another name that looks ready for a dividend boost. Right now, JCI pays out a 22-cent quarterly dividend that adds up to a 1.8% yield, but a new management team is putting a renewed focus on returning value to shareholders in 2014.
Among its three units, Johnson Controls operates a very diverse collection of businesses. For instance, it's the leading supplier of automotive seating and interiors, generating more than half of the firm's total revenues last year. Big tailwinds in car sales should help spur demand for the OEM components that JCI provides. The second-biggest business at JCI is HVAC, which focuses on heating and cooling solutions for commercial buildings. Ramping up building overseas should help to drive sales and service revenue for JCI's HVAC infrastructure business in the next several years. Finally, power solutions (namely car batteries) makes up the smallest piece of JCI's empire.
While Johnson Controls operates a trifecta of capital intense businesses, its $7.4 billion debt load is reasonable for a firm of JCI's scale. Look for margin improvement in 2014 to help drive JCI's ability to hike its dividend payout this year. So far, management changes look overwhelmingly positive.
Garmin
For a long time, Garmin (GRMN) - Get Free Report got no respect from investors. Wall Street saw the stock as a one-trick pony: a consumer GPS navigator maker whose margins were set to drop as the business became commoditized, and smartphones proliferated consumer pockets. Thing is, the short case for Garmin hasn't worked out very well, as this mornings huge earnings beat demonstrates. Now Garmin looks likely to add onto that success with a dividend boost.
Garmin is the biggest GPS and navigation system maker in the world. The firm's products range from ubiquitous in-car devices to advanced electronic flight deck systems used in the latest business jets. That wide range gives Garmin some key advantages that the competition can't match. Because Garmin spends considerable R&D dollars on its bigger-ticket aviation and marine navigation systems, it's able to develop exciting technologies that can flow down to its lowest-common-denominator automotive GPS business at minimal cost. So since Garmin's high-end operations pay for themselves, it can squeeze bigger margins out of its efforts.
As car navigation became commoditized, Garmin has branched out by building a niche in outdoor and sporting electronics, like its GPS-equipped golf watches and VIRB action camera. That's a critical component of this firm's consistent outperformance. Garmin has always been a huge dividend name, and while recent price jumps have muted its high-yield status, the firm has the wherewithal to boost payouts this quarter.
Typically, Garmin front-loads its dividend announcements in February, so this name could take some time for an official hike. In the meantime, however, the price momentum is hard to argue with, and it makes sense to lock in the lower cost-yield today.
Today, Garmin pays a 48-cent quarterly dividend for a 3.33% yield. It was also featured recently in "5 Hated Earnings Stocks You Should Love."
PetSmart
Last up is PetSmart (PETM) , the $7 billion pet supply retailer. With a 1.1% dividend yield, PetSmart is far from a high-yield name, but dividends still have an important impact on PETM's total returns. In the last two years, dividends would have increased your returns from PETM by half again as much as price alone.
PetSmart is one of the largest pet supply retail chains on the continent, with more than 1,300 big box stores in the U.S. Puerto Rico and Canada. PetSmart sells pet food, supplies, services and even small pets at its locations. As pets get treated more and more like full-fledged family members, so increases their allotment of the family budget. Today, Americans are spending a higher per-capita amount on their pets than ever before. That's changed the sales mix at stores like PetSmart, as more emphasis on higher-quality all natural pet foods and more expensive and elaborate toys and grooming products fill the shelves. That focus on quality also translates to higher margins for PETM. More than half of sales come from consumables such as food and treats, which means repeat business.
Through a partnership with Banfield, veterinary care is available at approximately two-thirds of PetSmart locations. That arrangement provides a constant stream of pet owners coming through its stores, and more important, it doesn't require the loss-leader characteristics that human-focused stores typically resort to for the sake of traffic. Net profit margins currently come in at approximately 5.8%, putting PetSmart on the high end of retail profitability.
Look for a hike to the firm's 19.5-cent dividend in the next quarter.
To see these dividend plays in action, check out the at Dividend Stocks for the Week portfolio on Stockpickr.
-- Written by Jonas Elmerraji in Baltimore.
RELATED LINKS:
>>5 Rocket Stocks to Buy for August Gains
>>5 Stocks Ready for Breakouts
>>4 Stocks Under $10 Making Big Moves
Follow Stockpickr on Twitter and become a fan on Facebook.
At the time of publication, author was long GRMN. Jonas Elmerraji, CMT, is a senior market analyst at Agora Financial in Baltimore and a contributor to TheStreet. Before that, he managed a portfolio of stocks for an investment advisory returned 15% in 2008. He has been featured in Forbes , Investor's Business Daily, and on CNBC.com. Jonas holds a degree in financial economics from UMBC and the Chartered Market Technician designation. Follow Jonas on Twitter @JonasElmerraji